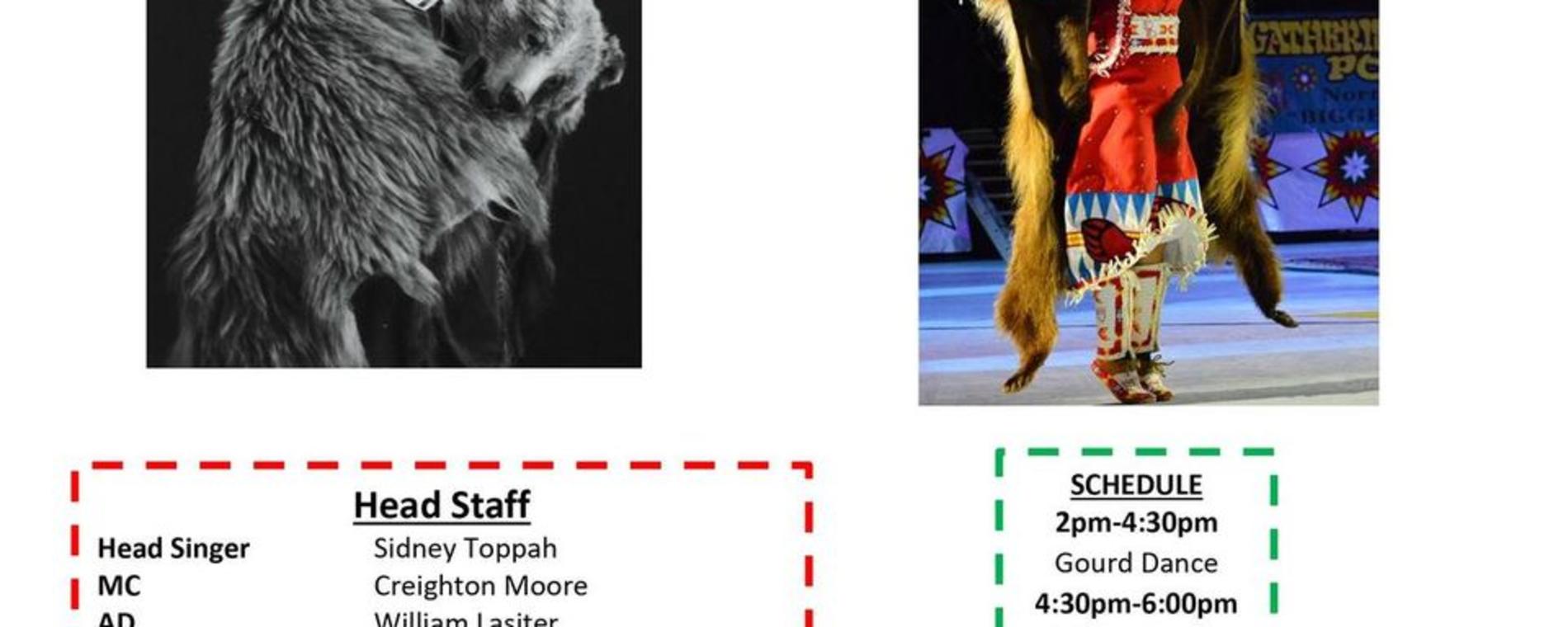 Back to Previous
Annual School's Out Powwow
From: 2:00 PM to 9:00 PM, April 15, 2023 | Mid-America All-Indian Museum
Join us for Wichita Public Schools Title VI Native American Indian Education Programs Annual School's Out Powwow.
Come support Native American students in our community who will be participating and have helped organize this event.
Everyone is welcome to this free event. 
Our students will participate in several ways including a student master of ceremony, student area director, participation at the drum, color guard, set up, and more! We will also crown our Title VI princess for the next school year.
This year we're thrilled to have grizzly bear dancer Laura Grizzlypaws from Lillooet, British Columbia (Canada) come and share her amazing talent and passion with the Wichita community.
50/50 Raffle hosted by the Native American Parent Advisory Committee. Free traditional Native American meal while supplies last.
2:00-4:30pm - Gourd Dance
4:30-6:00pm - dinner break (free while supplies last)
6:00pm - Grand Entry
Vendors contact Veronica Gillette at vgillette@usd259.net
Admission:

Free

Days:

April 15, 2023

>

2023-04-15 2023-04-15 21:00:00 Annual School's Out Powwow <div class="x11i5rnm xat24cr x1mh8g0r x1vvkbs xdj266r">Join us for Wichita Public Schools Title VI Native American Indian Education Programs Annual School's Out Powwow.</div> <div class="x11i5rnm xat24cr x1mh8g0r x1vvkbs xtlvy1s">Come support Native American students in our community who will be participating and have helped organize this event.</div> <div class="x11i5rnm xat24cr x1mh8g0r x1vvkbs xtlvy1s"> </div> <div class="x11i5rnm xat24cr x1mh8g0r x1vvkbs xtlvy1s">Everyone is welcome to this free event. </div> <div class="x11i5rnm xat24cr x1mh8g0r x1vvkbs xtlvy1s"> </div> <div class="x11i5rnm xat24cr x1mh8g0r x1vvkbs xtlvy1s">Our students will participate in several ways including a student master of ceremony, student area director, participation at the drum, color guard, set up, and more! We will also crown our Title VI princess for the next school year.</div> <div class="x11i5rnm xat24cr x1mh8g0r x1vvkbs xtlvy1s"> </div> <div class="x11i5rnm xat24cr x1mh8g0r x1vvkbs xtlvy1s">This year we're thrilled to have grizzly bear dancer Laura Grizzlypaws from Lillooet, British Columbia (Canada) come and share her amazing talent and passion with the Wichita community.</div> <div class="x11i5rnm xat24cr x1mh8g0r x1vvkbs xtlvy1s"> </div> <div class="x11i5rnm xat24cr x1mh8g0r x1vvkbs xtlvy1s">50/50 Raffle hosted by the Native American Parent Advisory Committee. Free traditional Native American meal while supplies last.</div> <div class="x11i5rnm xat24cr x1mh8g0r x1vvkbs xtlvy1s"> </div> <div class="x11i5rnm xat24cr x1mh8g0r x1vvkbs xtlvy1s">2:00-4:30pm - Gourd Dance<br>4:30-6:00pm - dinner break (free while supplies last)<br>6:00pm - Grand Entry</div> <div class="x11i5rnm xat24cr x1mh8g0r x1vvkbs xtlvy1s"> </div> <div class="x11i5rnm xat24cr x1mh8g0r x1vvkbs xtlvy1s">Vendors contact Veronica Gillette at vgillette@usd259.net</div> 650 N. Seneca Wichita, KS America/Chicago
Back To Previous