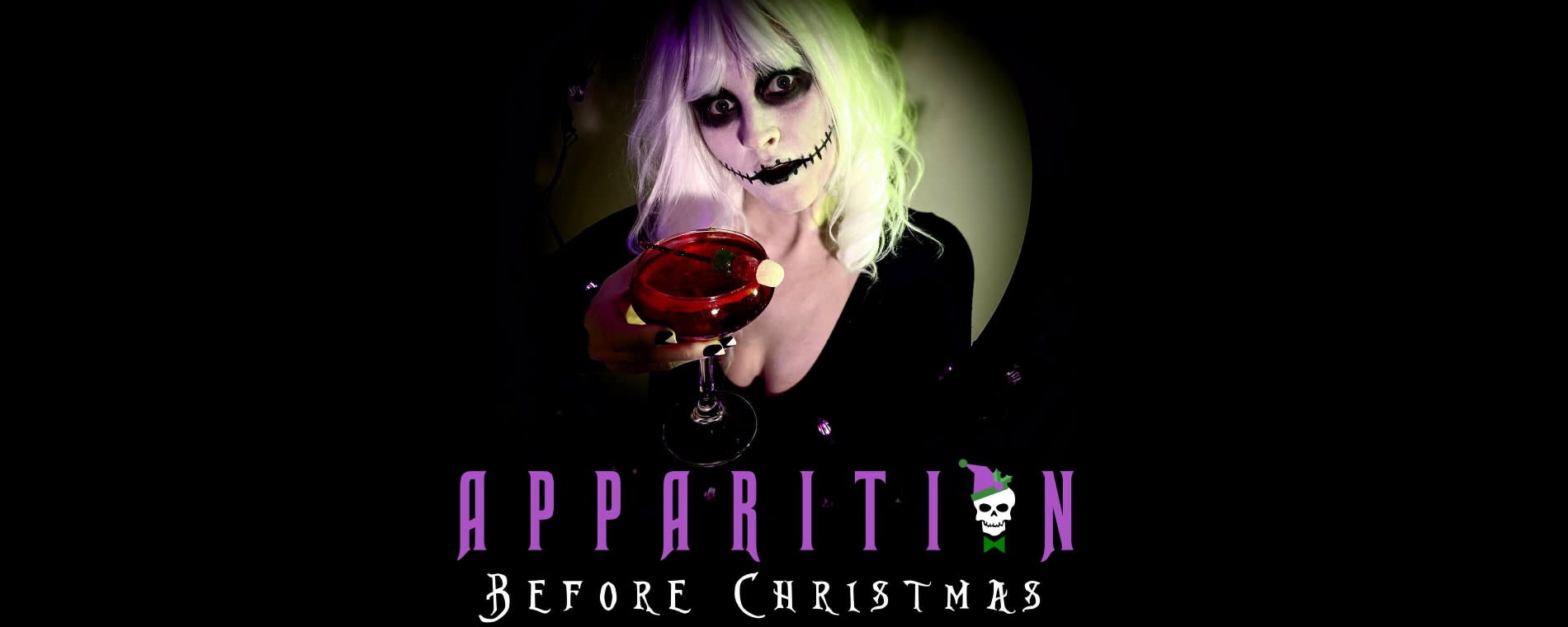 Back to Previous
Apparition Before Christmas
5-11pm December 3, 2020 | Headshots Bar & Grill
"Hear that? ZERO!" Jack's back! And Apparition's haunted pop up bar has one mission now - Kidnap Sandy Claws!
Visit Headshots Bar & Grill for Apparition Before Christmas - a craft cocktail love note to Tim Burton's HallowChristmas Classic! With 12 naughty wintery cocktails, featuring winter spirits designed by Apparition Apothacer Marissa Corcoran, and an immersive Gothic setting sprinkled with Christmas joy.
Apparition Before Christmas is set to provide delights yet unseen! So, come forth and journey into the hybrid of Halloweentown and Christmastown! Bring your weirdest and spookiest sweater and an appetite for the strange!
This event is 21+, first come first serve, and please do not take any flash photography!
Happy Creepy Christmas!
Photo by Anna Perry Photography
Admission:

Free - no reservations

Days:

12/3/2020, 12/4/2020, 12/5/2020, 12/10/2020, 12/11/2020, 12/12/2020, 12/17/2020, 12/18/2020, 12/19/2020, 12/21/2020, 12/22/2020, 12/23/2020, 12/25/2020, 12/26/2020, 12/30/2020, 12/31/2020

2020-12-03 2020-12-31 23:00:00 Apparition Before Christmas <p>"Hear that? ZERO!" Jack's back! And Apparition's haunted pop up bar has one mission now - Kidnap Sandy Claws!</p> <p>Visit Headshots Bar &amp; Grill for Apparition Before Christmas - a craft cocktail love note to Tim Burton's HallowChristmas Classic! With 12 naughty wintery cocktails, featuring winter spirits designed by Apparition Apothacer Marissa Corcoran, and an immersive Gothic setting sprinkled with Christmas joy.</p> <p>Apparition Before Christmas is set to provide delights yet unseen! So, come forth and journey into the hybrid of Halloweentown and Christmastown! Bring your weirdest and spookiest sweater and an appetite for the strange!</p> <p>This event is 21+, first come first serve, and please do not take any flash photography!</p> <p>Happy Creepy Christmas!</p> <p><em>Photo by Anna Perry Photography</em></p> 2120 N Woodlawn Blvd #324 Wichita, KS America/Chicago
Back To Previous