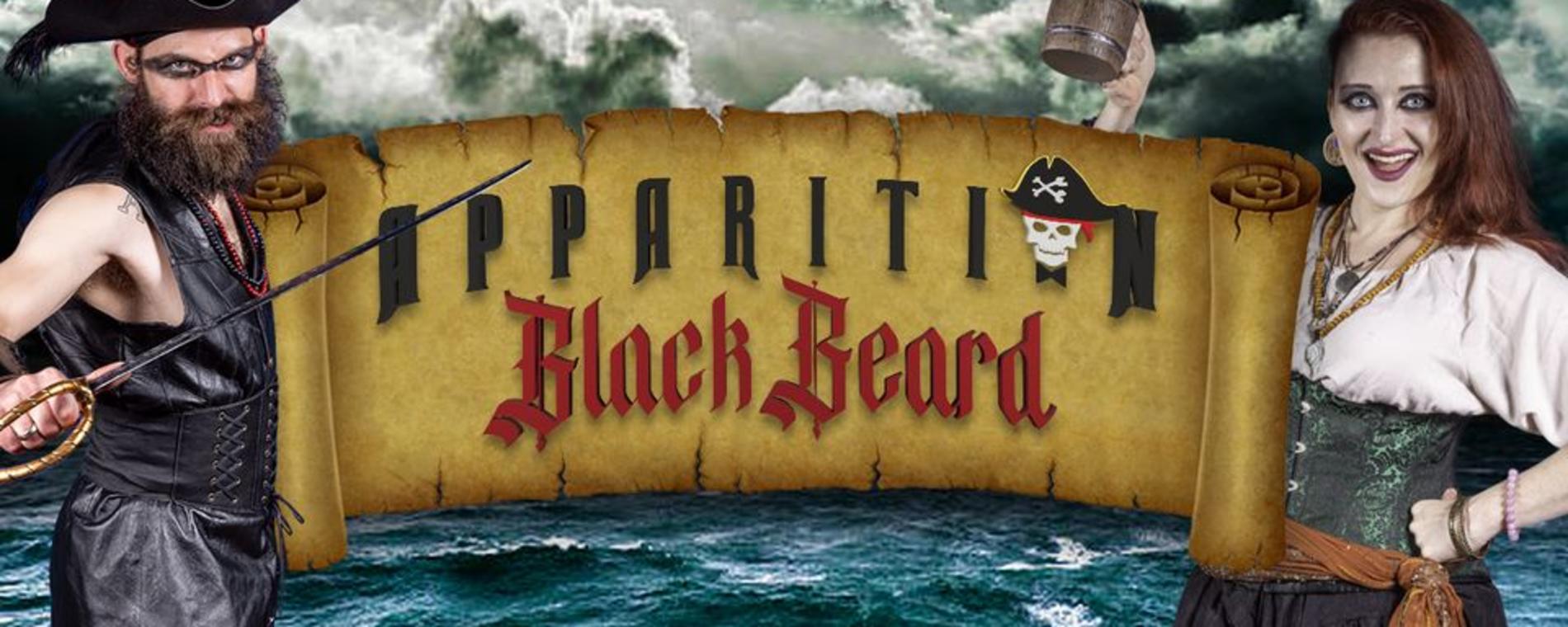 Back to Previous
Apparition Blackbeard
June 29, 2022 | Headshots Bar & Grill
Arrr Mateys!
Apparition is setting sail for the high seas! Join the crew of the notorious Blackbeard and explore flavors and sensations like never before!
Whether ye be a gentleman pirate like Stede Bonnet, a clever devil like Jack Sparrow or a dread captain like Blackbeard, we have drinks a plenty for you at this one of a kind pop up bar - and the rum is never gone!
Enter our pirate cove to enjoy souvenir pirate punch bowls, filled with delicious dead man's treasures, frozen drinks served in coconuts, and GROG!
Whether you are here to carve your destiny and sit on the throne as Pirate King or build a sand castle on the beach - we've got you covered!
This pop up will run
Wednesday - Saturday in June & July

See you there if you dare! 
Days:

6/23/2022, 6/24/2022, 6/25/2022, 6/29/2022, 6/30/2022, 7/1/2022, 7/2/2022, 7/6/2022, 7/7/2022, 7/8/2022, 7/9/2022, 7/13/2022, 7/14/2022, 7/15/2022, 7/16/2022, 7/20/2022, 7/21/2022, 7/22/2022, 7/23/2022, 7/27/2022, 7/28/2022, 7/29/2022, 7/30/2022

2022-06-29 2022-07-30 Apparition Blackbeard <div class="kvgmc6g5 cxmmr5t8 oygrvhab hcukyx3x c1et5uql">Arrr Mateys!</div> <div class="kvgmc6g5 cxmmr5t8 oygrvhab hcukyx3x c1et5uql"> </div> <div class="kvgmc6g5 cxmmr5t8 oygrvhab hcukyx3x c1et5uql">Apparition is setting sail for the high seas! Join the crew of the notorious Blackbeard and explore flavors and sensations like never before!</div> <div class="cxmmr5t8 oygrvhab hcukyx3x c1et5uql o9v6fnle">Whether ye be a gentleman pirate like Stede Bonnet, a clever devil like Jack Sparrow or a dread captain like Blackbeard, we have drinks a plenty for you at this one of a kind pop up bar - and the rum is never gone!</div> <div class="cxmmr5t8 oygrvhab hcukyx3x c1et5uql o9v6fnle"> </div> <div class="cxmmr5t8 oygrvhab hcukyx3x c1et5uql o9v6fnle">Enter our pirate cove to enjoy souvenir pirate punch bowls, filled with delicious dead man's treasures, frozen drinks served in coconuts, and GROG!</div> <div class="cxmmr5t8 oygrvhab hcukyx3x c1et5uql o9v6fnle">Whether you are here to carve your destiny and sit on the throne as Pirate King or build a sand castle on the beach - we've got you covered!</div> <div class="cxmmr5t8 oygrvhab hcukyx3x c1et5uql o9v6fnle"> </div> <div class="cxmmr5t8 oygrvhab hcukyx3x c1et5uql o9v6fnle">This pop up will run</div> <div class="cxmmr5t8 oygrvhab hcukyx3x c1et5uql o9v6fnle"> </div> <div class="cxmmr5t8 oygrvhab hcukyx3x c1et5uql o9v6fnle">Wednesday - Saturday in June &amp; July</div> <div class="cxmmr5t8 oygrvhab hcukyx3x c1et5uql o9v6fnle"><br />See you there if you dare! </div> 2120 N. Woodlawn, Ste. 324 Wichita, KS America/Chicago
Back To Previous