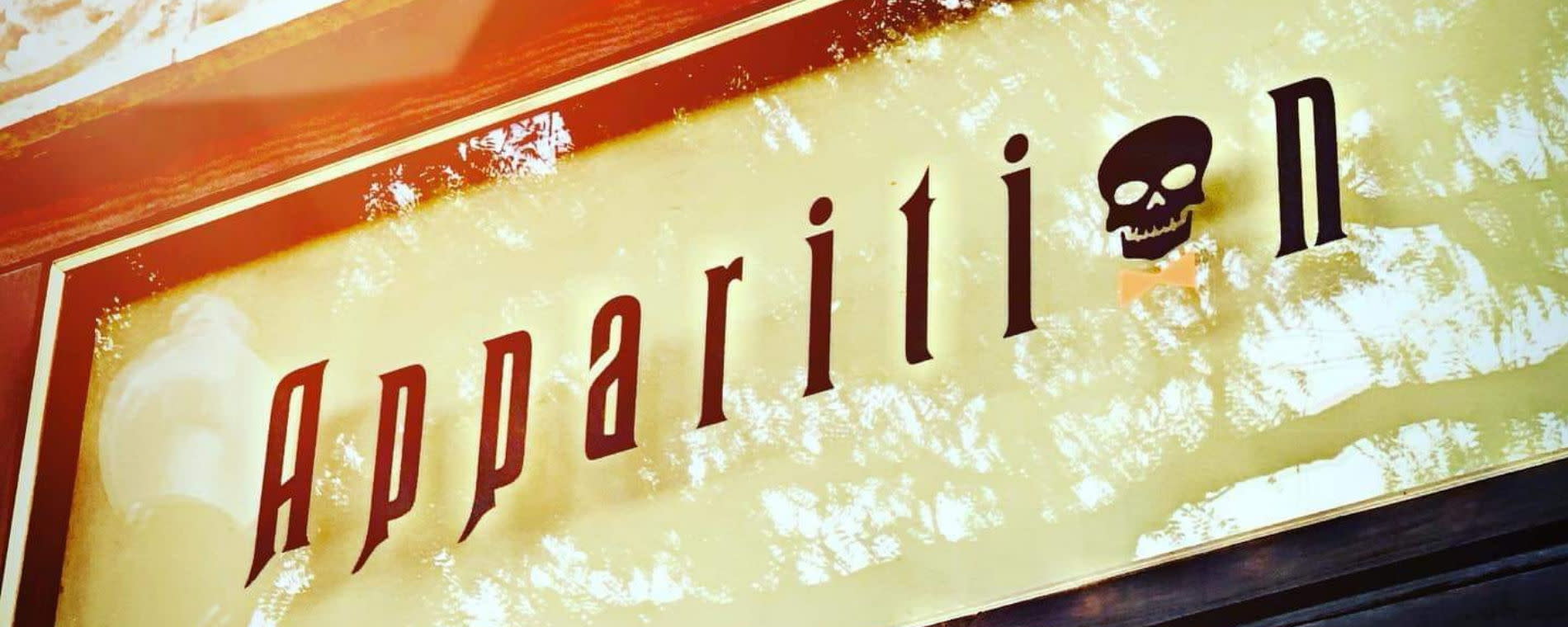 Back to Previous
Apparition - Spook Easy in Wichita
6pm-1:30am October 23, 2020 | Table Top Java Shop
The Dead have taken over Table Top Java Shop! What once was an idyllic paradise of board gaming is currently a rift between the world of the living and the dead. The good news is the dead love to drink.
This October, you are personally invited to cross the threshold and drink amongst the dead at this one of a kind pop up cocktail bar. Featuring 13 Craft Cocktails designed by the Apparition Apothecary to thrill and terrify the senses. But be careful - the realm of the dead is not for the feint of heart and this rift will not last forever! Be warned that the bar will disappear after October 31st - so make sure to drink with the dead before they dissipate!
Be warned, masks (for covid, not Halloween) are required in the land of the dead, and it is best to stay socially and emotionally distant when dealing with the damned! The event is 21+ and we do not take reservations!
Food won't be on the menu, but appetizers are available from Headshots next door.
NOTE: Apparition will close at midnight Oct. 25-28
Admission:

Free - no reservations

Days:

10/16/2020, 10/17/2020, 10/23/2020, 10/24/2020, 10/25/2020, 10/26/2020, 10/27/2020, 10/28/2020, 10/29/2020, 10/30/2020, 10/31/2020

2020-10-23 2020-10-31 01:30:00 Apparition - Spook Easy in Wichita <p>The Dead have taken over Table Top Java Shop! What once was an idyllic paradise of board gaming is currently a rift between the world of the living and the dead. The good news is the dead love to drink.</p> <p>This October, you are personally invited to cross the threshold and drink amongst the dead at this one of a kind pop up cocktail bar. Featuring 13 Craft Cocktails designed by the Apparition Apothecary to thrill and terrify the senses. But be careful - the realm of the dead is not for the feint of heart and this rift will not last forever! Be warned that the bar will disappear after October 31st - so make sure to drink with the dead before they dissipate!</p> <p>Be warned, masks (for covid, not Halloween) are required in the land of the dead, and it is best to stay socially and emotionally distant when dealing with the damned! The event is 21+ and we do not take reservations!</p> <p>Food won't be on the menu, but appetizers are available from Headshots next door.</p> <p><strong>NOTE: Apparition will close at midnight Oct. 25-28</strong></p> 2120 N Woodlawn Blvd #324 Wichita, KS America/Chicago
Back To Previous