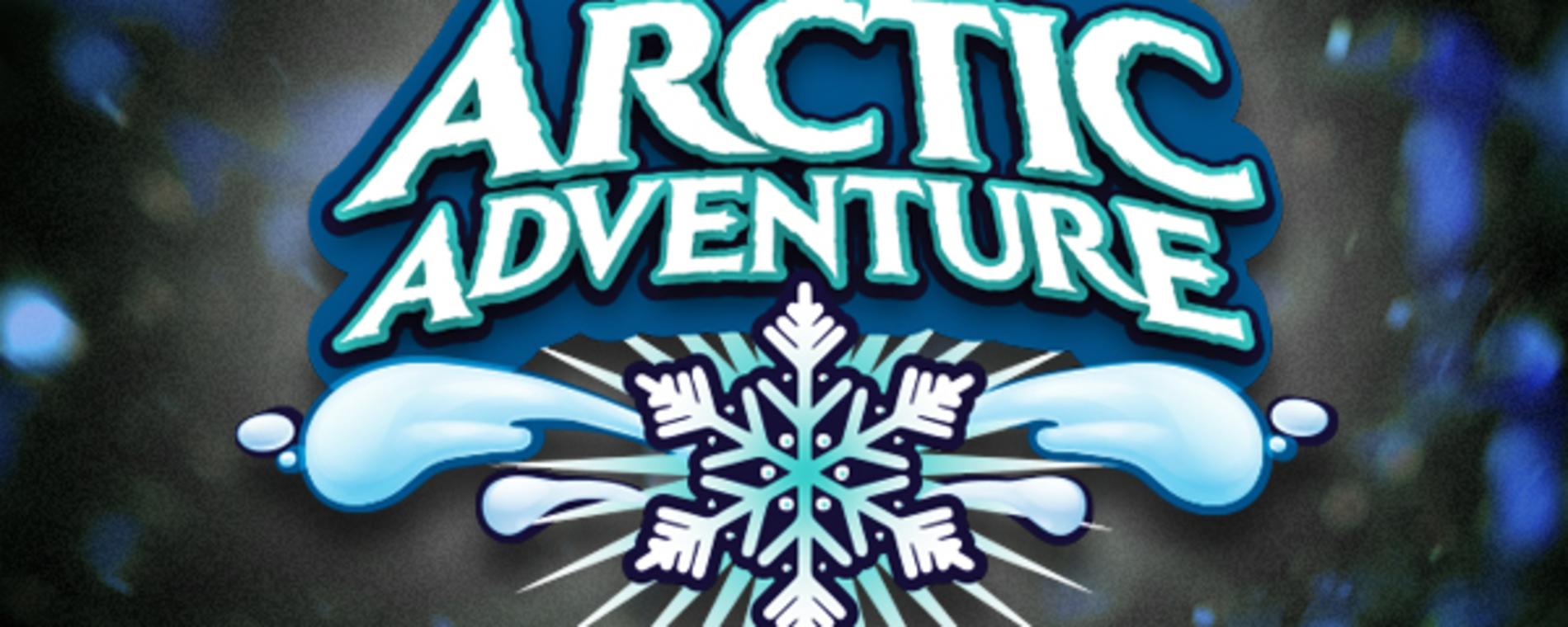 Back to Previous
Arctic Adventure
November 26, 2022 | Exploration Place
Step away from the Kansas plains and into the arctic tundra for an interactive family adventure filled with falling snow, virtual games, hands-on challenges and more. Battle a yeti in a snowball fight, go ice skating in your winter socks, step inside a snow globe and experience the winter terrain in a sensory path that all ages will enjoy. 
Arctic Adventure leverages the latest technology to create a frosty and fun environment that will become a family tradition for years to come.
Exhibit Features
Wonderland Walkway – Follow the directions through the sensory path to make it across safely.
Sock Skating Rink – Trade skates for socks in the indoor version of this popular winter activity that uses synthetic ice to mimic the slippery surface of an outdoor rink.
Snow Globe – Step inside this six-foot snow globe to view the world from inside the frosty fun. Snap pictures to remember your visit to Arctic Adventure.
Falling Snow – A winter wonderland wouldn't be complete without falling snow! Throughout the day flurries will drift from the rafters and swirl through the air.
Arctic Arcade – 

Virtual Snowball Fights – Battle a yeti and his snowman army by throwing snowballs at the screen to stop their attack.
Ravenous Reindeer – Help your reindeer collect more marbles than the other players in this virtual game that relies on accuracy and speed to throw the balls at your target.
Ornament Smash – Use physical strength and team strategy to smash virtual ornaments faster than your opponent.
And more!
Admission:

$20 (Adults ages 12-64), $15 (Seniors ages 65+), $15 (Youth ages 3-11), Free (Child ages 2 & under)

Recurrence:

Recurring daily

Days:

November 4, 2022 - January 8, 2023

>

2022-11-26 2023-01-08 Arctic Adventure <p>Step away from the Kansas plains and into the arctic tundra for an interactive family adventure filled with falling snow, virtual games, hands-on challenges and more. Battle a yeti in a snowball fight, go ice skating in your winter socks, step inside a snow globe and experience the winter terrain in a sensory path that all ages will enjoy. </p> <p><em>Arctic Adventure</em> leverages the latest technology to create a frosty and fun environment that will become a family tradition for years to come.</p> <p>Exhibit Features</p> <ul> <li> <ul> <li><strong>Wonderland Walkway</strong> &#8211; Follow the directions through the sensory path to make it across safely.</li> <li><strong>Sock Skating Rink</strong> &#8211; Trade skates for socks in the indoor version of this popular winter activity that uses synthetic ice to mimic the slippery surface of an outdoor rink.</li> <li><strong>Snow Globe</strong> &#8211; Step inside this six-foot snow globe to view the world from inside the frosty fun. Snap pictures to remember your visit to Arctic Adventure.</li> <li><strong>Falling Snow</strong> &#8211; A winter wonderland wouldn't be complete without falling snow! Throughout the day flurries will drift from the rafters and swirl through the air.</li> <li><strong>Arctic Arcade</strong> &#8211;  <ul> <li><strong>Virtual Snowball Fights</strong> &#8211; Battle a yeti and his snowman army by throwing snowballs at the screen to stop their attack.</li> <li><strong>Ravenous Reindeer</strong> &#8211; Help your reindeer collect more marbles than the other players in this virtual game that relies on accuracy and speed to throw the balls at your target.</li> <li><strong>Ornament Smash</strong> &#8211; Use physical strength and team strategy to smash virtual ornaments faster than your opponent.</li> <li><strong>And more!</strong></li> </ul> </li> </ul> </li> </ul> 300 N McLean Blvd. Wichita, KS America/Chicago
Back To Previous