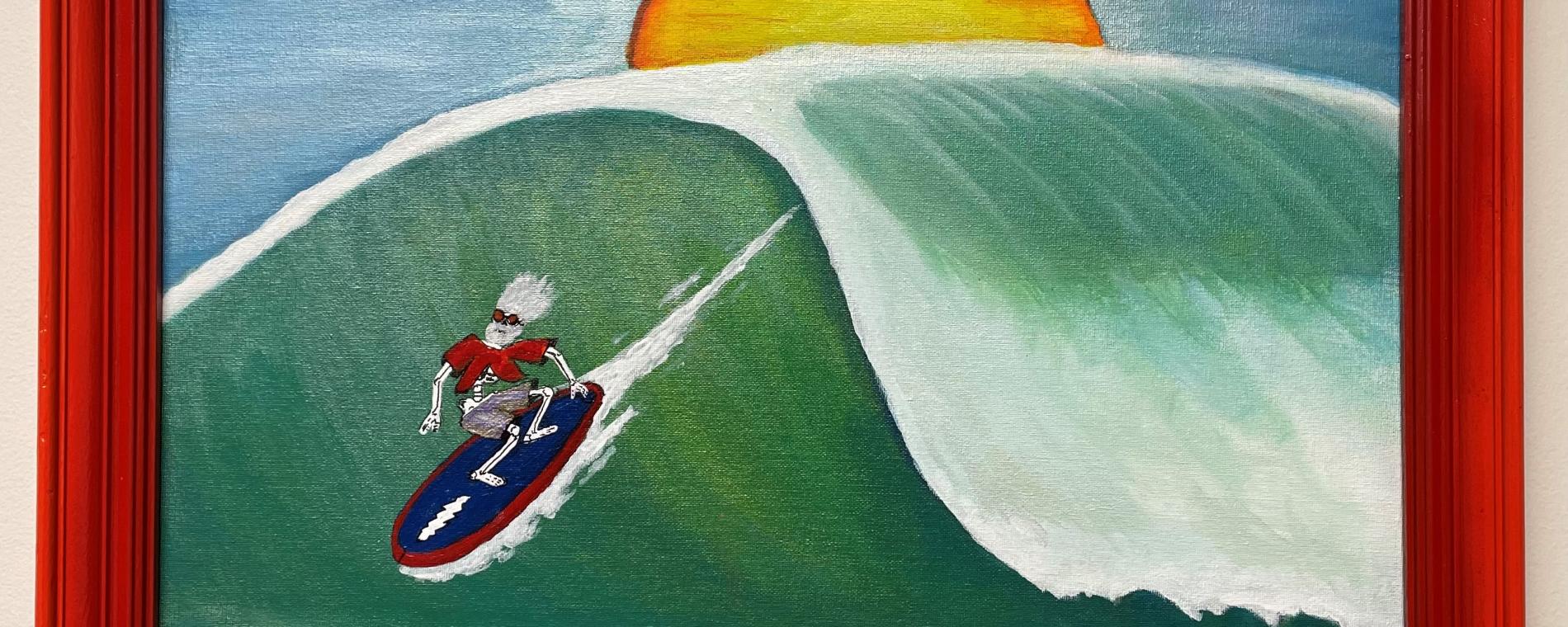 Back to Previous
Art By Stofer - New Work by William Stofer
09:00 AM, December 2, 2021 | CityArts
William Stoffer was born and raised in Southern California, but has lived and worked in Kansas for a number of years. As a young artist he was not only influenced by artistic parents, but gravitated toward the rock posters and surf and hot-rod culture of the time.
William has worked in several mediums, but keeps returning to sculpture and air-brushing with enamels and acrylics. Stofer does not consider himself as a particular stylist, but says he just loves to experiment with color, textures and shapes. Stofer's work has been featured in magazines and internet specialty sites. His specialty painting has been featured at custom car and motorcycle shows around the country.
Along with his art, William is a sculptor of custom signs for businesses and is a part time art festival creator. He is the founder of Wichita Festival of the Arts.
Admission:

Free

Recurrence:

Recurring daily

Days:

November 29, 2021 - December 31, 2021

2021-12-02 2021-12-31 17:00:00 Art By Stofer - New Work by William Stofer <div class="White"> <div class="container"> <div data-name="WebPartZone"> <div> <div class="ms-webpart-zone ms-fullWidth"> <div id="MSOZoneCell_WebPartWPQ4" class="s4-wpcell-plain ms-webpartzone-cell ms-webpart-cell-vertical ms-fullWidth "> <div class="ms-webpart-chrome ms-webpart-chrome-vertical ms-webpart-chrome-fullWidth "> <div id="WebPartWPQ4" class="ms-WPBody "> <div class="ms-rtestate-field"> <div class="row"> <div class="col-md-9"> <p>William Stoffer was born and raised in Southern California, but has lived and worked in Kansas for a number of years. As a young artist he was not only influenced by artistic parents, but gravitated toward the rock posters and surf and hot-rod culture of the time.</p> <p>William has worked in several mediums, but keeps returning to sculpture and air-brushing with enamels and acrylics. Stofer does not consider himself as a particular stylist, but says he just loves to experiment with color, textures and shapes. Stofer's work has been featured in magazines and internet specialty sites. His specialty painting has been featured at custom car and motorcycle shows around the country.</p> <p>Along with his art, William is a sculptor of custom signs for businesses and is a part time art festival creator. He is the founder of Wichita Festival of the Arts.</p> <div> </div> </div> </div> </div> <div class="ms-clear"> </div> </div> </div> </div> </div> </div> </div> </div> </div> <div class="White"> <div class="container"> <div data-name="WebPartZone"> </div> </div> </div> 334 N. Mead Wichita, KS America/Chicago
Back To Previous