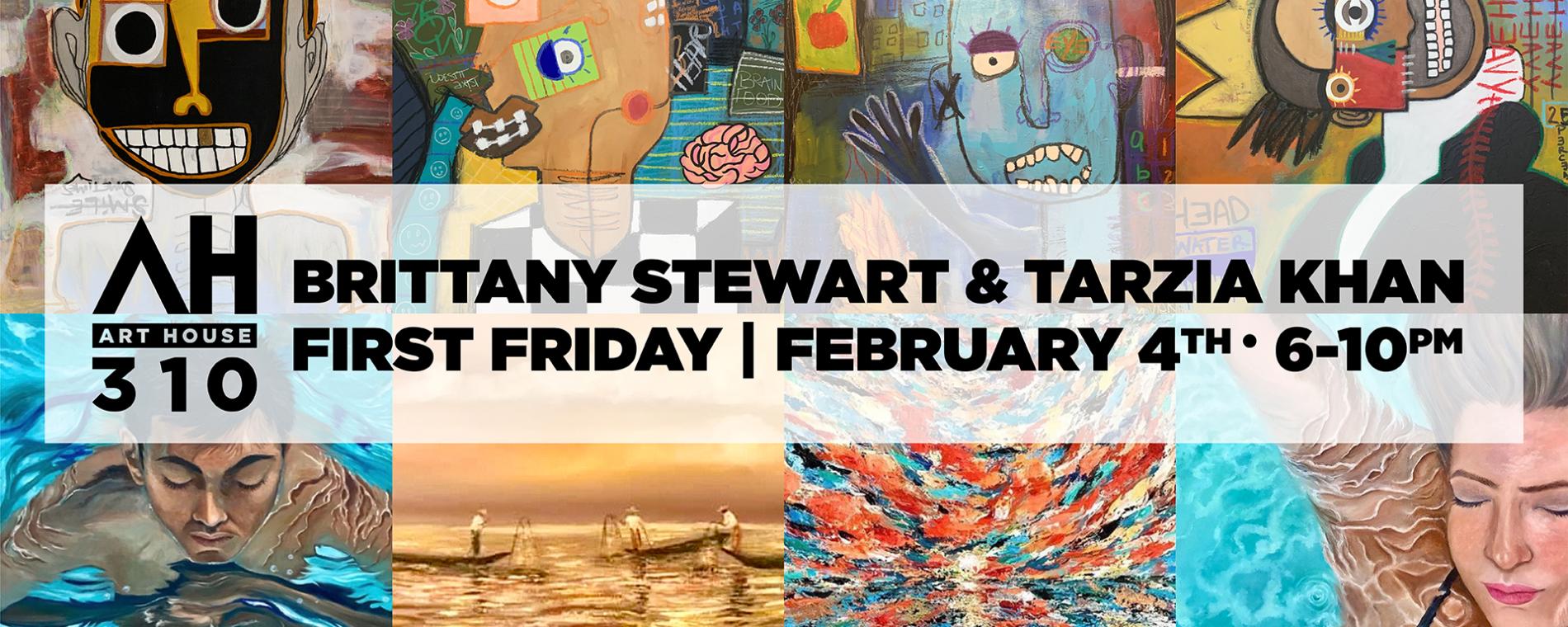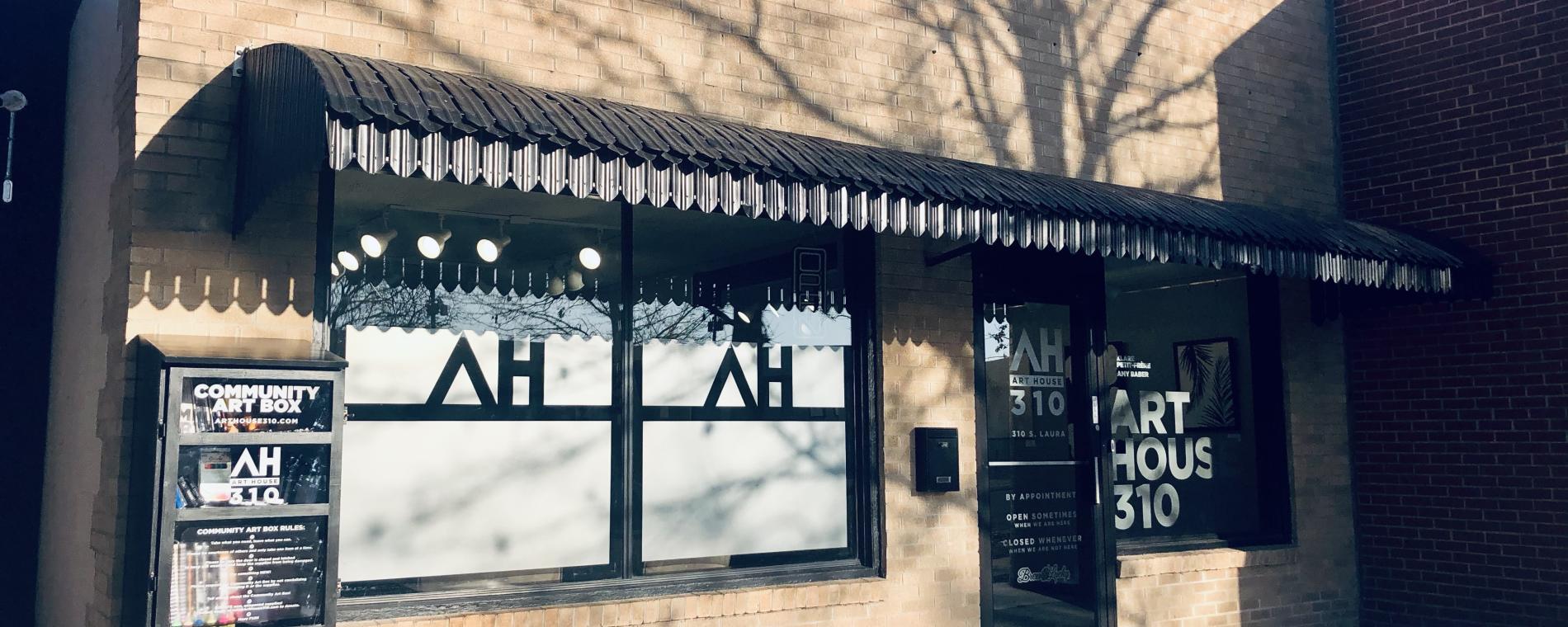 Back to Previous
Art House 310 First Friday – Brittany Stewart & Tarzia Khan
06:00 PM, February 4, 2022 | Art House 310
Check out Art House 310 First Friday featuring Brittany Stewart & Tarzia Khan. The opening reception is the first Friday, Feb. 4, 2022 from 6-10 p.m. This event is free to attend and open to the public. Show hangs through February 20, 2022.  Art House 310 is located at 310 S. Laura. Two blocks southeast of Douglas and Washington Avenue in downtown Wichita.

Brittany Steward was borned and raised in Wichita, Kansas. She has become a DIY lover, thrifter that found a true inspiration for art seven years ago. Thrifting furniture, upscaling them to sale or keep for her own use was a project, until one day she decided to paint on canvas and discovered a new passion.

Art became a gateway for self-expression. "My purpose as an artist is to explore around the human conditions, how we fit into the rest of the world. Quite frankly what makes us different and unique. We may never have it all figured out, but I'll continue to stay reflective because I experience uncertainty and certainty within the same energy. Within my work I share my love for color, texture, and shapes. My pieces are almost always Abstract, and figure based. Understanding that our true portraits are vastly than what we see with our own eyes. It's a much deeper dive into who we are."

As we sometimes face doubt and scrutiny on a day-to-day basis, she has challenged herself to explore mental health, practicing self-care with self-love. This series is an extension of a hand, a hug, and a voice for those that are and have faced strenuous obstacles. Simply a reminder to be kind to self as we grow.

See more of Brittany's work online at https://www.beloveartistry.com/, and on Instagram: https://www.instagram.com/belove_/.

Tarzia Khan collection H2O, came about from the love of painting water.
"I grew up painting landscapes in oil. In most of my landscapes, there was water in the foreground. When we lived in Singapore, I started painting cityscapes, and again having the element of water was very important for me. Whether it was wet city streets or a skyline of a city or a famous landmark, I found ways to feature water. To me, water brings so much life and depth to art. Last summer I embarked on a project to paint people in water. My friends and family graciously volunteered to model for my paintings. Not only did I capture them floating on the surface of a pool or sitting by its edge, I started taking underwater photography. First with my iPhone submerged underwater inside a plastic pouch, and then with a small action camera. I'm fascinated by the reflections and refractions of light in water."

Tarzia's style of work as an artist is a bit eclectic. "I love painting many different subjects in both oil and acrylics. Some of my work is very realistic, while others tend to be more impressionist style, even abstract in nature. H2O is a true representation of my voice as an artist. From people submerged in swimming pools, to gondolas in Venice to sunsets and sunrises over large bodies of water, this collection gives you a glimpse of my favorite things to paint. I hope you enjoy my first ever Art Exhibition, as much as I enjoyed painting every single piece."

See more of Tarzia's work on Facebook: https://www.facebook.com/TarziasArt/ and on Instagram: https://www.instagram.com/tarzia_khan_fineart/.

www.ArtHouse310.com
Facebook | @ArtHouse310, Instagram | @ArtHouse310, TikTok | @AngieAwesomePants

Learn about what Art House 310 is doing to prevent the spread of COVID-19. 
As the CDC relaxes the mask recommendations for fully vaccinated individuals, we ask that anyone entering Art House 310 use your best moral judgement on masks. We will continue to have masks on hand as well as hand sanitizer. We do ask that individuals who are not fully vaccinated continue to wear a mask when entering Art House 310. We follow CDC recommendations on masking.

– All events at Art House 310 are subject to change.
– Hand sanitizer will be on site for use.
– Art House 310 will disinfect the public areas before and after any events.
– There is no public restroom at Art House 310.
– Properly worn masks are strongly recommended when entering Art House 310 and we strongly encourage you to practice safe social distancing.
– We ask that any purchases be done so with card payment in order to reduce the spread of germs.
– Anyone showing symptoms or feeling ill or have been exposed to Covid-19 should NOT enter Art House 310.

We appreciate your understanding and efforts to keep everyone safe and healthy.
Admission:

Free

Days:

February 4, 2022

2022-02-04 2022-02-04 22:00:00 Art House 310 First Friday &#8211; Brittany Stewart & Tarzia Khan <p>Check out Art House 310 First Friday featuring Brittany Stewart &amp; Tarzia Khan. The opening reception is the first Friday, Feb. 4, 2022 from 6-10 p.m. This event is free to attend and open to the public. Show hangs through February 20, 2022.  Art House 310 is located at 310 S. Laura. Two blocks southeast of Douglas and Washington Avenue in downtown Wichita.<br /><br />Brittany Steward was borned and raised in Wichita, Kansas. She has become a DIY lover, thrifter that found a true inspiration for art seven years ago. Thrifting furniture, upscaling them to sale or keep for her own use was a project, until one day she decided to paint on canvas and discovered a new passion.<br /><br />Art became a gateway for self-expression. "My purpose as an artist is to explore around the human conditions, how we fit into the rest of the world. Quite frankly what makes us different and unique. We may never have it all figured out, but I'll continue to stay reflective because I experience uncertainty and certainty within the same energy. Within my work I share my love for color, texture, and shapes. My pieces are almost always Abstract, and figure based. Understanding that our true portraits are vastly than what we see with our own eyes. It's a much deeper dive into who we are."<br /><br />As we sometimes face doubt and scrutiny on a day-to-day basis, she has challenged herself to explore mental health, practicing self-care with self-love. This series is an extension of a hand, a hug, and a voice for those that are and have faced strenuous obstacles. Simply a reminder to be kind to self as we grow.<br /><br />See more of Brittany's work online at <a href="https://www.beloveartistry.com/">https://www.beloveartistry.com/</a>, and on Instagram: <a href="https://www.instagram.com/belove_/">https://www.instagram.com/belove_/</a>.<br /><br />Tarzia Khan collection H2O, came about from the love of painting water.</p> <p>"I grew up painting landscapes in oil. In most of my landscapes, there was water in the foreground. When we lived in Singapore, I started painting cityscapes, and again having the element of water was very important for me. Whether it was wet city streets or a skyline of a city or a famous landmark, I found ways to feature water. To me, water brings so much life and depth to art. Last summer I embarked on a project to paint people in water. My friends and family graciously volunteered to model for my paintings. Not only did I capture them floating on the surface of a pool or sitting by its edge, I started taking underwater photography. First with my iPhone submerged underwater inside a plastic pouch, and then with a small action camera. I'm fascinated by the reflections and refractions of light in water."<br /><br />Tarzia's style of work as an artist is a bit eclectic. "I love painting many different subjects in both oil and acrylics. Some of my work is very realistic, while others tend to be more impressionist style, even abstract in nature. H2O is a true representation of my voice as an artist. From people submerged in swimming pools, to gondolas in Venice to sunsets and sunrises over large bodies of water, this collection gives you a glimpse of my favorite things to paint. I hope you enjoy my first ever Art Exhibition, as much as I enjoyed painting every single piece."<br /><br />See more of Tarzia's work on Facebook: <a href="https://www.facebook.com/TarziasArt/">https://www.facebook.com/TarziasArt/</a> and on Instagram: <a href="https://www.instagram.com/tarzia_khan_fineart/">https://www.instagram.com/tarzia_khan_fineart/</a>.<br /><br />www.ArtHouse310.com<br />Facebook | @ArtHouse310, Instagram | @ArtHouse310, TikTok | @AngieAwesomePants<br /><br />Learn about what Art House 310 is doing to prevent the spread of COVID-19. <br />As the CDC relaxes the mask recommendations for fully vaccinated individuals, we ask that anyone entering Art House 310 use your best moral judgement on masks. We will continue to have masks on hand as well as hand sanitizer. We do ask that individuals who are not fully vaccinated continue to wear a mask when entering Art House 310. We follow CDC recommendations on masking.<br /><br />&#8211; All events at Art House 310 are subject to change.<br />&#8211; Hand sanitizer will be on site for use.<br />&#8211; Art House 310 will disinfect the public areas before and after any events.<br />&#8211; There is no public restroom at Art House 310.<br />&#8211; Properly worn masks are strongly recommended when entering Art House 310 and we strongly encourage you to practice safe social distancing.<br />&#8211; We ask that any purchases be done so with card payment in order to reduce the spread of germs.<br />&#8211; Anyone showing symptoms or feeling ill or have been exposed to Covid-19 should NOT enter Art House 310.<br /><br />We appreciate your understanding and efforts to keep everyone safe and healthy.</p> 310 S. Laura Wichita, KS America/Chicago
Back To Previous