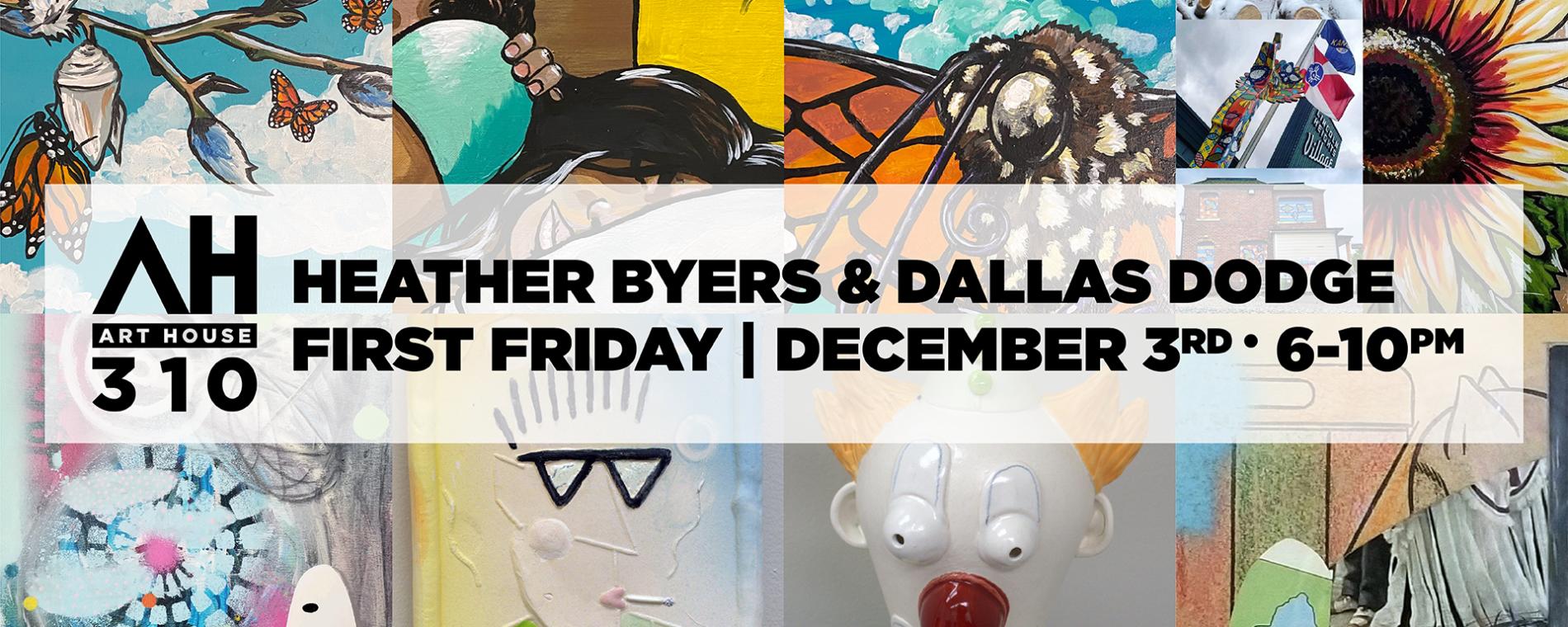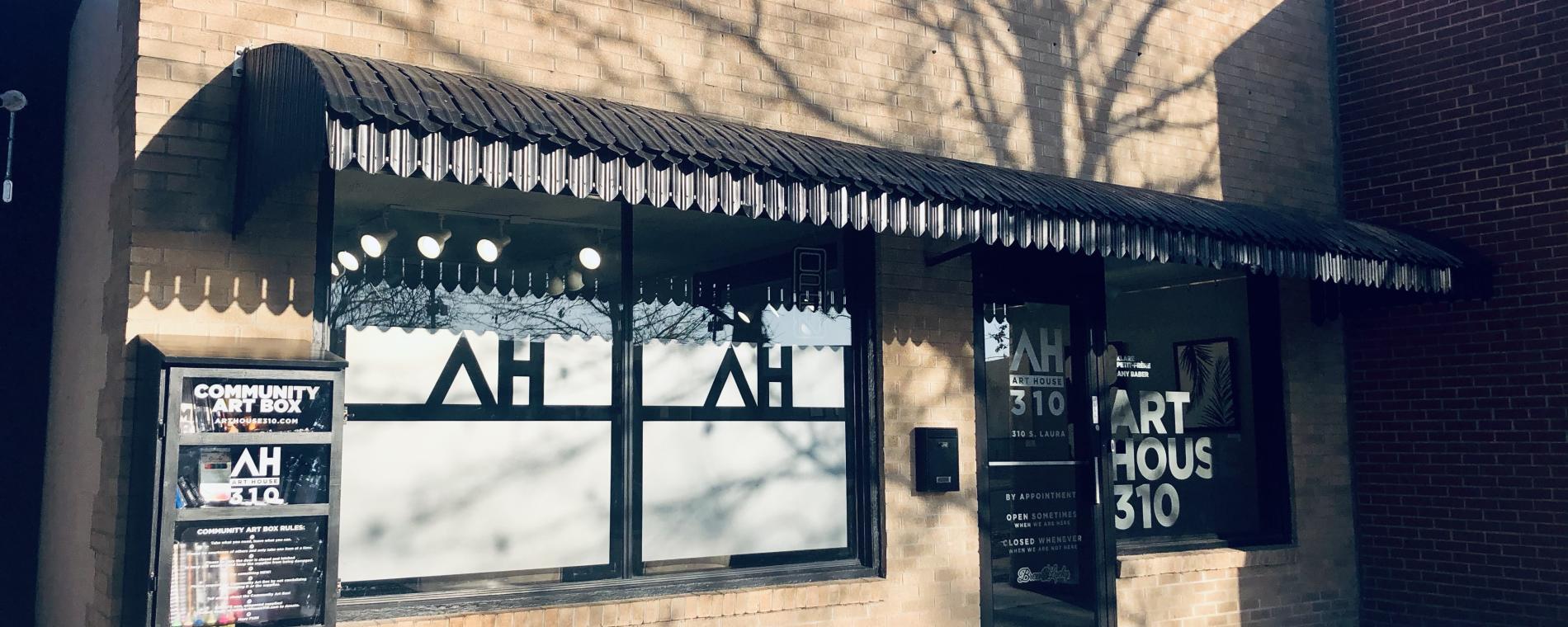 Back to Previous
Art House 310 First Friday – Heather Byers & Dallas Dodge
06:00 PM, December 3, 2021 | Art House 310
Art House 310 First Friday is having an Opening Reception for Heather Byers & Dallas Dodge on First Friday December 3, 2021 from 6-10 p.m.

This event is free to attend and open to the public. Show hangs through December 23, 2021. Art House 310 is located at 310 S. Laura Street, two blocks southeast of Douglas & Washington in downtown Wichita.

Heather Byers said, I see the world around me – plants, people, patterns – and find that much fascinates me. I observe details small lines or gradual color transitions on a face or a flower capture my attention and compel me to share. Still, it can be easy for quiet images to get lost among the noise. That is why, in my work, I make subjects bigger. I make colors surprising and bold. I am heavy handed with outlines so you see exactly what I want to show you.

My desire to share is precisely why public art has become my passion. I use vivid paints to steal the attention of passersby. My art is made to be seen in casual settings, accessible to anyone who would pay attention.

Wichita-based muralist, Heather Byers, has been painting professionally since 2017. As with many visual artists, drawing and painting have been a lifelong pursuit. These days, Heather blends her painting skills with a growing interest in community engagement to create an ideal focus on murals and public art.

By using bold colors and outlines, Heather expertly draws the viewer's attention to fairly common subjects. Whether on the exterior of a building or inside a small business, her work creates a bright atmosphere. Recently, Heather has completed large projects for the City of Wichita Parks Department and Newman University.

See more of Heather's work online at https://www.heatherbyers.art, on Facebook: https://www.facebook.com/2dheatherb and on Instagram: https://www.instagram.com/2dheatherb/.
The other featured artist is Dallas Dodge. At first glance, Dodge's work appears as just a menagerie of cartoonish characters and/or tongue in cheek comedy. It would be easy to overlook any current of serious expression in his absurd aliens and other fanciful pieces. However, having once been a rodeo clown, Dallas is keenly aware of the fact that comedy often lives on a fine edge from far more serious work. Humor can be the vehicle that takes the edge off deeper concerns. His good sense of humor notwithstanding, Dallas' work is largely, like most art, about himself and his ideas. Although he understands what some of his pieces are saying, others are not so clear. Nevertheless, he uses humorous figures the way other artists might use lines, shapes, or color to express their emotions.

See more of Dodge's work on Instagram: instagram.com/dallasdodgeart
Admission:

FREE

Days:

December 3, 2021

2021-12-03 2021-12-03 22:00:00 Art House 310 First Friday &#8211; Heather Byers & Dallas Dodge <p>Art House 310 First Friday is having an Opening Reception for Heather Byers &amp; Dallas Dodge on First Friday December 3, 2021 from 6-10 p.m.<br /><br />This event is free to attend and open to the public. Show hangs through December 23, 2021. Art House 310 is located at 310 S. Laura Street, two blocks southeast of Douglas &amp; Washington in downtown Wichita.<br /><br />Heather Byers said, I see the world around me &#8211; plants, people, patterns &#8211; and find that much fascinates me. I observe details small lines or gradual color transitions on a face or a flower capture my attention and compel me to share. Still, it can be easy for quiet images to get lost among the noise. That is why, in my work, I make subjects bigger. I make colors surprising and bold. I am heavy handed with outlines so you see exactly what I want to show you.<br /><br />My desire to share is precisely why public art has become my passion. I use vivid paints to steal the attention of passersby. My art is made to be seen in casual settings, accessible to anyone who would pay attention.<br /><br />Wichita-based muralist, Heather Byers, has been painting professionally since 2017. As with many visual artists, drawing and painting have been a lifelong pursuit. These days, Heather blends her painting skills with a growing interest in community engagement to create an ideal focus on murals and public art.<br /><br />By using bold colors and outlines, Heather expertly draws the viewer's attention to fairly common subjects. Whether on the exterior of a building or inside a small business, her work creates a bright atmosphere. Recently, Heather has completed large projects for the City of Wichita Parks Department and Newman University.<br /><br />See more of Heather's work online at https://www.heatherbyers.art, on Facebook: https://www.facebook.com/2dheatherb and on Instagram: https://www.instagram.com/2dheatherb/.</p> <p>The other featured artist is Dallas Dodge. At first glance, Dodge's work appears as just a menagerie of cartoonish characters and/or tongue in cheek comedy. It would be easy to overlook any current of serious expression in his absurd aliens and other fanciful pieces. However, having once been a rodeo clown, Dallas is keenly aware of the fact that comedy often lives on a fine edge from far more serious work. Humor can be the vehicle that takes the edge off deeper concerns. His good sense of humor notwithstanding, Dallas' work is largely, like most art, about himself and his ideas. Although he understands what some of his pieces are saying, others are not so clear. Nevertheless, he uses humorous figures the way other artists might use lines, shapes, or color to express their emotions.<br /><br />See more of Dodge's work on Instagram: instagram.com/dallasdodgeart</p> 310 S. Laura Wichita, KS America/Chicago
Back To Previous