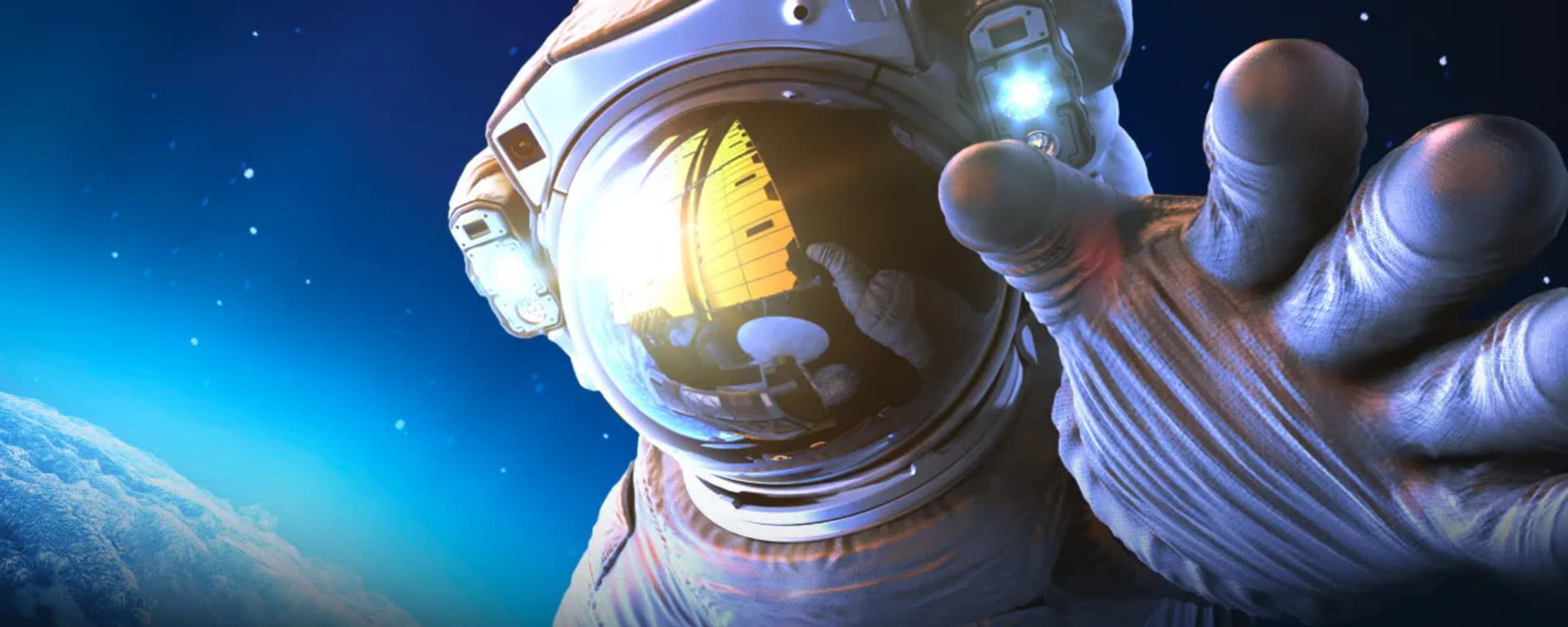 Back to Previous
Astronaut - Do You Have What It Takes
10am-5pm, January 20, 2022 | Exploration Place
Blast off with Exploration Place's new exhibition: Astronaut. Jump into your space suit and report for training, because the newest addition to Exploration Place is out of this world! The Astronaut exhibition brings with it a whole space lab full of science fun.
This new interactive and hands-on exhibition explores the physical and mental challenges involved in space exploration and gives visitors a taste of what life is like outside of Earth and its atmosphere. There's no other job where you can find yourself quite as far above the Earth as that of an astronaut. From the Moon landings to the Mars One project, astronauts have become synonymous with adventure, exploration and endeavor.
Through hands-on and full-body displays, this revealing science exhibition investigates the reality of what it takes to be a space explorer. 26 exhibits relay the physical and psychological effects of living in microgravity on the human body and the technology used to complete a mission. If you've ever wondered what it's like to sleep, eat, shower and use the toilet in space, Astronaut gives you the opportunity to find out.
The exhibition also focuses on teamwork to solve problems, accurately perform tasks and overcome challenges such as communicating with mission control, monitoring damage to your space craft or landing a capsule.
Visitors will be captivated and surprised by this absorbing study into the importance of science in space and the future of space exploration.
Museum Hours
Daily: 10am-5pm (Thursdays open until 8pm)
Admission:

Regular museum admission ($8-$11.50 plus tax); free for members

Recurrence:

Recurring daily

2022-01-20 Astronaut - Do You Have What It Takes <p>Blast off with Exploration Place's new exhibition: Astronaut. Jump into your space suit and report for training, because the newest addition to Exploration Place is out of this world! The Astronaut exhibition brings with it a whole space lab full of science fun.</p> <p>This new interactive and hands-on exhibition explores the physical and mental challenges involved in space exploration and gives visitors a taste of what life is like outside of Earth and its atmosphere. There's no other job where you can find yourself quite as far above the Earth as that of an astronaut. From the Moon landings to the Mars One project, astronauts have become synonymous with adventure, exploration and endeavor.</p> <p>Through hands-on and full-body displays, this revealing science exhibition investigates the reality of what it takes to be a space explorer. 26 exhibits relay the physical and psychological effects of living in microgravity on the human body and the technology used to complete a mission. If you've ever wondered what it's like to sleep, eat, shower and use the toilet in space, Astronaut gives you the opportunity to find out.</p> <p>The exhibition also focuses on teamwork to solve problems, accurately perform tasks and overcome challenges such as communicating with mission control, monitoring damage to your space craft or landing a capsule.</p> <p>Visitors will be captivated and surprised by this absorbing study into the importance of science in space and the future of space exploration.</p> <p><strong>Museum Hours</strong><br />Daily: 10am-5pm (Thursdays open until 8pm)</p> 300 N McLean Blvd. Wichita, KS America/Chicago
Back To Previous