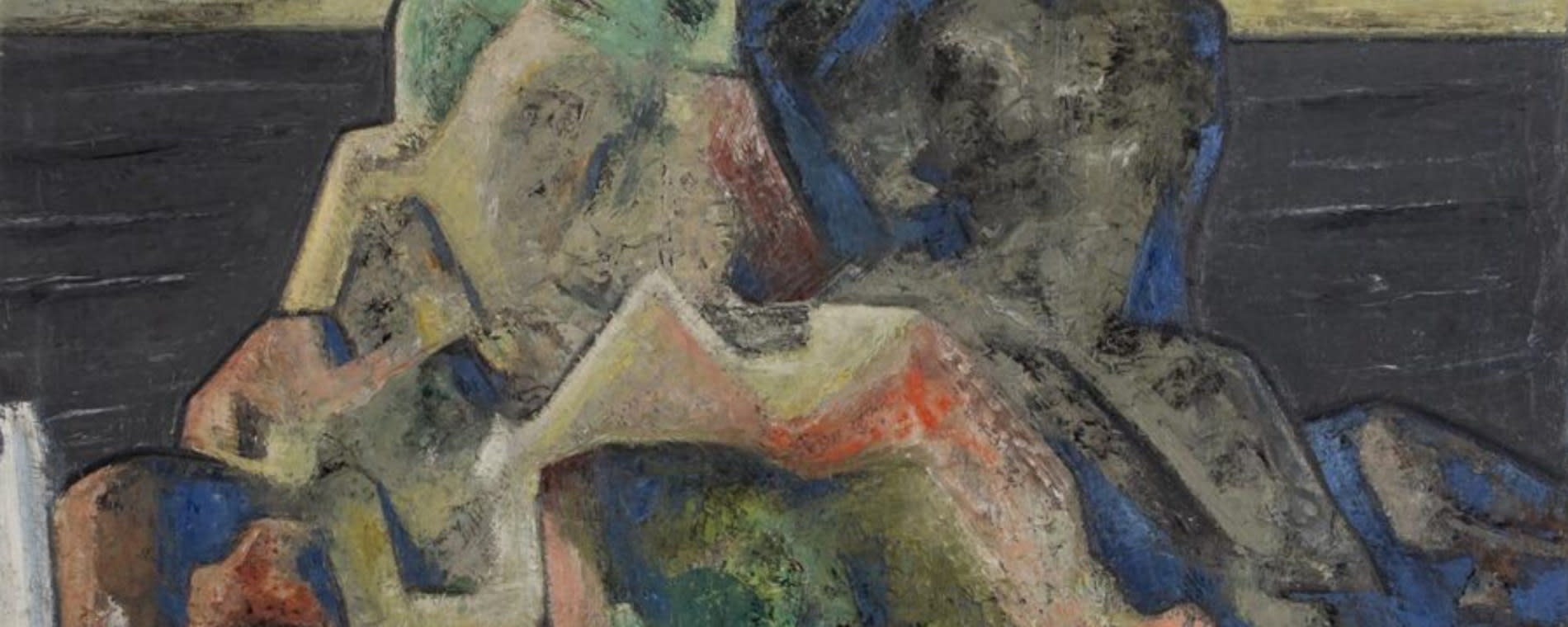 Back to Previous
B.J.O. Nordfeldt - American Internationalist
Regular Museum Hours, October 23, 2021 | Wichita Art Museum
Bror Julius Olsson Nordfeldt (1878–1955) was a modernist of international reputation. With a spirit that sought new locations for new artistic inspiration, he lived in or near artist colonies in Provincetown in Massachusetts, Santa Fe in New Mexico, and New Hope in Pennsylvania.
The first scholarly assessment in decades and retrospective of the artist is organized by the Weisman Art Museum at the University of Minnesota. The Wichita Art Museum will mount this special exhibition in fall 2021.
Nordfeldt was a regular among the Wichita art scene in the 1930s. Banker and painter Ed Davison summered often in Taos, and he befriended many notable artists in the art colonies of Taos and Santa Fe. He brought them to Wichita for visits, exhibition, and sales opportunities as well as his own artistic inquiry. Nordfeldt made many extended visits to the home of Ed and Faye Davison in Wichita. In fact, he was already a friend of Lindsborg artist and fellow Swede, Birger Sandzen. The pair first met in Provincetown in the teens.
With this anchor for Nordfeldt in Wichita, it is important to bring his retrospective to Kansas. New audiences will encounter this masterful modernist who was received in our city with warmth and appreciation in the early decades of the 20th century.
B.J.O. Nordfeldt: American Internationalist is produced by the Weisman Art Museum, University of Minnesota.
Museum Hours
Tuesdays-Saturdays: 10am-5pm
Sundays: Noon-5pm
Mondays: Closed
Admission:

Adults $10, Seniors (60+) $5, Discounts for students and youth. Free on Saturdays

Recurrence:

Recurring weekly on Sunday, Tuesday, Wednesday, Thursday, Friday, Saturday

Days:

September 25, 2021 - January 6, 2022

2021-10-23 2022-01-06 B.J.O. Nordfeldt - American Internationalist <p>Bror Julius Olsson Nordfeldt (1878&#8211;1955) was a modernist of international reputation. With a spirit that sought new locations for new artistic inspiration, he lived in or near artist colonies in Provincetown in Massachusetts, Santa Fe in New Mexico, and New Hope in Pennsylvania.</p> <p>The first scholarly assessment in decades and retrospective of the artist is organized by the Weisman Art Museum at the University of Minnesota. The Wichita Art Museum will mount this special exhibition in fall 2021.</p> <p>Nordfeldt was a regular among the Wichita art scene in the 1930s. Banker and painter Ed Davison summered often in Taos, and he befriended many notable artists in the art colonies of Taos and Santa Fe. He brought them to Wichita for visits, exhibition, and sales opportunities as well as his own artistic inquiry. Nordfeldt made many extended visits to the home of Ed and Faye Davison in Wichita. In fact, he was already a friend of Lindsborg artist and fellow Swede, Birger Sandzen. The pair first met in Provincetown in the teens.</p> <p>With this anchor for Nordfeldt in Wichita, it is important to bring his retrospective to Kansas. New audiences will encounter this masterful modernist who was received in our city with warmth and appreciation in the early decades of the 20th century.</p> <p><em>B.J.O. Nordfeldt: American Internationalist</em> is produced by the Weisman Art Museum, University of Minnesota.</p> <p><span style="text-decoration: underline;">Museum Hours</span><br />Tuesdays-Saturdays: 10am-5pm<br />Sundays: Noon-5pm<br />Mondays: Closed</p> 1400 W. Museum Blvd. Wichita, KS America/Chicago
Back To Previous