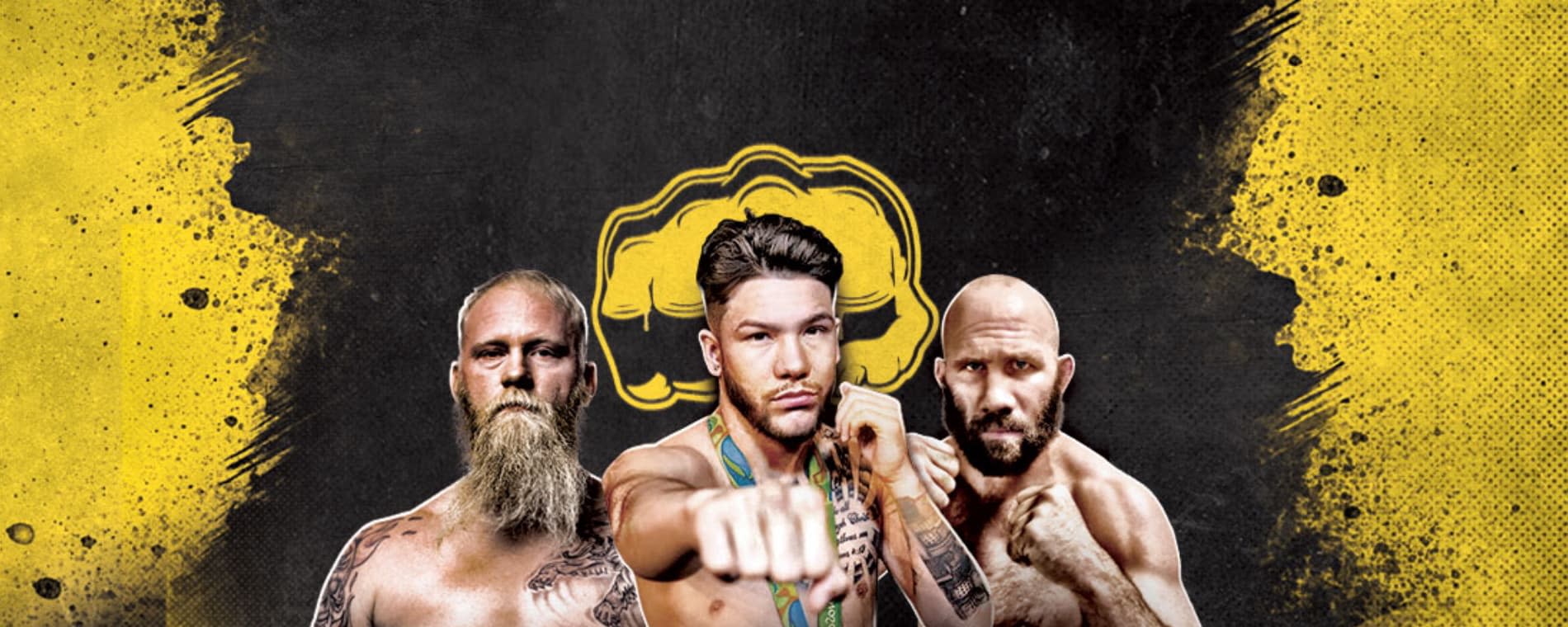 Back to Previous
Bare Knuckle Fighting Championship 13
7:00pm December 4, 2020 | INTRUST Bank Arena
Bare Knuckle Fighting Championship 13 featuring Nico Hernandez, Dave "Caveman" Rickels and Sam Shewmaker!
Bare Knuckle Fighting Championship (BKFC) will deliver an exciting night of bare knuckle action headlined by hometown fan favorites entering the ring at INTRUST Bank Arena in Wichita and live on pay-per-view.
The main event will see the BKFC debut of Wichita native and 2016 Olympic bronze medalist for the U.S. Nico Hernandez in a flyweight fight, while Wichita native and former Bellator veteran Dave "Caveman" Rickels competes in a 165-pound bout in the co-main event. Plus, the hard-hitting bare knuckle heavyweight contender Sam Shewmaker returns to action in a special attraction.
*This event was originally scheduled for 3/14 and rescheduled to 6/20, 8/21, and 10/16 before being rescheduled again to 12/4*
Admission:

$40-100

Days:

December 4, 2020

2020-12-04 2020-12-04 19:00:00 Bare Knuckle Fighting Championship 13 <p>Bare Knuckle Fighting Championship 13 featuring Nico Hernandez, Dave "Caveman" Rickels and Sam Shewmaker!</p> <p>Bare Knuckle Fighting Championship (BKFC) will deliver an exciting night of bare knuckle action headlined by hometown fan favorites entering the ring at INTRUST Bank Arena in Wichita and live on pay-per-view.</p> <p>The main event will see the BKFC debut of Wichita native and 2016 Olympic bronze medalist for the U.S. Nico Hernandez in a flyweight fight, while Wichita native and former Bellator veteran Dave "Caveman" Rickels competes in a 165-pound bout in the co-main event. Plus, the hard-hitting bare knuckle heavyweight contender Sam Shewmaker returns to action in a special attraction.</p> <p><a title="Get Tickets" href="https://selectaseat.com/bkfc11" rel="nofollow" target="_blank"><strong>Get Tickets</strong></a></p> <p><span>*This event was originally scheduled for 3/14 and rescheduled to 6/20, 8/21, and 10/16 before being rescheduled again to 12/4*</span></p> 500 E. Waterman Wichita, KS America/Chicago
Back To Previous