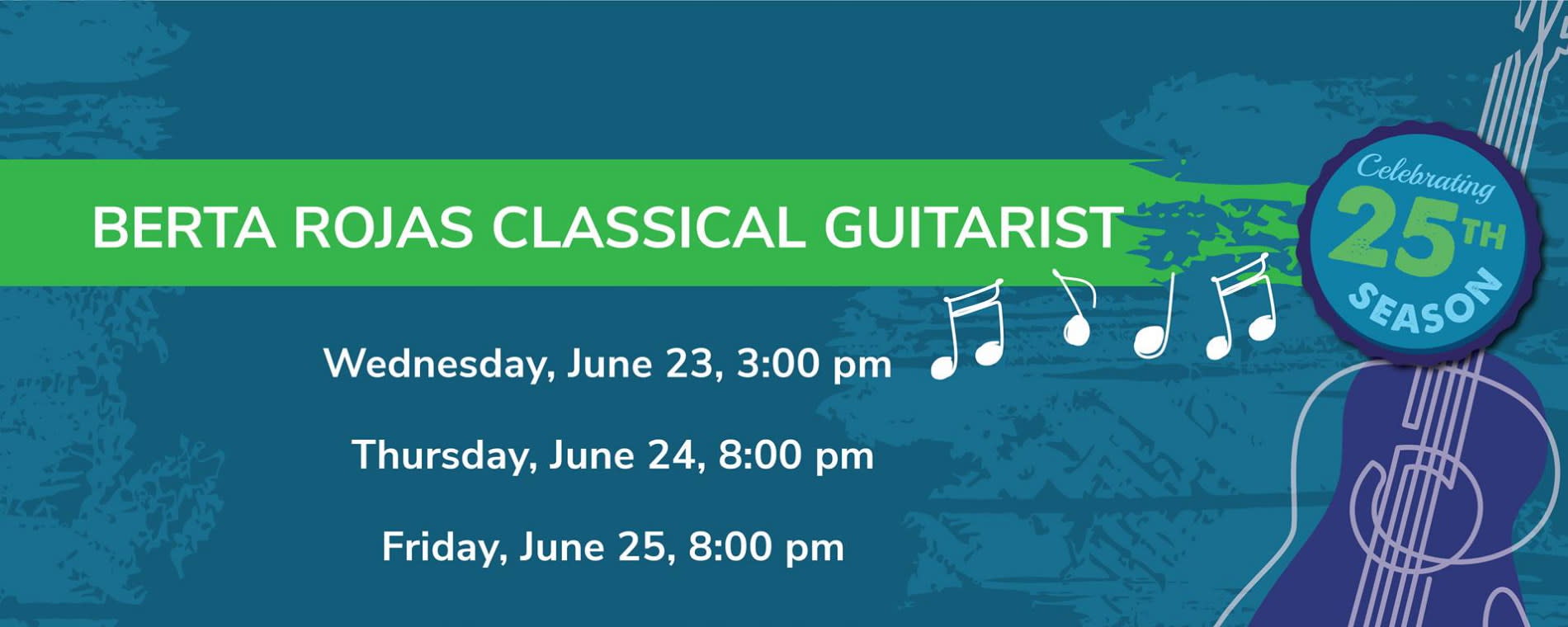 Back to Previous
Berta Rojas Classical Guitarist - Chamber Music at The Barn
Various Times, June 23, 2021 | Prairie Pines
Join Chamber Music at The Barn for Berta Rojas Classical Guitarist, part of their Summer Concert Series. Berta Rojas ranks among today's foremost classical guitarists. She has been praised as "guitarist extraordinaire" by the Washington Post and by Classical Guitar Magazine as "Ambassador of the classical guitar."
Berta's acknowledged warmth and musicality have earned her the admiration of audiences at major venues worldwide. She has been nominated three times for Latin Grammy Awards. Music from a wide variety of Latin composers will be performed, including Heitor Villa-Lobos (Brazil) and Agustin Barrios (Paraguay). Berta takes her audiences on a colorful journey of sound, embracing new works by composers in diverse genres.
| | |
| --- | --- |
| June 23 | 3:00pm |
| June 24 | 8:00pm |
| June 25 | 8:00pm |
Afternoon Delight Concerts
Begin at 3:00pm. All seating is inside The Barn. Non-reserved seating opens at 2:15pm prior to the concert. Afternoon Delights are a one-hour concert format with comments from musicians. No intermission. Tickets are $20.
Evening Concerts
The stunning gardens open at 6:30pm. There are two options for seating: inside air-conditioned seating (Barn tickets - $40) and outside seating (Garden tickets - $20). Bring a picnic basket and dine with friends at tables and chairs throughout the garden. Pre-concert discussion Inside Scoop starts at 7:15pm inside The Barn. Patrons need to be seated by 7:45pm for the performance.
Wine and beer are for sale through intermission. You must be 21 with valid ID. No outside alcohol is allowed. Some Garden seating allows you to view the concert from a 50″ projection screen. The audio is heard from multiple stereo speakers. Many other garden locations can be chosen to hear the music surrounded by nature without visual access to the concert.
Admission:

$20-$40

Get Tickets
Recurrence:

Recurring daily

Days:

June 23, 2021 - June 25, 2021

2021-06-23 2021-06-25 Berta Rojas Classical Guitarist - Chamber Music at The Barn <p>Join Chamber Music at The Barn for Berta Rojas Classical Guitarist, part of their Summer Concert Series. Berta Rojas ranks among today's foremost classical guitarists. She has been praised as "guitarist extraordinaire" by the Washington Post and by Classical Guitar Magazine as "Ambassador of the classical guitar."</p> <p>Berta's acknowledged warmth and musicality have earned her the admiration of audiences at major venues worldwide. She has been nominated three times for Latin Grammy Awards. Music from a wide variety of Latin composers will be performed, including Heitor Villa-Lobos (Brazil) and Agustin Barrios (Paraguay). Berta takes her audiences on a colorful journey of sound, embracing new works by composers in diverse genres.</p> <table style="width: 275px;" border="0" align="center"> <tbody> <tr> <td>June 23</td> <td>3:00pm</td> </tr> <tr> <td>June 24</td> <td><span>8:00pm</span></td> </tr> <tr> <td>June 25</td> <td><span>8:00pm</span></td> </tr> </tbody> </table> <p><span style="text-decoration: underline;"><strong>Afternoon Delight Concerts</strong></span><br />Begin at 3:00pm. All seating is inside The Barn. Non-reserved seating opens at 2:15pm prior to the concert. Afternoon Delights are a one-hour concert format with comments from musicians. No intermission. Tickets are $20.</p> <p><span style="text-decoration: underline;"><strong>Evening Concerts</strong></span><br />The stunning gardens open at 6:30pm. There are two options for seating: inside air-conditioned seating (Barn tickets - $40) and outside seating (Garden tickets - $20). Bring a picnic basket and dine with friends at tables and chairs throughout the garden. Pre-concert discussion Inside Scoop starts at 7:15pm inside The Barn. Patrons need to be seated by 7:45pm for the performance.</p> <p>Wine and beer are for sale through intermission. You must be 21 with valid ID. No outside alcohol is allowed. Some Garden seating allows you to view the concert from a 50″ projection screen. The audio is heard from multiple stereo speakers. Many other garden locations can be chosen to hear the music surrounded by nature without visual access to the concert.</p> 4055 N Tyler Rd Maize, KS America/Chicago
Back To Previous