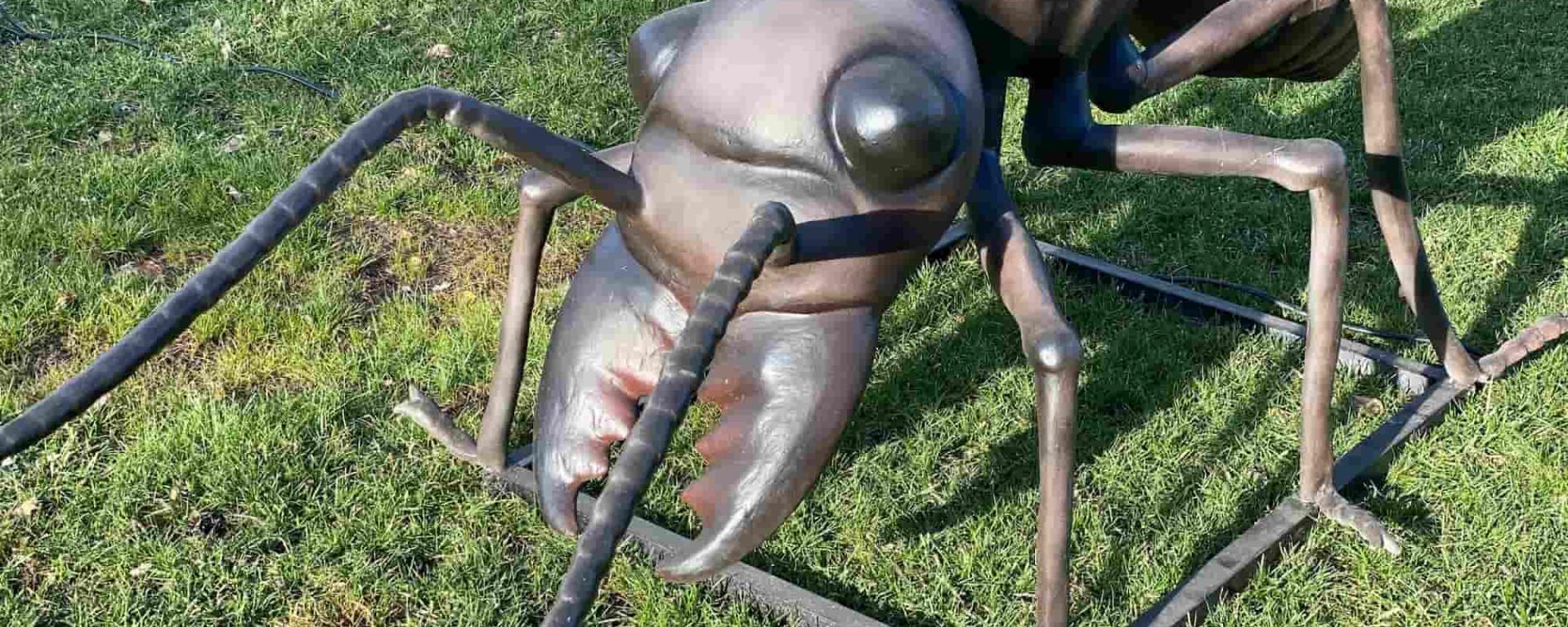 Back to Previous
Big Bugs Exhibit at Botanica Wichita
Regular Hours, August 5, 2021 | Botanica Wichita
Just when you thought it was safe to go outside, Big Bugs invade Botanica! Featuring 12 animatronic insects installed throughout Botanica's 20-acres, visitors can access the exhibit during general admission visits and special events.
Replica movements and oversized detail bring these creatures to life in delight of visitors young and old. Penny the Centipede stretches out to approximately 10 feet long. Perry the Praying Mantis stands 7 feet tall. Drake Dragonfly's flapping wings span 10 feet wide. Other insects include Buzz the Bee, Paul the Dung Beetle and Turbo the Snail.
Botanica's Gardens are home to more than 4,000 different kinds of plants and insects of every variety. Playing an important role in Botanica's ecosystem, bugs are vital to the flowers and food we all appreciate.
Hours
Mondays, Wednesdays, Fridays, & Saturdays - 9am-5pm
Tuesdays & Thursdays - 9am-8pm
Sundays - 1-5pm
Admission:

Regular Admission - $10 adults; $8 youth, seniors and military

Recurrence:

Recurring daily

Days:

May 1, 2021 - September 30, 2021

2021-08-05 2021-09-30 Big Bugs Exhibit at Botanica Wichita <p>Just when you thought it was safe to go outside, Big Bugs invade Botanica! Featuring 12 animatronic insects installed throughout Botanica's 20-acres, visitors can access the exhibit during general admission visits and special events.</p> <p>Replica movements and oversized detail bring these creatures to life in delight of visitors young and old. Penny the Centipede stretches out to approximately 10 feet long. Perry the Praying Mantis stands 7 feet tall. Drake Dragonfly's flapping wings span 10 feet wide. Other insects include Buzz the Bee, Paul the Dung Beetle and Turbo the Snail.</p> <p>Botanica's Gardens are home to more than 4,000 different kinds of plants and insects of every variety. Playing an important role in Botanica's ecosystem, bugs are vital to the flowers and food we all appreciate.</p> <p><span style="text-decoration: underline;"><strong>Hours</strong></span><br />Mondays, Wednesdays, Fridays, &amp; Saturdays - 9am-5pm<br />Tuesdays &amp; Thursdays - 9am-8pm<br />Sundays - 1-5pm</p> 701 N. Amidon Wichita, KS America/Chicago
Back To Previous