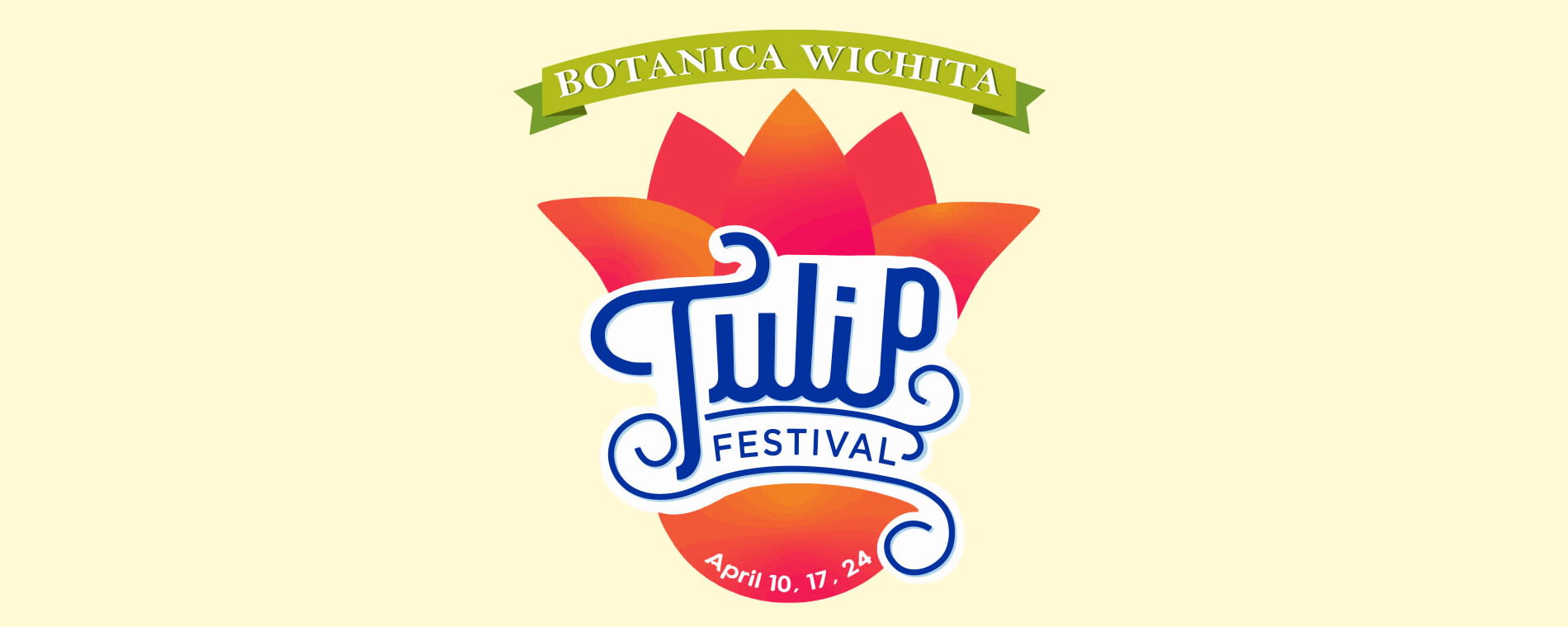 Back to Previous
Botanica Tulip Festival
10am-2pm, April 17, 2021 | Botanica Wichita
Join Botanica this beautiful tulip season with some special attractions on these three Saturdays. There will be special activities in the gardens for all ages so come enjoy 20 acres of developed gardens.
Botanica is the perfect place to get outside and enjoy a safe environment while social distancing. This year, volunteers and gardeners planted over 66,000 tulips with over 110 varieties. Each Saturday there will be live music, food trucks (Hot-2-Trot and Noble House - popcorn, sno-cones and beverages will also be available), activities in the bee house, carousel rides for $3, a petting zoo and special activities.
Regular Botanica Admission
Adults: $10
Seniors/military/youth: $8
Children 2 & Under and Botanica Members: Free
Tulip Painting Kit (add-on) - $10
Don't just look at tulips….paint them! Chanel your inner artist during Botanica's Tulip Festival by purchasing a Tulip Painting Kit. Appropriate for most ages, your kit will guide you to sketch and paint some of the 66,000 beautiful blooms, either in Botanica gardens or at home after your visit. The kit includes everything you need to create and display a work of art: blank canvass, easel, paints, brushes, palette, How-To-Draw guide and a tulip identifier bookmark. Each kit will also include a tulip-shaped wildflower seed paper to plant at home! You may purchase the kit when pre-purchasing your tickets to guarantee your kit or you may purchase the paint kits the day of while supplies last.
Admission:

Regular Admission ($8-$10)

Get Tickets
Recurrence:

Recurring weekly on Saturday

Days:

April 10, 2021 - April 24, 2021

2021-04-17 2021-04-24 14:00:00 Botanica Tulip Festival <p>Join Botanica this beautiful tulip season with some special attractions on these three Saturdays. There will be special activities in the gardens for all ages so come enjoy 20 acres of developed gardens.</p> <p>Botanica is the perfect place to get outside and enjoy a safe environment while social distancing. This year, volunteers and gardeners planted over 66,000 tulips with over 110 varieties. Each Saturday there will be live music, food trucks (Hot-2-Trot and Noble House - popcorn, sno-cones and beverages will also be available), activities in the bee house, carousel rides for $3, a petting zoo and special activities.</p> <p><strong>Regular Botanica Admission</strong><br />Adults: $10<br />Seniors/military/youth: $8<br />Children 2 &amp; Under and Botanica Members: Free</p> <p><strong>Tulip Painting Kit</strong> (add-on) - $10<br />Don't just look at tulips….paint them! Chanel your inner artist during Botanica's Tulip Festival by purchasing a Tulip Painting Kit. Appropriate for most ages, your kit will guide you to sketch and paint some of the 66,000 beautiful blooms, either in Botanica gardens or at home after your visit. The kit includes everything you need to create and display a work of art: blank canvass, easel, paints, brushes, palette, How-To-Draw guide and a tulip identifier bookmark. Each kit will also include a tulip-shaped wildflower seed paper to plant at home! You may purchase the kit when pre-purchasing your tickets to guarantee your kit or you may purchase the paint kits the day of while supplies last.</p> 701 N. Amidon Wichita, KS America/Chicago
Back To Previous