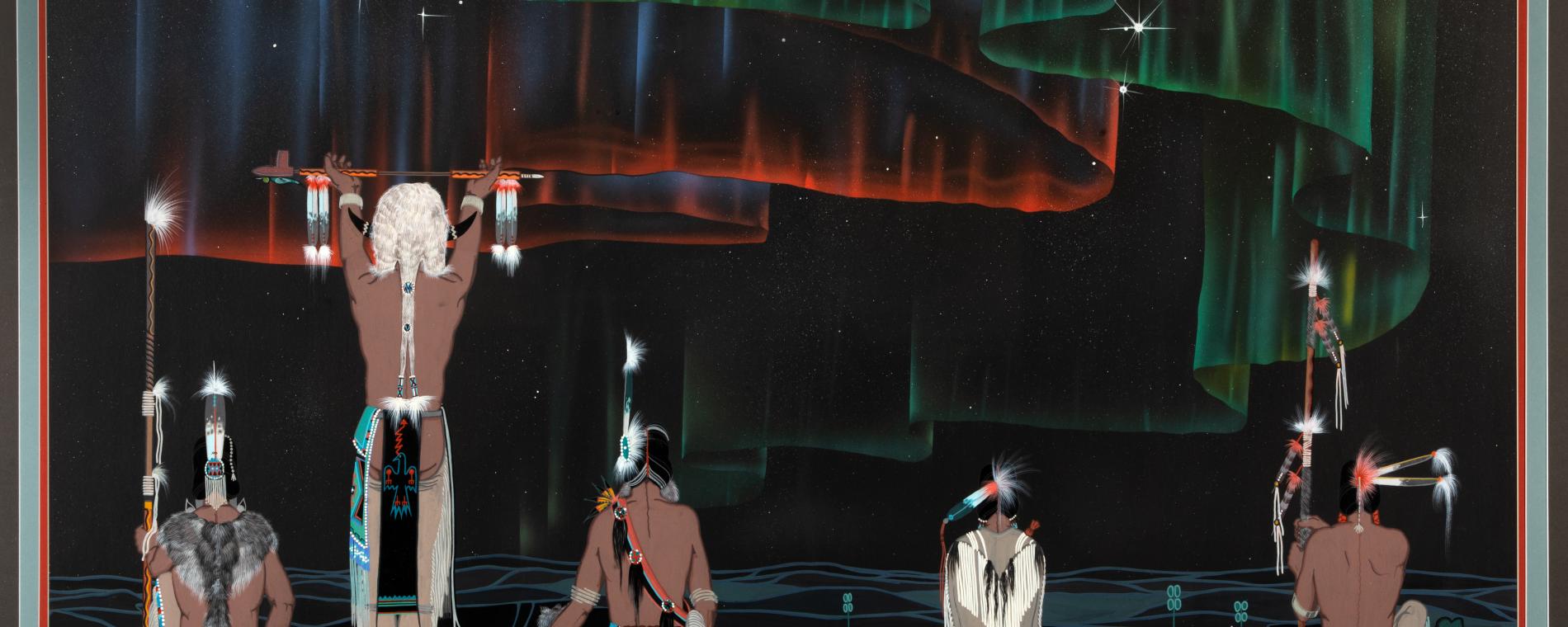 Back to Previous
Bring the Bosins Home - The Journey Continues
Regular Museum Hours, May 18, 2022 | Mid-America All-Indian Museum
Blackbear Bosin, Kiowa-Comanche artist, is well known as the creator of the iconic Keeper of the Plains, but he created so much more art in his all too brief career.
This exhibition celebrates the life and legacy of Blackbear Bosin, who would have been 100 years old on June 5, 2021. Blackbear Bosin was one of the founders of MAAIM and the museum houses the largest public collection of Bosin's artwork in the world. In 2019, the Indian Museum introduced the Bosin Society, a group dedicated to conserving and preserving the art and legacy of Blackbear Bosin for future generations. The Bosin Society has been actively locating and securing donations of Bosin's artwork to archive them for posterity.

"Bring the Bosins Home" will give visitors a better understanding of Blackbear Bosin's artwork and the way he sought to share his culture with Wichita and the world.
Museum Hours
Tuesdays-Saturdays: 10am-4pm
Admission:

Regular Museum Admission: $7 Adults; $5 Seniors (55+), Military w/ ID, and Students (13+ with ID); $3 Children (6-12) FREE Children under 6

Recurrence:

Recurring weekly on Tuesday, Wednesday, Thursday, Friday, Saturday

Days:

June 8, 2021 - June 4, 2022

2022-05-18 2022-06-04 16:00:00 Bring the Bosins Home - The Journey Continues <p>Blackbear Bosin, Kiowa-Comanche artist, is well known as the creator of the iconic Keeper of the Plains, but he created so much more art in his all too brief career.</p> <p>This exhibition celebrates the life and legacy of Blackbear Bosin, who would have been 100 years old on June 5, 2021. Blackbear Bosin was one of the founders of MAAIM and the museum houses the largest public collection of Bosin's artwork in the world. In 2019, the Indian Museum introduced the Bosin Society, a group dedicated to conserving and preserving the art and legacy of Blackbear Bosin for future generations. The Bosin Society has been actively locating and securing donations of Bosin's artwork to archive them for posterity.<br /> <br /> "Bring the Bosins Home" will give visitors a better understanding of Blackbear Bosin's artwork and the way he sought to share his culture with Wichita and the world.</p> <p><span style="text-decoration: underline;"><strong>Museum Hours</strong></span><br />Tuesdays-Saturdays: 10am-4pm</p> 650 N. Seneca Wichita, KS America/Chicago
Back To Previous