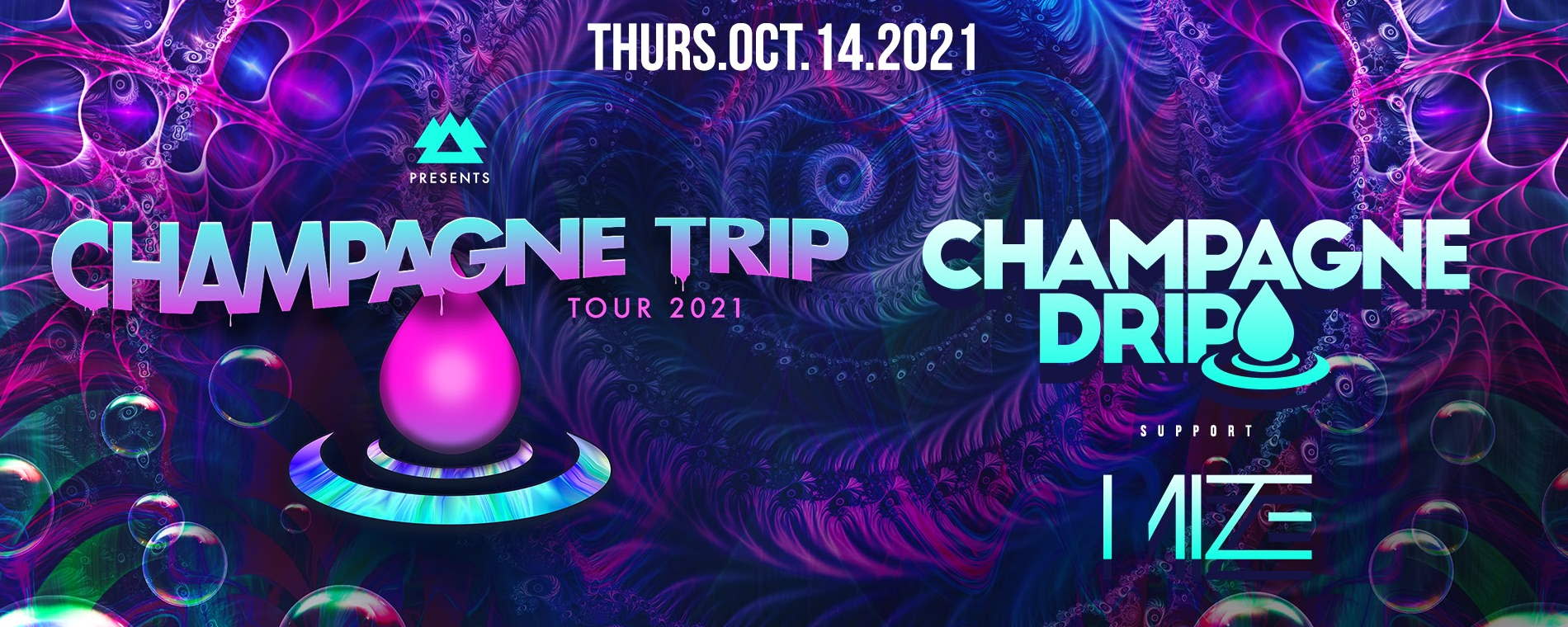 Back to Previous
Champagne Drip - Champagne Trip Tour 2021
7:00pm, October 14, 2021 | WAVE
Subsonix presents WAKAAN PRESENTS 'Champagne Trip' Tour Feat. Champagne Drip at WAVE. Featuring Champagne Drip and MIZE.
Champagne Drip, the newest musical incarnation of Los Angeles-based producer Sam Pool, was born out of a philosophy that innovation springs from inspiration. Pool had carved out a unique place for himself in the bass music community; performing under the moniker of SPL for over 10 years and releasing drum & bass, dubstep, and trap-oriented music on respected labels such as Barcode, Tech Itch, Evol Intent, Sub Human, Rottun Recordings, and SMOG. SPL's music was fully immersed in sound design, a musical landscape comprised of melodic, dark, and refined touches.
NO REFUNDS | ALL SALES FINAL
No Weapons / No Drugs / No Drama - Zero Tolerance. We reserve the right to refuse service to anyone for any reason.
Reduced Capacity to allow social distancing. By attending this event, you and any guests voluntarily assume all risks related to COVID-19 and agree not to hold the Venue, Promoter or Artists liable for any illness or injury.
++We will adhere to any mandates on Curfew and/or Capacity required by Law in the State of Kansas++


Admission:

$15-$35

Get Tickets
Days:

October 14, 2021

2021-10-14 2021-10-14 19:00:00 Champagne Drip - Champagne Trip Tour 2021 <p>Subsonix presents WAKAAN PRESENTS 'Champagne Trip' Tour Feat. Champagne Drip at WAVE. Featuring Champagne Drip and MIZE.</p> <p>Champagne Drip, the newest musical incarnation of Los Angeles-based producer Sam Pool, was born out of a philosophy that innovation springs from inspiration. Pool had carved out a unique place for himself in the bass music community; performing under the moniker of SPL for over 10 years and releasing drum &amp; bass, dubstep, and trap-oriented music on respected labels such as Barcode, Tech Itch, Evol Intent, Sub Human, Rottun Recordings, and SMOG. SPL's music was fully immersed in sound design, a musical landscape comprised of melodic, dark, and refined touches.</p> <p>NO REFUNDS | ALL SALES FINAL<br />No Weapons / No Drugs / No Drama - Zero Tolerance. We reserve the right to refuse service to anyone for any reason.</p> <p>Reduced Capacity to allow social distancing. By attending this event, you and any guests voluntarily assume all risks related to COVID-19 and agree not to hold the Venue, Promoter or Artists liable for any illness or injury.</p> <p>++We will adhere to any mandates on Curfew and/or Capacity required by Law in the State of Kansas++<br /><br /></p> 650 E. 2nd St. N. Wichita, KS America/Chicago
Back To Previous