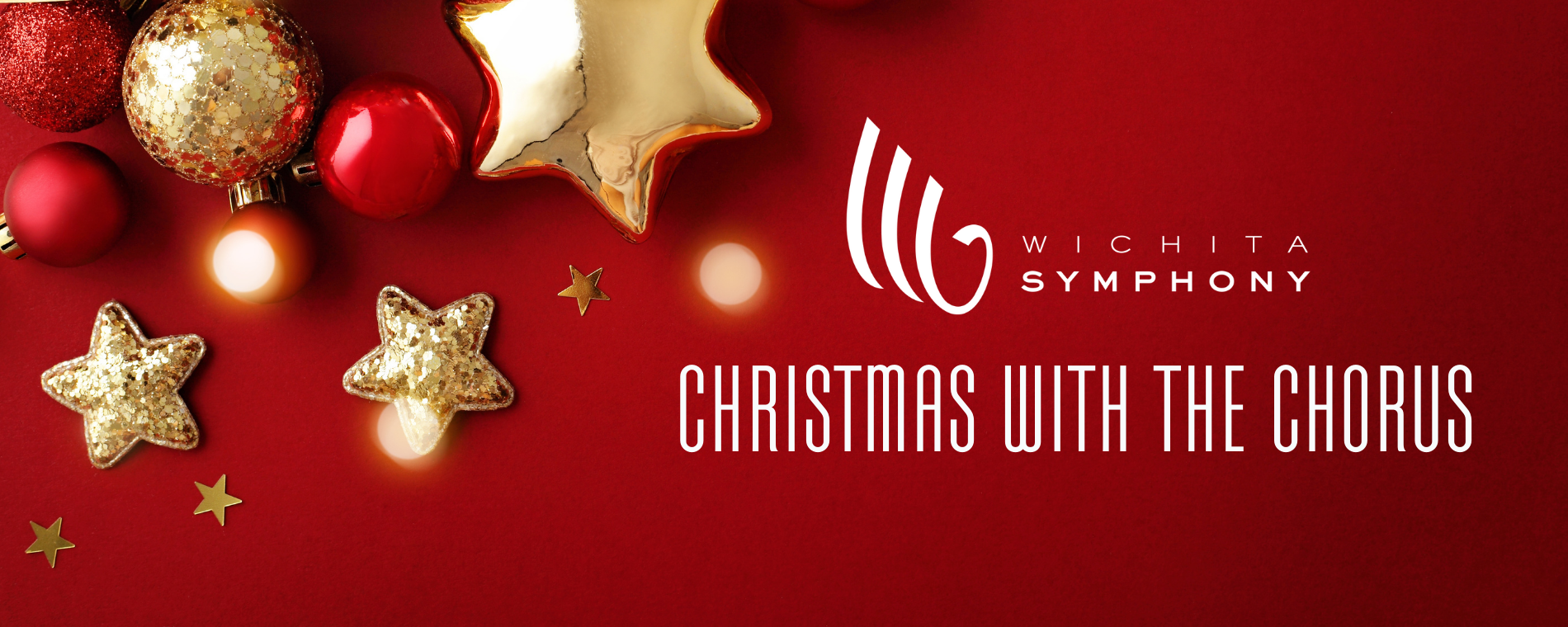 Back to Previous
Christmas with the Chorus
From: 07:30 PM to 08:30 PM, December 10, 2021 | Wichita Symphony Orchestra
The Wichita Symphony Chorus is taking center stage with a whole new way to celebrate the season! Join us at University Congregational Church for a special concert of Christmas choral works, led by Wichita Symphony Chorus Director Dr. Ryan Beeken. This program weaves traditional holiday themes with yuletide gems from throughout history. Featuring members of the Wichita Symphony brass and percussion sessions, this concert is sure to bring some holiday cheer to the season! Seating is limited, so purchase tickets today!
Christmas with the Chorus will be held Friday, Dec. 10 at 7:30 p.m. at University Congregational Church located at 9209 East 29th St N, Wichita, KS 67226.
BOCANEGRA Hanacpachap cussicuinin
DE OLIVEIRA Miserere mei Deus
GABRIELI O Magnum Mysterium
DE ZUMAYA Resuenen los Clarines
McDOWALL A Winter's Night
NARVERUDE Lunar Lullaby
HAGENBERG Sweetest Music Softly Stealing
BURT Alfred Burt Carols (Set 1)
FORREST Festival First Noel 
Concert length is approximately one hour presented without intermission. Seating for this concert is general admission.
Admission:

Adult: $35; Student: $10

Days:

December 10, 2021

2021-12-10 2021-12-10 20:30:00 Christmas with the Chorus <p>The Wichita Symphony Chorus is taking center stage with a whole new way to celebrate the season! Join us at University Congregational Church for a special concert of Christmas choral works, led by Wichita Symphony Chorus Director Dr. Ryan Beeken. This program weaves traditional holiday themes with yuletide gems from throughout history. Featuring members of the Wichita Symphony brass and percussion sessions, this concert is sure to bring some holiday cheer to the season! Seating is limited, so purchase tickets today!</p> <p>Christmas with the Chorus will be held<strong> </strong>Friday, Dec. 10 at 7:30 p.m. at University Congregational Church located at 9209 East 29th St N, Wichita, KS 67226.</p> <ul> <li><strong>BOCANEGRA</strong> Hanacpachap cussicuinin</li> <li><strong>DE OLIVEIRA </strong>Miserere mei Deus</li> <li><strong>GABRIELI </strong>O Magnum Mysterium</li> <li><strong>DE ZUMAYA</strong> Resuenen los Clarines</li> <li><strong>McDOWALL</strong> A Winter's Night</li> <li><strong>NARVERUDE</strong> Lunar Lullaby</li> <li><strong>HAGENBERG</strong> Sweetest Music Softly Stealing</li> <li><strong>BURT </strong>Alfred Burt Carols (Set 1)</li> <li><strong>FORREST</strong> Festival First Noel </li> </ul> <p><em>Concert length is approximately one hour presented without intermission. Seating for this concert is general admission.</em></p> 225 W. Douglas, Ste. 207 Wichita, KS America/Chicago
Back To Previous