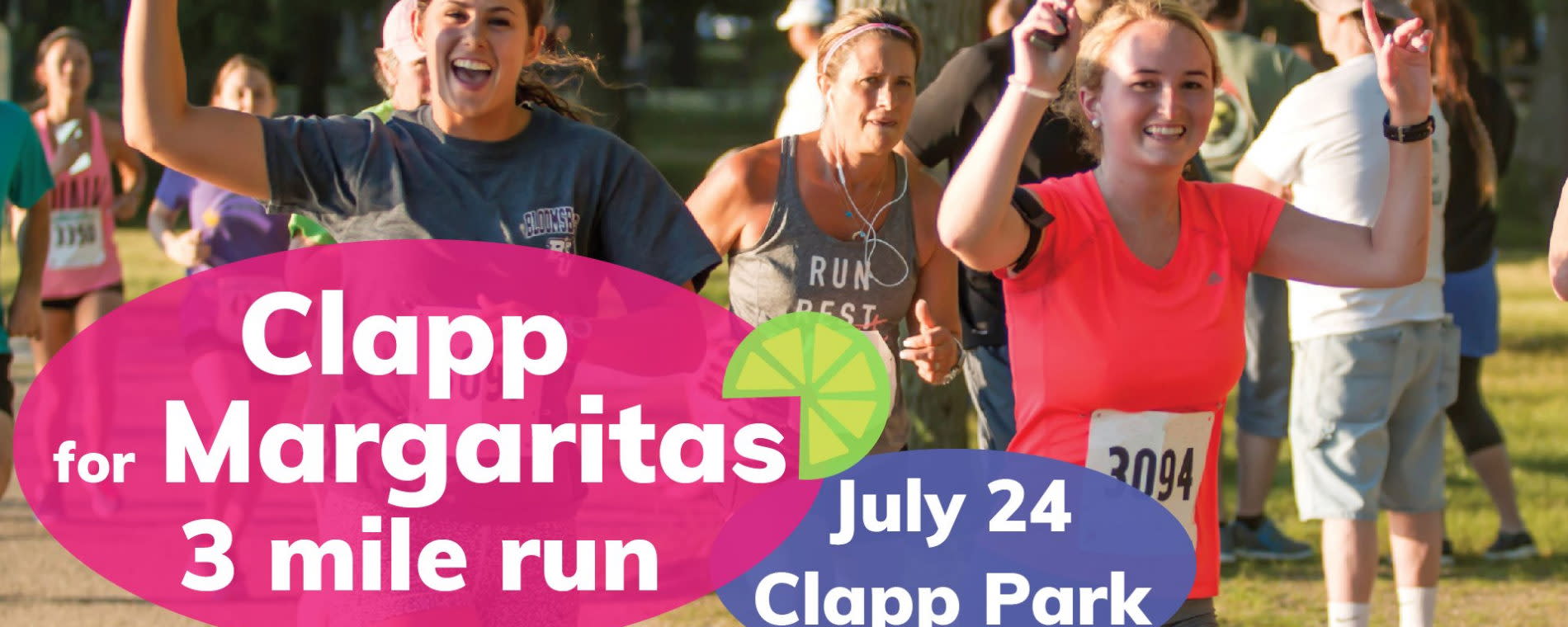 Back to Previous
Clapp for Margaritas - 3 Mile Run
3:30-9pm, July 24, 2021 | Clapp Memorial Park
Join us at Clapp Park for Clapp for Margaritas, a fun 3-mile run on paved paths. This unique race is sure to be a good time! All skill levels are encouraged to participate whether you're an avid runner or want to come out and walk and enjoy margaritas. This event is 21+.
All participants will be timed with awards for top three overall males and females, as well as top three males and females in the following age groups: 21-30, 31-40, 41-50,51-60, 60+.
Race Start Times: 5:30pm Avid Runners, 5:35pm Joggers, 5:40pm Walkers/Drinkers
Registration includes: Clapp for Margaritas T-Shirt, Clapp for Margaritas Headband, One free margarita ticket (courtesy of the Bar is Open), Race Bib, Wichita Park & Recreation Stadium cup
DJ and yard games are available to play and the Bar is Open will begin serving margaritas and beer at 4:00pm. Neives' Taco Truck and Noble House Hawaiian Plate Lunch will be available beginning at 5:30pm. Cash and card will be accepted. Party continues until 9:00pm.
Admission:

$50 ($40 if registered before May 17)

Register Now
Days:

July 24, 2021

2021-07-24 2021-07-24 21:00:00 Clapp for Margaritas - 3 Mile Run <p>Join us at Clapp Park for Clapp for Margaritas, a fun 3-mile run on paved paths. This unique race is sure to be a good time! All skill levels are encouraged to participate whether you're an avid runner or want to come out and walk and enjoy margaritas. This event is 21+.</p> <p>All participants will be timed with awards for top three overall males and females, as well as top three males and females in the following age groups: 21-30, 31-40, 41-50,51-60, 60+.</p> <p>Race Start Times: 5:30pm Avid Runners, 5:35pm Joggers, 5:40pm Walkers/Drinkers</p> <p>Registration includes: Clapp for Margaritas T-Shirt, Clapp for Margaritas Headband, One free margarita ticket (courtesy of the Bar is Open), Race Bib, Wichita Park &amp; Recreation Stadium cup</p> <p>DJ and yard games are available to play and the Bar is Open will begin serving margaritas and beer at 4:00pm. Neives' Taco Truck and Noble House Hawaiian Plate Lunch will be available beginning at 5:30pm. Cash and card will be accepted. Party continues until 9:00pm.</p> 4611 E Harry St Wichita, KS America/Chicago
Back To Previous