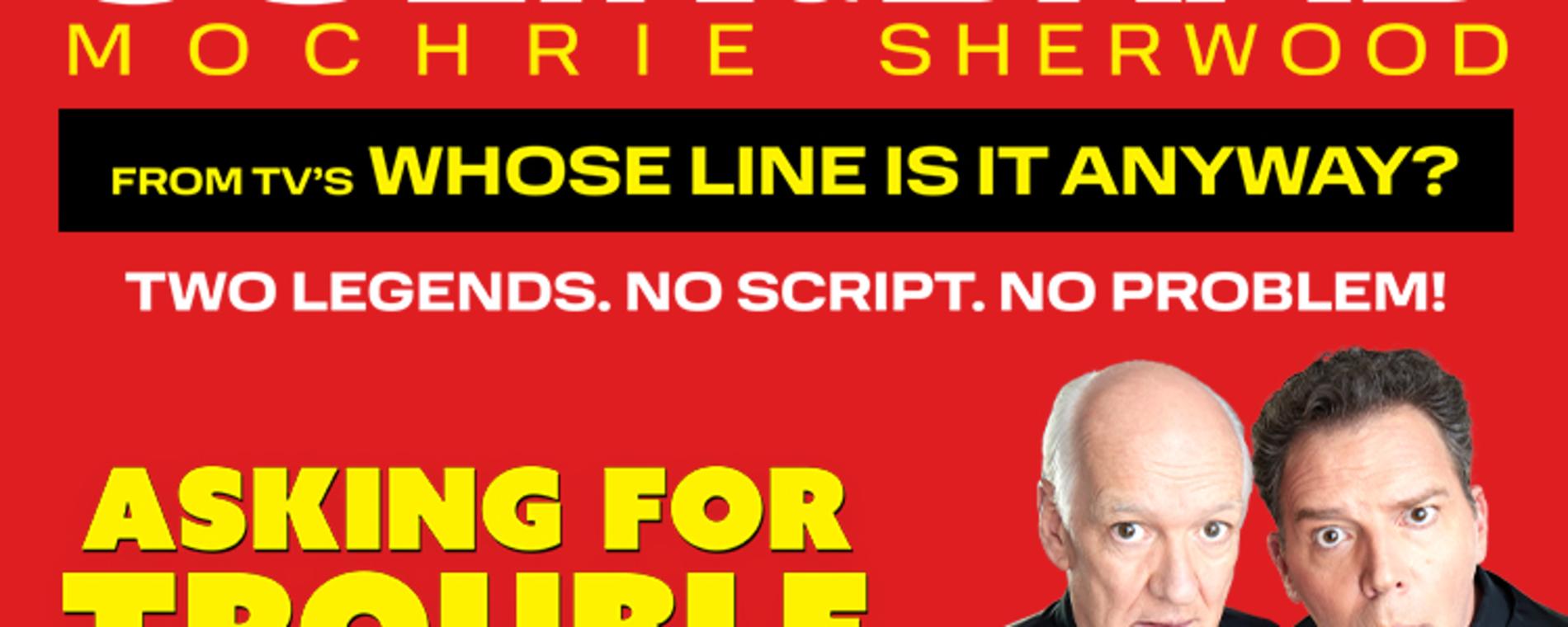 Colin Mochrie & Brad Sherwood: Asking for Trouble
From: 07:30 PM to 10:00 PM, August 18, 2024 | Orpheum Theatre
EVENT UPDATE: Due to scheduling conflicts, Colin and Brad's show originally scheduled on November 17, 2023 at the Orpheum Theatre has been rescheduled to August 18, 2024 and now they're Asking For Trouble. Same improv legends, new tour!
Tickets purchased for the original show will be honored for the August 18 date, so patrons should hold on to their tickets. If unable to attend the new date, refunds are available if requested by December 18, 2023. For ticket and refund inquiries, please contact Select-A-Seat by phone at 316-755-7328, by email at info@selectaseat.com, or by filling out the contact form on the Select-A-Seat website.
Get ready for an evening of sidesplitting laughter as Colin Mochrie and Brad Sherwood, the dynamic duo from TV's "Whose Line is it Anyway?," take the stage in a one-night-only uproarious live show, Colin Mochrie & Brad Sherwood: Asking for Trouble.
Armed with their lightning-fast wits, Mochrie & Sherwood transform the audience's suggestions into an unpredictable evening of non-stop comedy gold. No script? No problem! "Asking For Trouble" is a wild rollercoaster ride of hilarity, where two improv legends prove they are still the best in the business.
Admission:

$34.95 - $59.95

Buy Tickets

Days:

August 18, 2024

>

2024-08-18 2024-08-18 22:00:00 Colin Mochrie & Brad Sherwood: Asking for Trouble <p><em><strong>EVENT UPDATE: </strong>Due to scheduling conflicts, Colin and Brad's show originally scheduled on November 17, 2023 at the Orpheum Theatre has been rescheduled to August 18, 2024 and now they're Asking For Trouble. Same improv legends, new tour!</em></p> <p><em>Tickets purchased for the original show will be honored for the August 18 date, so patrons should hold on to their tickets. If unable to attend the new date, refunds are available if requested by December 18, 2023. For ticket and refund inquiries, please contact Select-A-Seat by phone at 316-755-7328, by email at <a href="mailto:info@selectaseat.com">info@selectaseat.com</a>, or by filling out the contact form on the Select-A-Seat website.</em></p> <p>Get ready for an evening of sidesplitting laughter as Colin Mochrie and Brad Sherwood, the dynamic duo from TV's "Whose Line is it Anyway?," take the stage in a one-night-only uproarious live show, <em>Colin Mochrie &amp; Brad Sherwood: Asking for Trouble</em>.</p> <p>Armed with their lightning-fast wits, Mochrie &amp; Sherwood transform the audience's suggestions into an unpredictable evening of non-stop comedy gold. No script? No problem! "Asking For Trouble" is a wild rollercoaster ride of hilarity, where two improv legends prove they are still the best in the business.</p> 200 N. Broadway Ave. Wichita, KS America/Chicago
Back To Previous