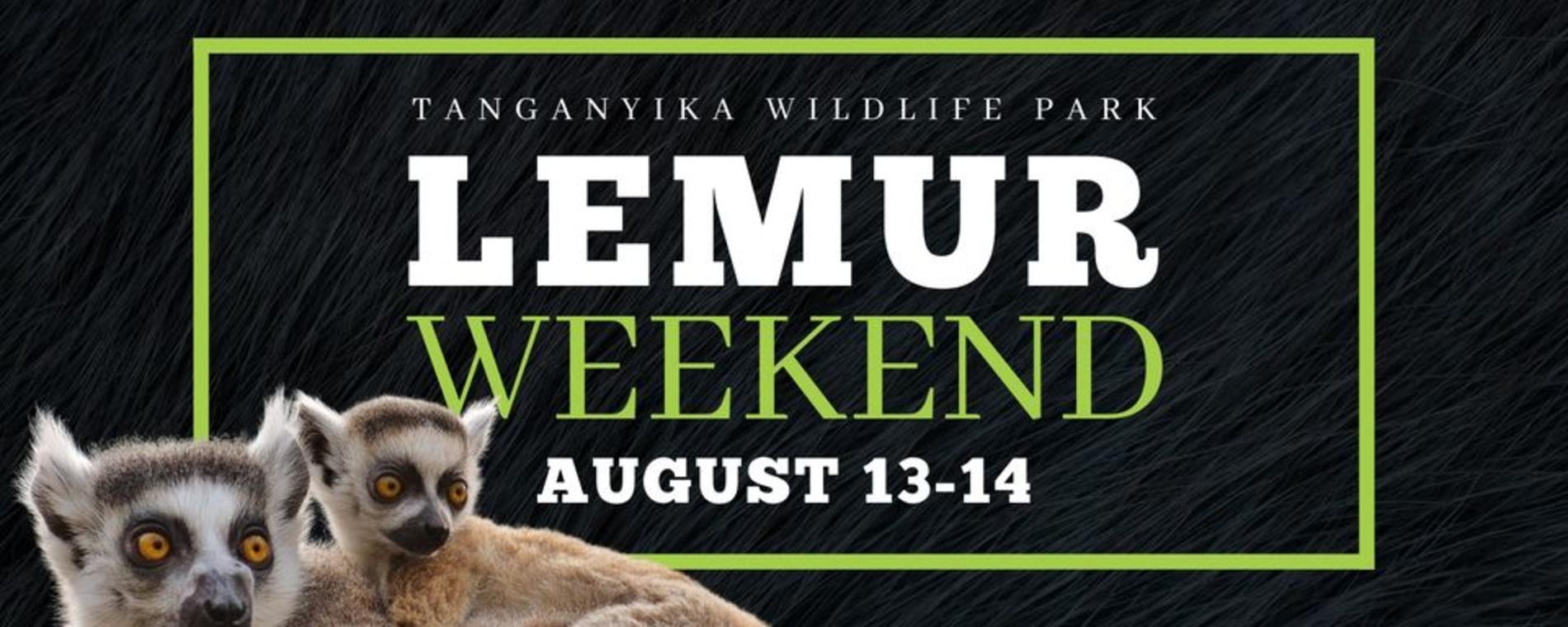 Back to Previous
Connect & Preserve Lemur Weekend
From: 09:00 AM to 04:00 PM, August 13, 2022 | Tanganyika Wildlife Park
Join us for Tanganyika's annual Lemur Weekend on August 13th and 14th to celebrate all things LEMUR! Our team is rolling out the black and white carpet to celebrate our most popular residents! We'll have exclusive experiences for the weekend, games, crafts, fundraisers and more!
The number one threat to almost all lemur species is habitat loss - Madagascar is an island, so there's only so many places lemurs can go! This year, we've once again partnered with Eden Reforestation Projects to help plant trees in Madagascar. Eden has 92 project sites in Madagascar and since 2007, they have planted more than 776 MILLION trees and created jobs for more than 8,800 Malagasy people. By working with local communities, Eden is able to protect habitat, conserve species, and empower local folks to continue making a difference for lemurs.
All proceeds from Lemur Weekend's activities will go to Eden Reforestation Projects. Tanganyika is matching these fundraising efforts, so for every dollar you spend on experiences, raffle tickets, or exclusive merch for Lemur Weekend, you'll be sending 2 dollars to help lemurs in Madagascar!
Admission:

$77

Recurrence:

Recurring daily

Days:

August 13, 2022 - August 14, 2022

2022-08-13 2022-08-14 16:00:00 Connect & Preserve Lemur Weekend <p>Join us for Tanganyika's annual Lemur Weekend on August 13th and 14th to celebrate all things LEMUR! Our team is rolling out the black and white carpet to celebrate our most popular residents! We'll have exclusive experiences for the weekend, games, crafts, fundraisers and more!</p> <div class="cxmmr5t8 oygrvhab hcukyx3x c1et5uql o9v6fnle">The number one threat to almost all lemur species is habitat loss - Madagascar is an island, so there's only so many places lemurs can go! This year, we've once again partnered with Eden Reforestation Projects to help plant trees in Madagascar. Eden has 92 project sites in Madagascar and since 2007, they have planted more than 776 MILLION trees and created jobs for more than 8,800 Malagasy people. By working with local communities, Eden is able to protect habitat, conserve species, and empower local folks to continue making a difference for lemurs.</div> <div class="cxmmr5t8 oygrvhab hcukyx3x c1et5uql o9v6fnle">&nbsp;</div> <div class="cxmmr5t8 oygrvhab hcukyx3x c1et5uql o9v6fnle"><span style="font-size: 12pt;">All proceeds from Lemur Weekend's activities will go to Eden Reforestation Projects. Tanganyika is matching these fundraising efforts, so for every dollar you spend on experiences, raffle tickets, or exclusive merch for Lemur Weekend, you'll be sending 2 dollars to help lemurs in Madagascar!&nbsp;</span></div> 1000 S. Hawkins Lane Goddard, KS America/Chicago
Back To Previous