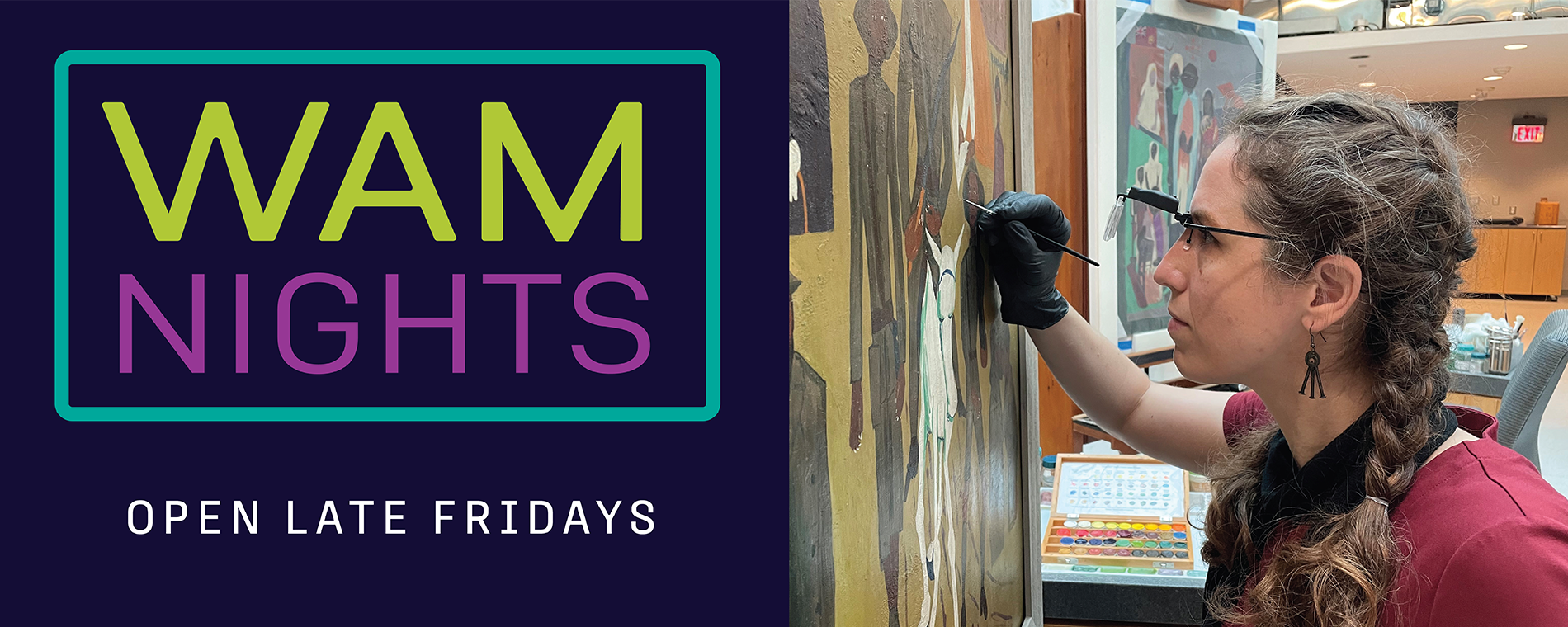 Conversation with a Conservator: Fighters for Freedom
From: 06:30 PM to 08:00 PM, December 15, 2023 | Wichita Art Museum
Free. No reservations required.
6:30 PM | Presentation in the Howard E. Wooden Lecture Hall
Join Keara Teeter, Meisel Conservator of Modern American Paintings for the Lunder Conservation Center at the Smithsonian American Art Museum, to learn about her work on the conservation treatments of 28 painting from William H. Johnson's Fighters for Freedom series, currently on view at WAM. This talk will highlight the preservation of these artworks and how Johnson's concept of freedom can continue to transform future generations.
_________________________________________________
About WAM Nights: We're open late on Fridays until 9 pm! Get your weekend started with after-hours access to the galleries, dinner at 1400 by Elderslie ('Happy Hour' drinks 3-6 pm), or shopping in the Museum Store. WAM Nights will include programs with artists, musicians, and performers–don't miss your chance to see the art at WAM in a new way! The museum comes to life with local creatives during WAM Nights!
Admission:

Free event.

Days:

December 15, 2023

>

2023-12-15 2023-12-15 20:00:00 Conversation with a Conservator: Fighters for Freedom <p> </p> <p>Free. No reservations required.<br>6:30 PM | Presentation in the Howard E. Wooden Lecture Hall</p> <p>Join Keara Teeter, Meisel Conservator of Modern American Paintings for the <a href="https://americanart.si.edu/art/conservation">Lunder Conservation Center at the Smithsonian American Art Museum</a>, to learn about her work on the conservation treatments of 28 painting from William H. Johnson's <a href="https://wam.org/whats-on/exhibitions/william-h-johnson-picturing-justice/">Fighters for Freedom</a> series, currently on view at WAM. This talk will highlight the preservation of these artworks and how Johnson's concept of freedom can continue to transform future generations.</p> <p>_________________________________________________</p> <p>About WAM Nights:<strong> </strong>We're open late on Fridays until 9 pm! Get your weekend started with after-hours access to the galleries, dinner at <a href="https://wam.org/visit/things-to-do/1400-by-elderslie/" target="_blank" rel="noopener">1400 by Elderslie</a> ('Happy Hour' drinks 3-6 pm), or shopping in the <a href="https://wam.org/visit/things-to-do/store/" target="_blank" rel="noopener">Museum Store</a>. WAM Nights will include programs with artists, musicians, and performers&#8211;don't miss your chance to see the art at WAM in a new way! The museum comes to life with local creatives during WAM Nights!</p> 1400 W. Museum Blvd. Wichita, KS America/Chicago
Back To Previous