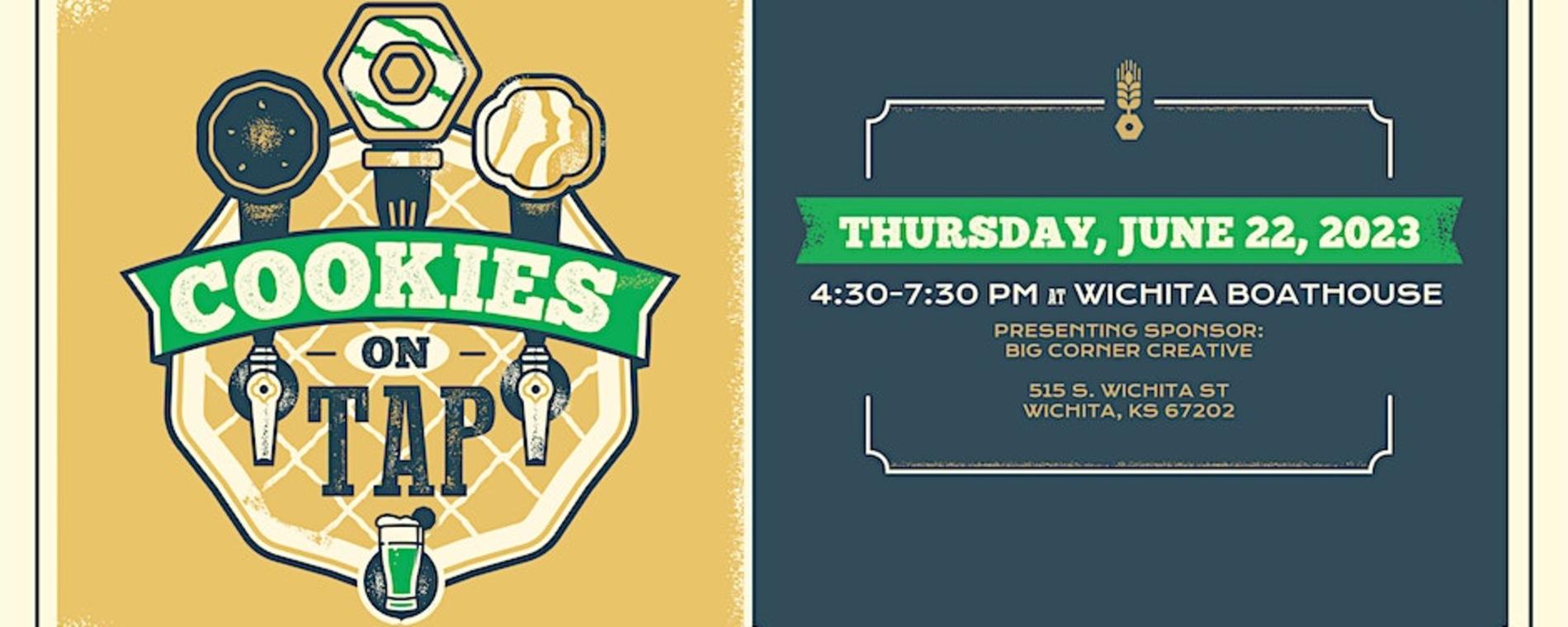 Back to Previous
Cookies on Tap
04:30 PM, June 22, 2023 | Wichita Boathouse
Cookies on Tap is a community event to bring Wichita-area adult residents together over cookies and craft brews in support of Girl Scouts. The event pairs Girl Scout cookies with craft brews from local brewers and provides participants with a sample of each pairing and one full pour of their choice in a special edition take-home glass.

Joining us this year with their craft brews are Hopping Gnome Brewing, PourHouse ICT, River City Brewing Company, Wichita Brewing Company, Nortons Brewing Company, Tor Brewing and Ladybird Brewing. We will also have a custom cocktail presented by Xclusive Event Services.

We would like to thank our Presenting Sponsor Big Corner Creative, Black Hills Energy as the Glass Sponsor, 3ten Architecture as the Coaster Sponsor, High Touch Technologies as the Growler Sponsor, and our Pint-Sized Sponsors AGH CPA's & Advisors and Sunflower Bank.

Fun prize drawings will be held throughout the night for items such as Kendra Scott jewelry, gift cards, tickets to local events and more. Each event ticket receives one free drawing ticket and additional tickets can be purchased at the event. All proceeds from the evening go to help Girl Scouts of Kansas Heartland invite more girls to experience Girl Scout camp and various programs throughout the year as well as help with providing financial assistance to underserved girls in our community. Attendees must be 21+ to enter the event.
Admission:

$35, adults 21+ only

Buy Tickets
Days:

June 22, 2023

>

2023-06-22 2023-06-22 19:30:00 Cookies on Tap <p>Cookies on Tap is a community event to bring Wichita-area adult residents together over cookies and craft brews in support of Girl Scouts. The event pairs Girl Scout cookies with craft brews from local brewers and provides participants with a sample of each pairing and one full pour of their choice in a special edition take-home glass.<br><br>Joining us this year with their craft brews are Hopping Gnome Brewing, PourHouse ICT, River City Brewing Company, Wichita Brewing Company, Nortons Brewing Company, Tor Brewing and Ladybird Brewing. We will also have a custom cocktail presented by Xclusive Event Services.<br><br>We would like to thank our Presenting Sponsor Big Corner Creative, Black Hills Energy as the Glass Sponsor, 3ten Architecture as the Coaster Sponsor, High Touch Technologies as the Growler Sponsor, and our Pint-Sized Sponsors AGH CPA's &amp; Advisors and Sunflower Bank.<br><br>Fun prize drawings will be held throughout the night for items such as Kendra Scott jewelry, gift cards, tickets to local events and more. Each event ticket receives one free drawing ticket and additional tickets can be purchased at the event. All proceeds from the evening go to help Girl Scouts of Kansas Heartland invite more girls to experience Girl Scout camp and various programs throughout the year as well as help with providing financial assistance to underserved girls in our community. Attendees must be 21+ to enter the event.</p> 515 S. Wichita Wichita, KS America/Chicago
Back To Previous