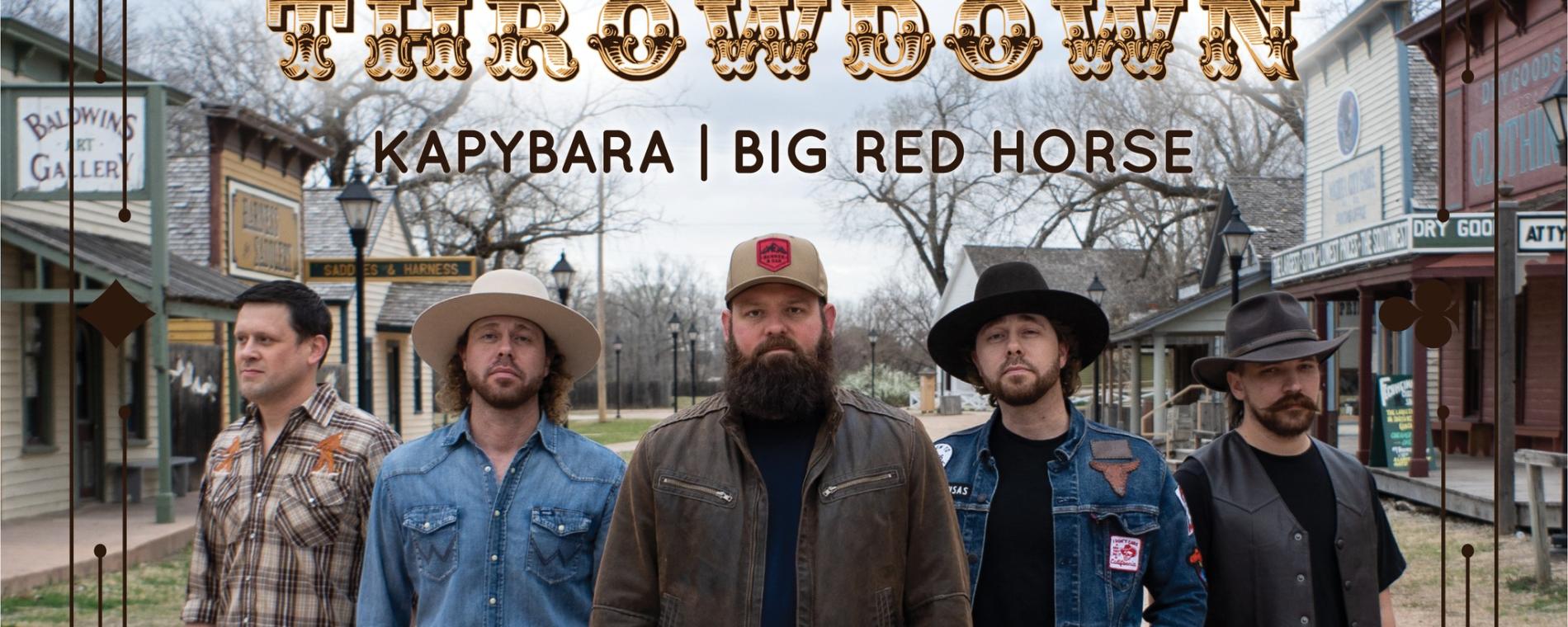 Back to Previous
Cowtown Throwdown
From: 04:00 PM to 09:00 PM, August 13, 2022 | Old Cowtown Museum
Mountain Deer Revival and Old Cowtown Museum present The Third Annual Cowtown Throwdown!
Join us on August 13 for a night of jams, gunfights, dancing, booze and food trucks—you know, the whole shebang.
All ages are welcome.
Just for fun, the Old Cowtown historic buildings will be open, featuring a 10,000-piece permanent collection of textiles, furnishings, furniture, tools, and art that tells the story of Wichita's transformation from a frontier settlement to a cattle town to an agricultural and manufacturing mecca.
Period actors are steeped in the wild west tradition to regale you and your little ones while Mountain Deer Revival, Pretend Friend, and Big Red Horse entertain you with their musical stylings. Watch out for the gunfights & dancing in between sets!
- Air conditioning provided! Stay cool in many of Cowtown's historic buildings.
- No smoking is permitted on the premises. Please smoke in designated areas provided.
- Don't forget your lawn chair!
Learn more or purchase your presale ticket at:
https://web2.myvscloud.com/.../kswichit.../addtocart.html...
4:00 p.m. - DOORS
4:30 p.m. - Gunfight by The River City Renegades
5:00 p.m. - Start Time!!
5:00 p.m. - 6:00PM - Kapybara Music
6:00 p.m. - 6:20PM Daisy Longstem Saloon Girls
6:20 p.m .- 7:20PM - Big Red Horse
7:20 p.m. - 7:40PM Gunfight by the River City Renegades
7:40 p.m.  - 9:00PM - Mountain Deer Revival
• All Ages Show
• 10 and under are Free
• $10 Presale Cover, $15 Day of Show
• Alcoholic beverages will be available for purchase with Shaken or Stirred.
• The Bomb BBQ Food Truck available on site.
ALCOHOLIC DRINKS | PERIOD ACTORS | VENDORS | TOUR HISTORIC BUILDINGS | ALL AGES | FOOD TRUCKS
Admission:

$10 in advance, $15 at the door

Days:

August 13, 2022

2022-08-13 2022-08-13 21:00:00 Cowtown Throwdown <p>Mountain Deer Revival and Old Cowtown Museum present The Third Annual Cowtown Throwdown!</p> <p>Join us on August 13 for a night of jams, gunfights, dancing, booze and food trucks—you know, the whole shebang.</p> <p>All ages are welcome.</p> <p>Just for fun, the Old Cowtown historic buildings will be open, featuring a 10,000-piece permanent collection of textiles, furnishings, furniture, tools, and art that tells the story of Wichita's transformation from a frontier settlement to a cattle town to an agricultural and manufacturing mecca.<br /> Period actors are steeped in the wild west tradition to regale you and your little ones while Mountain Deer Revival, Pretend Friend, and Big Red Horse entertain you with their musical stylings. Watch out for the gunfights &amp; dancing in between sets!</p> <p>- Air conditioning provided! Stay cool in many of Cowtown's historic buildings.<br /> - No smoking is permitted on the premises. Please smoke in designated areas provided.<br /> - Don't forget your lawn chair!</p> <p>Learn more or purchase your presale ticket at:<br /> <a href="https://l.facebook.com/l.php?u=https%3A%2F%2Fweb2.myvscloud.com%2Fwbwsc%2Fkswichitawt.wsc%2Faddtocart.html%3FFromProgram%3Dsearch%26GlobalSalesArea_PSTItemQuantity%3D1%26Module%3DPST%26PSTFMIDList%3D13919388%26fbclid%3DIwAR0dkMAJOyWUEaouAuWQWLKSOvPDlOW6b_I-ST1PlK9zc32k4DLUwWjp_k8&amp;h=AT2PeSnuDN8TAOUmxEfnH5ggpwEeeBx0QqZJ427Wmyyrjyjf4lv3EffxjhegGW0-z_WPtlKsjIE6w37YccrY662UYNwH_p_RBBNjYVEW35HevXNXemIcff5lPchc7O_Wpw&amp;__tn__=q&amp;c[0]=AT1vHDxxaZDYFK7MtP52Y7Uof9FzQNv8GiExfnAEXqay9Rt6ddNhIMyl-OdLVOkeGWieC13VINo0ymj6iE0ZIEm3GmcBQsCh5XAw3kPufmXTi8-d-TTWkGrGUH5wV3j8vgQecoATfNU3KtHT2a9W1bNS" target="_blank">https://web2.myvscloud.com/.../kswichit.../addtocart.html...</a></p> <p>4:00 p.m. - DOORS<br /> 4:30 p.m. - Gunfight by The River City Renegades<br /> 5:00 p.m. - Start Time!!<br /> 5:00 p.m. - 6:00PM - Kapybara Music<br /> 6:00 p.m. - 6:20PM Daisy Longstem Saloon Girls<br /> 6:20 p.m .- 7:20PM - Big Red Horse<br /> 7:20 p.m. - 7:40PM Gunfight by the River City Renegades<br /> 7:40 p.m.  - 9:00PM - Mountain Deer Revival</p> <p>• All Ages Show<br /> • 10 and under are Free<br /> • $10 Presale Cover, $15 Day of Show<br /> • Alcoholic beverages will be available for purchase with Shaken or Stirred.<br /> • The Bomb BBQ Food Truck available on site.</p> <p>ALCOHOLIC DRINKS | PERIOD ACTORS | VENDORS | TOUR HISTORIC BUILDINGS | ALL AGES | FOOD TRUCKS</p> 1865 W. Museum Blvd. Wichita, KS America/Chicago
Back To Previous