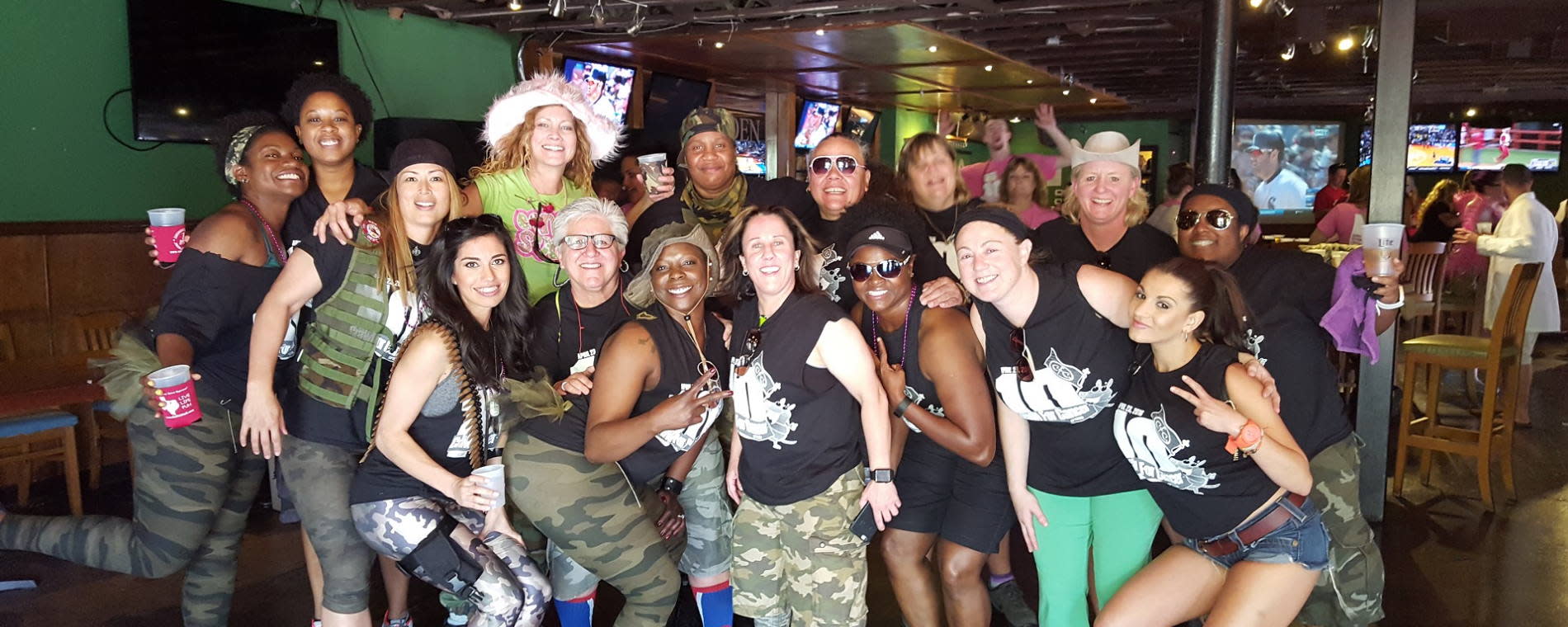 Back to Previous
Crawl for Cancer 2021
1-6pm, August 28, 2021 | Various Locations
Teams travel to five bars on a Saturday afternoon. At each bar, teams will be given tickets valid for four pitchers (or bottle equivalent) of beer. Each team should have ten to twelve people, including the team captain.
Participating Bars
Brickyard, Lucky's Everyday, Pumphouse, Wave, XY, Industry, Revolution Lounge, Joe's Bar & Grill, Emerson Biggin's, Barleycorn's, Rain, Peerless, Fever
2021 Benefiting Charities
Make A Wish and Camp Hope
Registration
Registration is open at the link below! The deadline to have your entries submitted is August 13, 2021 or whenever the maximum number of teams is reached. The entry fee includes t-shirts and beer for the Crawl.
Crawl for Cancer was started by a group of friends who wanted to have fun while raising money for a good cause. Although the Crawl has changed since its inception, the heart of the idea behind the event remains to celebrate survivorship, remember those we've lost and push towards a cure.
We each have a different story as to why we Crawl for Cancer, but each story always comes back to this: More funding is needed to find a cure. It's because of this drive from volunteers and supporters that there are now over twenty Crawls across the nation that help raise money for national and local philanthropies dedicated to fighting cancer.
Crawl for Cancer is only for those 21 years of age or older. Don't drink and drive! Make designated driver arrangements.
Admission:

$450 team entry fee ($400 early bird ends 7/17)

Register Now
Days:

August 28, 2021

2021-08-28 2021-08-28 18:00:00 Crawl for Cancer 2021 <p>Teams travel to five bars on a Saturday afternoon. At each bar, teams will be given tickets valid for four pitchers (or bottle equivalent) of beer. Each team should have ten to twelve people, including the team captain.</p> <p><strong>Participating Bars</strong><br />Brickyard, Lucky's Everyday, Pumphouse, Wave, XY, Industry, Revolution Lounge, Joe's Bar &amp; Grill, Emerson Biggin's, Barleycorn's, Rain, Peerless, Fever</p> <p><strong>2021 Benefiting Charities</strong><br />Make A Wish and Camp Hope</p> <p><strong>Registration</strong><br />Registration is open at the link below! The deadline to have your entries submitted is August 13, 2021 or whenever the maximum number of teams is reached. The entry fee includes t-shirts and beer for the Crawl.</p> <p>Crawl for Cancer was started by a group of friends who wanted to have fun while raising money for a good cause. Although the Crawl has changed since its inception, the heart of the idea behind the event remains to celebrate survivorship, remember those we've lost and push towards a cure.</p> <p>We each have a different story as to why we Crawl for Cancer, but each story always comes back to this: More funding is needed to find a cure. It's because of this drive from volunteers and supporters that there are now over twenty Crawls across the nation that help raise money for national and local philanthropies dedicated to fighting cancer.</p> <p><strong>Crawl for Cancer is only for those 21 years of age or older. Don't drink and drive! Make designated driver arrangements.</strong></p> Wichita, KS America/Chicago
Back To Previous