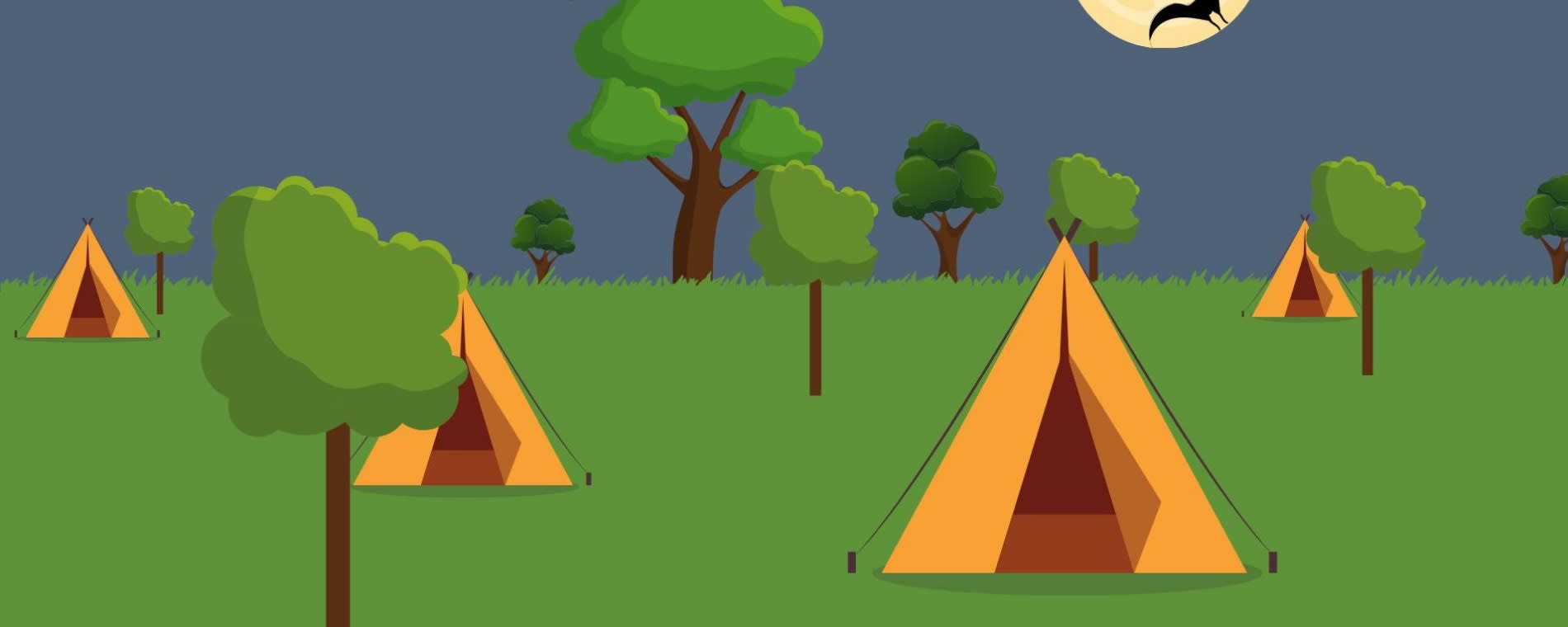 Back to Previous
Cretaceous Campout
7pm-8am, September 24, 2021 | Field Station: Dinosaurs
A cretaceous camping adventure at Field Station: Dinosaurs is a sleepover like no other! Friday and Saturday nights in September (plus Labor Day Sunday) sleep under the stars like the dinosaurs did, explore the trails by flashlight, enjoy popcorn before bed and start the next day with breakfast.
Groups will sleep overnight in a tent (provided by us) on The Green, located in the middle of the Field Station. Other camping essentials, such as cots are available for use, but will limit the number of people able to sleep comfortably in their tent.
Includes a guided tour through the Field Station, mini golf and popcorn for guests. The next morning, the Field Station will serve breakfast from 6:30-7:30am. Guests must leave the Field Station by 8:00am.
Registration will open first to members and then to the general public!
PLEASE NOTE: We are an outdoor exhibition and the event will not be held in weather that is deemed unsatisfactory or dangerous to our guests and staff. In the event weather forces us to cancel, we will make all attempts to reschedule.
Admission:

2-Person $50; 4-Person $100; 6-Person $150; 10-Person $200; The Yurt (indoors, up to 25 guests) $300

Get Tickets
Recurrence:

Recurring weekly on Friday, Saturday

Days:

September 3, 2021 - September 25, 2021

2021-09-24 2021-09-25 08:00:00 Cretaceous Campout <p>A cretaceous camping adventure at Field Station: Dinosaurs is a sleepover like no other! Friday and Saturday nights in September (plus Labor Day Sunday) sleep under the stars like the dinosaurs did, explore the trails by flashlight, enjoy popcorn before bed and start the next day with breakfast.</p> <p>Groups will sleep overnight in a tent (provided by us) on The Green, located in the middle of the Field Station. Other camping essentials, such as cots are available for use, but will limit the number of people able to sleep comfortably in their tent.</p> <p>Includes a guided tour through the Field Station, mini golf and popcorn for guests. The next morning, the Field Station will serve breakfast from 6:30-7:30am. Guests must leave the Field Station by 8:00am.</p> <p>Registration will open first to members and then to the general public!</p> <p><em>PLEASE NOTE: We are an outdoor exhibition and the event will not be held in weather that is deemed unsatisfactory or dangerous to our guests and staff. In the event weather forces us to cancel, we will make all attempts to reschedule.</em></p> 2999 N. Rock Road Derby, KS America/Chicago
Back To Previous