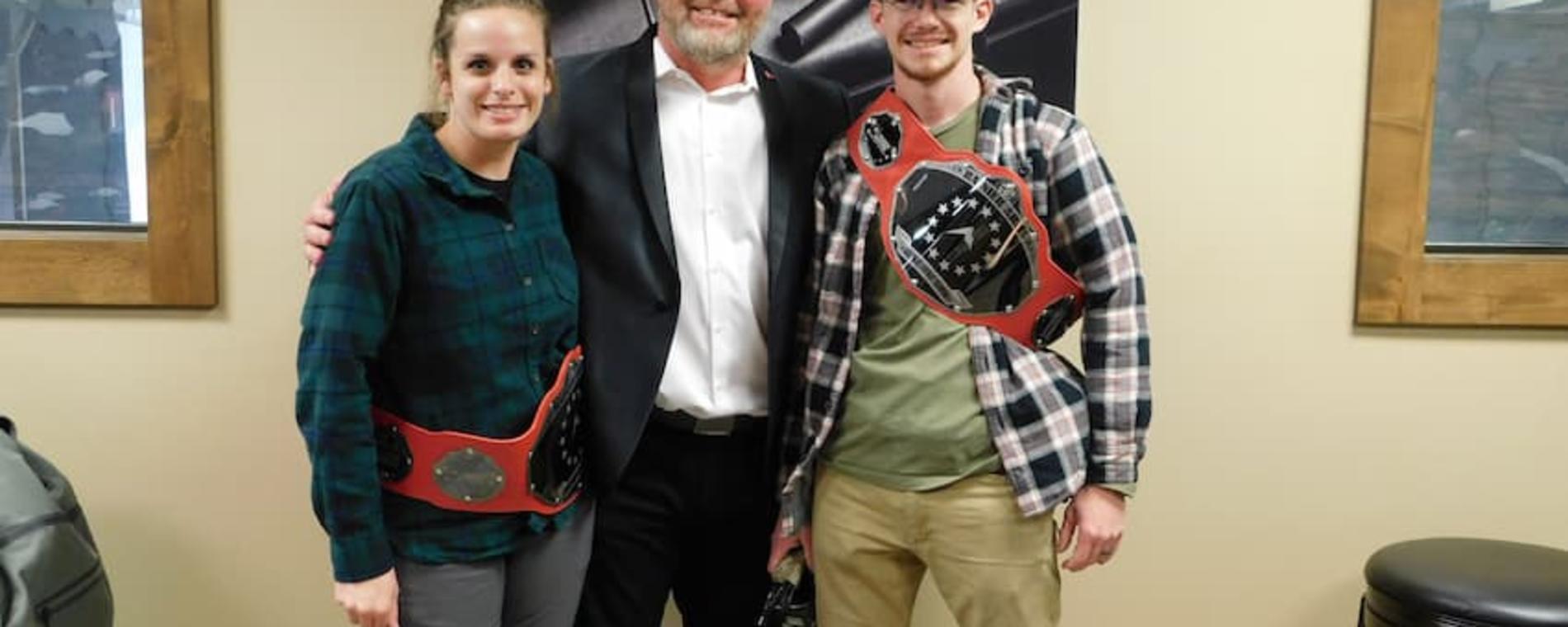 Date Night Gun Fight
From: 06:00 PM to 08:00 PM, October 20, 2023 | Rainier Arms Firearms Academy
Date Night Gun Fight is one of our many events which helps to bring the Wichita community together. Couples not only get to have fun but also gain an understanding of how to be a more effective unit together. Learn to appropriately react to threats and unusual noises to defend your home and loved ones. Here at Date Night Gun Fight, you will meet other couples who are trying to learn the same things. Modern-day society has created a wave of first-time gun buyers who rarely shoot or get training on how to effectively use their firearms for home or personal defense.
Click the following link to watch a promotional Date Night Gun Fight video: https://youtu.be/AphrbnZJ5Ho
Knowing how to properly protect yourself and others around you will give you confidence in yourself and your firearm if the situation demands it. Five million gun sales in America from January to June 2020 were to first-time gun owners and 40 percent of them were females. We provide a safe environment where we give you good fundamentals and realistic building blocks that allow you to effectively compete with one another and other couples. Learning these skills will allow you to be more proficient as an individual and as a team. Each month has a different theme and a unique set of challenges and opportunities that you will not find anywhere else. We introduce stress in a safe and controlled environment while making the scenarios relevant to real-life situations.
As the competition carries on each month, the skills learned are built upon in the next month. If you and your significant other become the Hot Shot Couple of the night, you have the opportunity to win prizes ranging from shared profits of the entrance fees to a gift certificate for a local restaurant. The night's overall winner will have their name entered in for the Championship. This event is a good stepping stone for expanding your training as well as making friends in the process. We have premiere training and want to help couples get out of their comfort zones in a safe environment. In this experience you can put what you do know into effect and learn what you do not know to help you better select the training you want or need. When in a high stress situation, you experience a heightened awareness, and we want to lessen how much of a shock it is for you by helping you be more confident and comfortable with the decisions you make in the moment when they count the most.
Admission:

Price: $50.00 Per Couple

Recurrence:

Recurring monthly on the 3rd Friday

>

2023-10-20 Date Night Gun Fight <p><strong>Date Night Gun Fight</strong> is one of our many events which helps to bring the Wichita community together. Couples not only get to have fun but also gain an understanding of how to be a more effective unit together. Learn to appropriately react to threats and unusual noises to defend your home and loved ones. Here at Date Night Gun Fight, you will meet other couples who are trying to learn the same things. Modern-day society has created a wave of first-time gun buyers who rarely shoot or get training on how to effectively use their firearms for home or personal defense.</p> <p>Click the following link to watch a promotional <strong>Date Night Gun Fight</strong> video: <a href="https://youtu.be/AphrbnZJ5Ho" target="_blank" rel="noopener">https://youtu.be/AphrbnZJ5Ho</a></p> <p>Knowing how to properly protect yourself and others around you will give you confidence in yourself and your firearm if the situation demands it. Five million gun sales in America from January to June 2020 were to first-time gun owners and 40 percent of them were females. We provide a safe environment where we give you good fundamentals and realistic building blocks that allow you to effectively compete with one another and other couples. Learning these skills will allow you to be more proficient as an individual and as a team. Each month has a different theme and a unique set of challenges and opportunities that you will not find anywhere else. We introduce stress in a safe and controlled environment while making the scenarios relevant to real-life situations.</p> <p>As the competition carries on each month, the skills learned are built upon in the next month. If you and your significant other become the Hot Shot Couple of the night, you have the opportunity to win prizes ranging from shared profits of the entrance fees to a gift certificate for a local restaurant. The night's overall winner will have their name entered in for the Championship. This event is a good stepping stone for expanding your training as well as making friends in the process. We have premiere training and want to help couples get out of their comfort zones in a safe environment. In this experience you can put what you do know into effect and learn what you do not know to help you better select the training you want or need. When in a high stress situation, you experience a heightened awareness, and we want to lessen how much of a shock it is for you by helping you be more confident and comfortable with the decisions you make in the moment when they count the most.</p> 2831 N Greenwich Rd Wichita, KS America/Chicago
Back To Previous