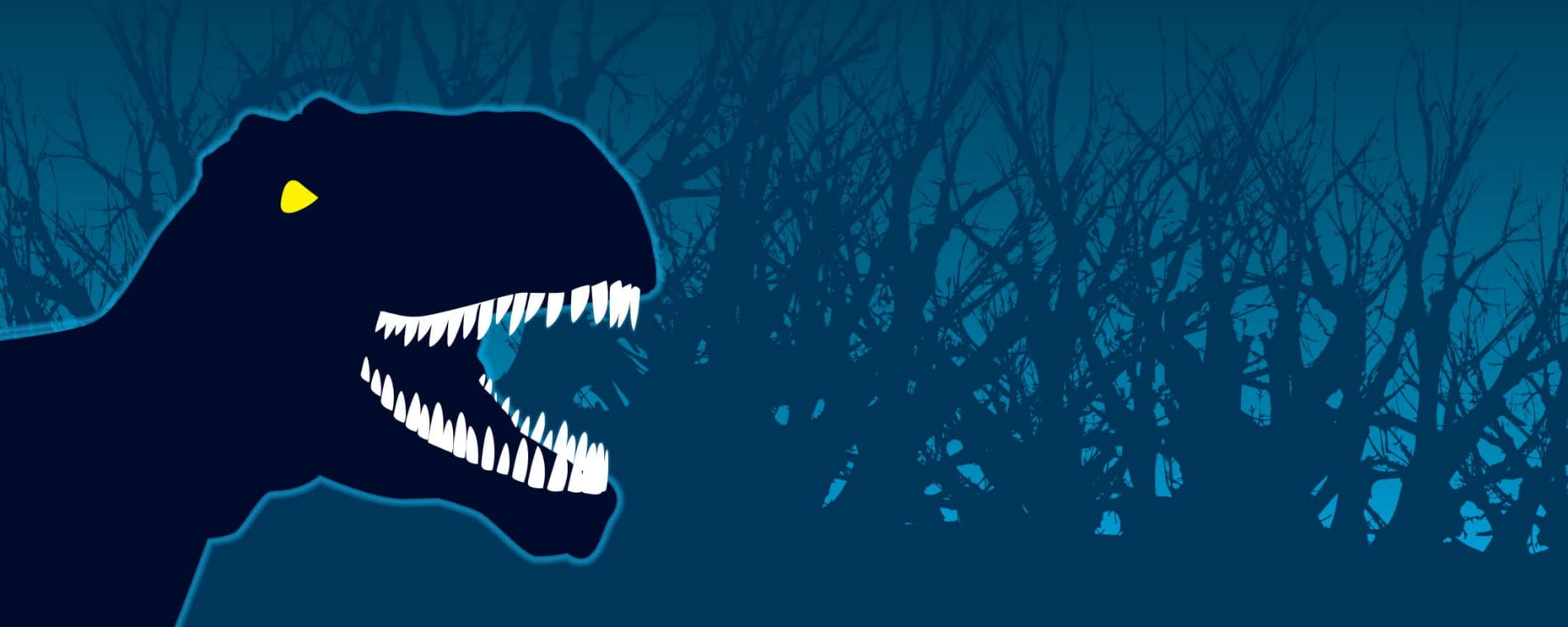 Back to Previous
Dinosaurs After Dark 2020
7-8:30pm October 23, 2020 | Field Station: Dinosaurs
There have been reports of paranormal activity at the Field Station and it's up to our young explorers to help discover what's going wrong! When the lights go out, you'll walk the trails - led by our fearless Expedition Guides – to hunt for what's causing all the mischief.
Every 10 minutes - beginning at 7:10pm and ending at 8:30pm - guests will be led on a darkened trail tour and encounter some of the most recognizable movie monsters of all time, all while trying to find the source of paranormal activity happening at the Field Station. It's a spooky-not-scary, fun filled night of songs, activities and even some take home treats!
After popular demand, we're bringing back Pay Your Age pricing for Dinosaurs After Dark with a $12 maximum for non-members and a $10 maximum for members. Tickets available at the door.
Admission:

Pay Your Age - $12 max ($10 max for FSD members); Available at the door

Days:

October 2, 2020 - October 31, 2020

2020-10-23 2020-10-31 19:00:00 Dinosaurs After Dark 2020 <div class="et_pb_column et_pb_column_2_3 et_pb_column_1 et_pb_css_mix_blend_mode_passthrough"> <div class="et_pb_module et_pb_text et_pb_text_0 et_pb_bg_layout_light et_pb_text_align_left"> <div class="et_pb_text_inner"> <p>There have been reports of paranormal activity at the Field Station and it's up to our young explorers to help discover what's going wrong! When the lights go out, you'll walk the trails - led by our fearless Expedition Guides &#8211; to hunt for what's causing all the mischief.</p> <p>Every 10 minutes - beginning at 7:10pm and ending at 8:30pm - guests will be led on a darkened trail tour and encounter some of the most recognizable movie monsters of all time, all while trying to find the source of paranormal activity happening at the Field Station. It's a spooky-not-scary, fun filled night of songs, activities and even some take home treats!</p> <p>After popular demand, we're bringing back Pay Your Age pricing for Dinosaurs After Dark with a $12 maximum for non-members and a $10 maximum for members. Tickets available at the door.</p> </div> </div> </div> 2999 N. Rock Road Derby, KS America/Chicago
Back To Previous