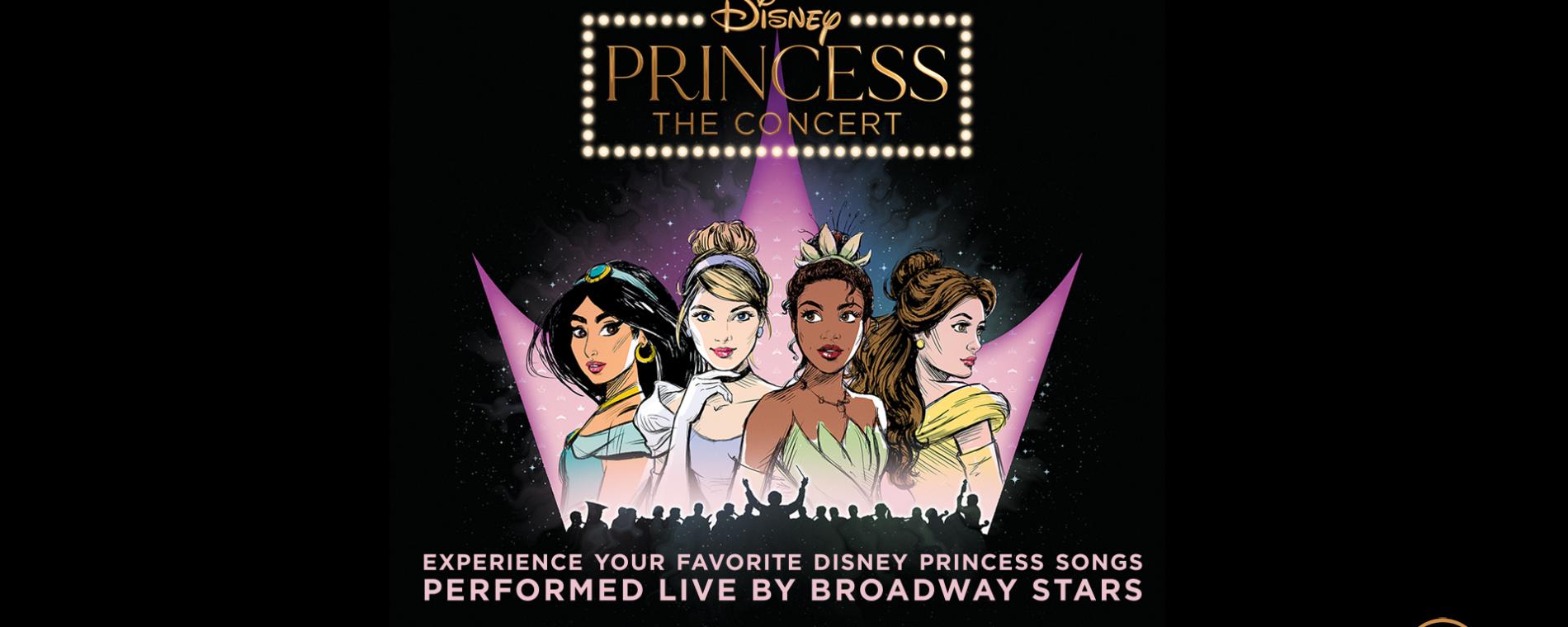 Back to Previous
Disney Princess - The Concert
03:00 PM, January 30, 2022 | Orpheum Theatre
"Be our guest" as a quartet of Broadway, Disney Channel, and animated film icons celebrate all the Disney Princesses in an unforgettable evening of songs, animation, and stories. Tony®-nominee Susan Egan, Grammy®-nominee Courtney Reed, Disney Channel star Anneliese van der Pol, and Broadway World Award-winner Syndee Winters join forces in this concert of a lifetime, alongside their magical Music Director Benjamin Rauhala and enchanting Prince Adam J. Levy.
Your every dream will come true as these acclaimed stars sing your favorite Disney Princess songs, and share their exclusive, hilarious and heartfelt behind-the-scenes stories from their time portraying princesses on the stage and screen. We invite you to become part of our world. Dress up in your best royal attire and get ready for an unforgettable evening at Disney Princess – The Concert, presented by Pandora Jewelry.

Cast subject to change.
Admission:

$49 - $69

Buy Tickets
Days:

January 30, 2022

2022-01-30 2022-01-30 15:00:00 Disney Princess - The Concert <p>"Be our guest" as a quartet of Broadway, Disney Channel, and animated film icons celebrate all the Disney Princesses in an unforgettable evening of songs, animation, and stories. Tony®-nominee Susan Egan, Grammy®-nominee Courtney Reed, Disney Channel star Anneliese van der Pol, and Broadway World Award-winner Syndee Winters join forces in this concert of a lifetime, alongside their magical Music Director Benjamin Rauhala and enchanting Prince Adam J. Levy.</p> <p>Your every dream will come true as these acclaimed stars sing your favorite Disney Princess songs, and share their exclusive, hilarious and heartfelt behind-the-scenes stories from their time portraying princesses on the stage and screen. We invite you to become part of our world. Dress up in your best royal attire and get ready for an unforgettable evening at Disney Princess &#8211; The Concert, presented by Pandora Jewelry.<br /><br />Cast subject to change.</p> 200 N. Broadway St. Wichita, KS America/Chicago
Back To Previous