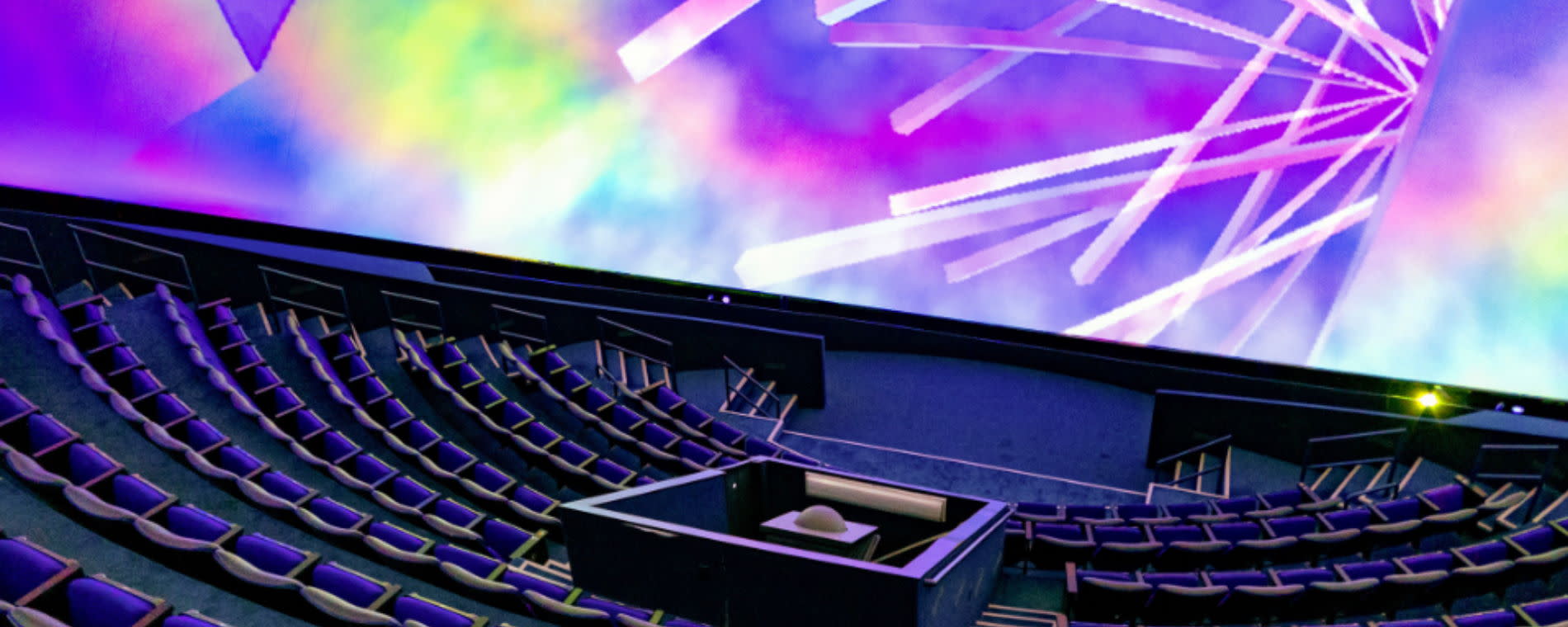 Back to Previous
Dome Theater Shows at Exploration Place
Various Times, April 14, 2021 | Exploration Place
Grab a seat and enjoy the fun of a Dome Theater film! Encounter an exceptional experience with the largest dome theater in the state. Travel to faraway destinations and go on adventures unlike any other, under the soaring 60-foot screen, immersive 360-degree view and booming surround sound.
Current Feature Film - Turtle Odyssey
Take the plunge into the vast ocean with green sea turtle, Bunji! Follow her incredible journey from a hatchling on Australia's Great Barrier Reef, through adulthood. Swim with this amazing creature over thousands of miles and encounter sea critters of all sizes. Tag along with scientists as they attempt to save the green sea turtle species.
Show Times (Tue-Sun): Noon, 1:30pm, 4:00pm, and 6:00pm*
*Thu only
Feature Film Tickets: Adults (12-64) $8, Seniors (65+) $7, Youth (3-11) $6, 2 and Under FREE
Exploration Place member discounts available
Current Special Feature - Animalopolis
Voyage to the magical world of animals. Go nose to nose with hippos, dance with bears and do summersaults with sea lions. Unlock the imagination with animals from across the globe, including cheetahs, lions, crabs and much more.
Show Times (Tue-Sun): 10:30am and 3:00pm
Special Feature Tickets: Members $1, Adults (12-64) $5, Seniors (65+) $4, Youth (3-11) $3, 2 and Under FREE 
You do not have to pay exhibit admission to do the dome! Dome Theater tickets are available for purchase only at Exploration Place. Tax not included. Prices subject to change without notice.
A limit of 59 seats are available per showing to allow for proper social distancing. The theater's stair railing, doors and chairs will be cleaned after every show, and the entire theater will be sanitized at least twice per day. Exploration Place asks that you please pick up your empty soda bottles, candy wrappers, etc. when you exit the theater. This effort will help keep all safe and healthy.
Admission:

Feature Films $6-$8; Special Features $3-$5; Discounts for museum members)

Recurrence:

Recurring weekly on Sunday, Tuesday, Wednesday, Thursday, Friday, Saturday

2021-04-14 Dome Theater Shows at Exploration Place <p>Grab a seat and enjoy the fun of a Dome Theater film! Encounter an exceptional experience with the largest dome theater in the state. Travel to faraway destinations and go on adventures unlike any other, under the soaring 60-foot screen, immersive 360-degree view and booming surround sound.</p> <h3>Current Feature Film - Turtle Odyssey</h3> <p>Take the plunge into the vast ocean with green sea turtle, Bunji! Follow her incredible journey from a hatchling on Australia's Great Barrier Reef, through adulthood. Swim with this amazing creature over thousands of miles and encounter sea critters of all sizes. Tag along with scientists as they attempt to save the green sea turtle species.</p> <p><strong>Show Times</strong> (Tue-Sun): Noon, 1:30pm, 4:00pm, and 6:00pm*<br /><em>*Thu only</em></p> <p><strong>Feature Film Tickets</strong>: Adults (12-64) $8, Seniors (65+) $7, Youth (3-11) $6, 2 and Under FREE<br /><em>Exploration Place member discounts available</em></p> <h3>Current Special Feature - Animalopolis</h3> <p>Voyage to the magical world of animals. Go nose to nose with hippos, dance with bears and do summersaults with sea lions. Unlock the imagination with animals from across the globe, including cheetahs, lions, crabs and much more.</p> <p><strong>Show Times</strong> (Tue-Sun): 10:30am and 3:00pm</p> <p><strong>Special Feature Tickets</strong>: Members $1, Adults (12-64) $5, Seniors (65+) $4, Youth (3-11) $3, 2 and Under FREE </p> <p> </p> <p><em>You do not have to pay exhibit admission to do the dome! Dome Theater tickets are available for purchase only at Exploration Place. Tax not included. Prices subject to change without notice.</em></p> <p>A limit of 59 seats are available per showing to allow for proper social distancing. The theater's stair railing, doors and chairs will be cleaned after every show, and the entire theater will be sanitized at least twice per day. Exploration Place asks that you please pick up your empty soda bottles, candy wrappers, etc. when you exit the theater. This effort will help keep all safe and healthy.</p> 300 N McLean Blvd. Wichita, KS America/Chicago
Back To Previous