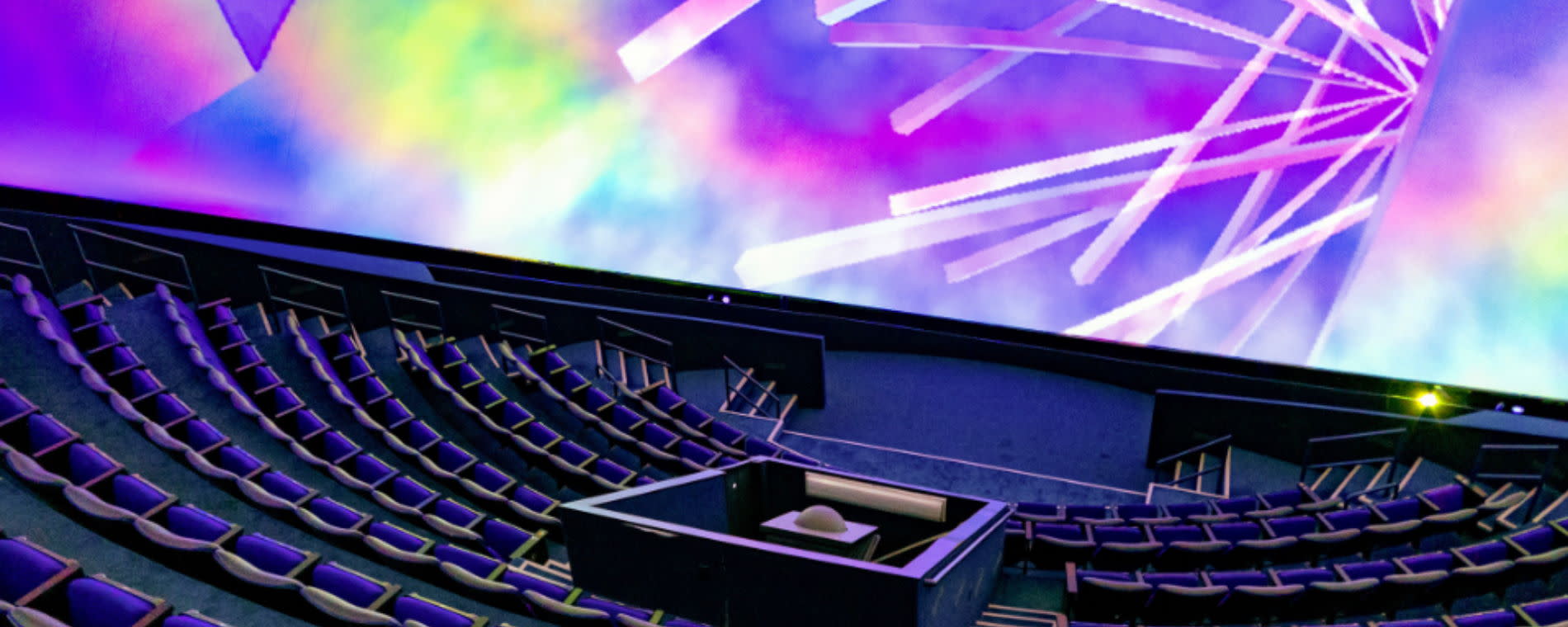 Back to Previous
Dome Theater Shows at Exploration Place
Various Times, October 1, 2022 | Exploration Place
FEATURE FILM: NATIONAL PARKS ADVENTURE
Narrated by Academy Award winner Robert Redford, National Parks Adventure takes audiences on the ultimate off-trail adventure into the nation's awe-inspiring great outdoors and untamed wilderness. Immersive cinematography takes viewers soaring over red rock canyons, hurtling up craggy mountain peaks and into other-worldly realms found within America's most legendary outdoor playgrounds, including Yellowstone, Glacier National Park, Yosemite, and Arches.
Celebrate the national parks with world-class mountaineer Conrad Anker, adventure photographer Max Lowe and artist Rachel Pohl as they hike, climb and explore their way across America's majestic parks in an action-packed expedition that will inspire the adventurer in us all.
"Leaves you breathless with a renewed appreciation for the wild beauty of nature."
     – The Miami Herald
"Sure to delight anyone who appreciates top-flight nature documentaries."
     – The Holllywood Reporter
"…a rip-roaring, heart-pounding, soulful road trip."
     – FOX News
Run time: 43 minutes
COMING APRIL 1: EVEREST
The dramatic, true story of an expedition of four climbers on their journey to the summit of Mount Everest, just days after the infamous 1996 tragedy in which eight climbers lost their lives in a deadly storm, a story chronicled in Jon Krakauer's best-selling book Into Thin Air. The unique experience of viewing the film in the dome theater provides an immersive perspective of the world's tallest mountain and the Sherpa culture and tradition that permeates the Everest experience. 
"Visually gorgeous"
     – The New York Times
"The best IMAX film to date"
     – New York Post
"A breathtaking climb to the top"
     – Entertainment Weekly
"As dramatic as it is fascinating and spectacular"
     – Daily Variety
Originally released in 1998 to blockbuster success and now digitally remastered for a new generation. Everest is above all else a story of triumph over adversity and of the true power and resilience of the human spirit.
Run time: 40 minutes
Admission:

Feature Films $6-$8; Special Features $3-$5; Discounts for museum members

Buy Tickets
Recurrence:

Recurring daily

>

2022-10-01 Dome Theater Shows at Exploration Place <h2>FEATURE FILM: NATIONAL PARKS ADVENTURE</h2> <p><span>Narrated by Academy Award winner Robert Redford,</span><em><span> </span>National Parks Adventure</em><span> takes audiences on the ultimate off-trail adventure into the nation's awe-inspiring great outdoors and untamed wilderness. Immersive cinematography takes viewers soaring over red rock canyons, hurtling up craggy mountain peaks and into other-worldly realms found within America's most legendary outdoor playgrounds, including Yellowstone, Glacier National Park, Yosemite, and Arches.</span></p> <p><span>Celebrate the national parks with world-class mountaineer Conrad Anker, adventure photographer Max Lowe and artist Rachel Pohl as they hike, climb and explore their way across America's majestic parks in an action-packed expedition that will inspire the adventurer in us all.</span></p> <p><strong>"<span>Leaves you breathless with a renewed appreciation for the wild beauty of nature.</span>"</strong><br />     &#8211; The Miami Herald<br /><strong>"S<span>ure to delight anyone who appreciates top-flight nature documentaries.</span>"</strong><br />     &#8211; The Holllywood Reporter<br /><strong>"<span>…a rip-roaring, heart-pounding, soulful road trip.</span>"</strong><br />     &#8211; FOX News</p> <p><span>Run time: 43 minutes</span></p> <h2>COMING APRIL 1: EVEREST</h2> <p>The dramatic, true story of an expedition of four climbers on their journey to the summit of Mount Everest, just days after the infamous 1996 tragedy in which eight climbers lost their lives in a deadly storm, a story chronicled in Jon Krakauer's best-selling book <em>Into Thin Air</em>. The unique experience of viewing the film in the dome theater provides an immersive perspective of the world's tallest mountain and the Sherpa culture and tradition that permeates the Everest experience. </p> <p><strong>"Visually gorgeous"</strong><br />     &#8211; The New York Times<br /><strong>"The best IMAX film to date"</strong><br />     &#8211; New York Post<br /><strong>"A breathtaking climb to the top"</strong><br />     &#8211; Entertainment Weekly<br /><strong>"As dramatic as it is fascinating and spectacular"</strong><br />     &#8211; Daily Variety</p> <p>Originally released in 1998 to blockbuster success and now digitally remastered for a new generation. <em>Everest</em> is above all else a story of triumph over adversity and of the true power and resilience of the human spirit.</p> <p><span>Run time: 40 minutes</span></p> 300 N McLean Blvd. Wichita, KS America/Chicago
Back To Previous