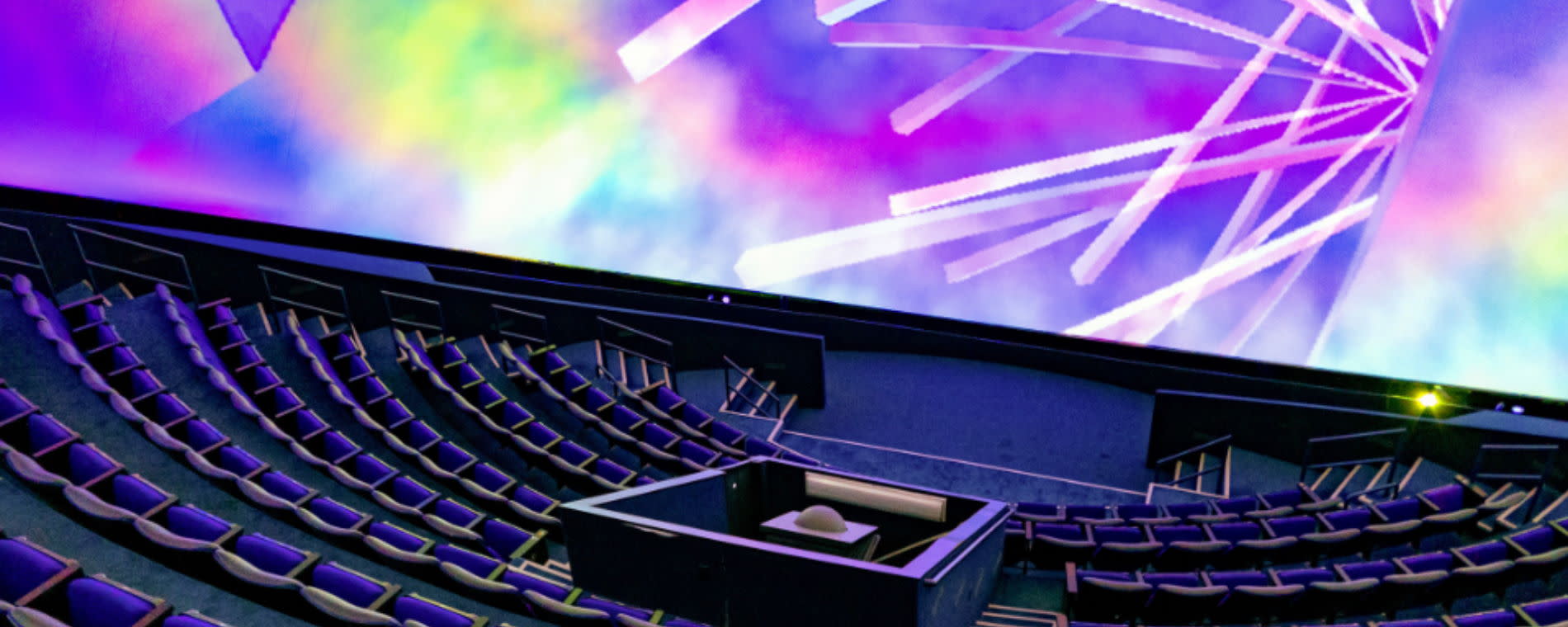 Dome Theater Shows at Exploration Place
From: 10:00 AM to 05:00 PM, December 5, 2023 | Exploration Place
KANSAS: AN IMMERSIVE DOME EXPERIENCE
Experience the Beauty and Wonder of the Sunflower State
Exploration Place, Kansas' premier science museum, has created a movie experience like no other! Filmed from the unique perspective of a drone, Kansas: An Immersive Dome Experience presents the beauty and wonder of the Sunflower State in the breathtaking format of a giant dome theater. Now playing in The Dome.
Run time: 25 minutes
SEA MONSTERS
When strange bones are discovered in a muddy Kansas river bank, paleontologists set out to investigate a mystery buried in time. Through ultra-realistic 3-D computer animation Sea Monsters takes audiences back to the Late Cretaceous, when the sea was dominated by giant marine reptiles, some as large as present-day whales. Get up close and personal with some of the dinosaur age's most fearsome marine reptiles.
Sea Monsters: A Prehistoric Adventure transports the audience back to the Late Cretaceous, when a great inland sea divided North America. The film connects paleontology digs from around the globe into a compelling story about scientists working as detectives to answer questions about this ancient and mysterious ocean world.
Stunning photo-realistic computer-generated animation transports audiences back to the Late Cretaceous, when a great inland ocean divided North America in two. The film will follow a curious and adventurous dolichorynchops (familiarly known as a 'dolly') as she travels through life's stages, experiencing the world from her spot near the bottom of the food chain. Along the way, she'll encounter long-necked pleisosaurs, giant turtles, enormous fish, ferocious flippered crocs, fierce sharks, and the most dangerous sea monsters of all, the mosasaurs.
THE DARK SIDE OF THE MOON (Starting June 22)
Embark on a cosmic odyssey in celebration of Pink Floyd's 50th anniversary of The Dark Side of the Moon planetarium show in The Dome. Journey through a cosmic realm that pays tribute to Pink Floyd's enduring legacy. Vibrant colors and mesmerizing animations synchronize with the timeless tracks, immersive visuals and powerful emotions evoked by this legendary album. This is the only large-screen film endorsed by the band itself.
Don't miss this special opportunity to celebrate Pink Floyd's musical masterpiece in an unforgettable setting.
Admission:

$7 - $8, Free for Members and Children under 2

Buy Tickets

Recurrence:

Recurring daily

>

2023-12-05 Dome Theater Shows at Exploration Place <p>KANSAS: AN IMMERSIVE DOME EXPERIENCE</p> <p>Experience the Beauty and Wonder of the Sunflower State</p> <p>Exploration Place, Kansas' premier science museum, has created a movie experience like no other! Filmed from the unique perspective of a drone, <em>Kansas: An Immersive Dome Experience</em> presents the beauty and wonder of the Sunflower State in the breathtaking format of a giant dome theater. Now playing in The Dome.</p> <p>Run time: 25 minutes</p> <p>SEA MONSTERS</p> <p>When strange bones are discovered in a muddy Kansas river bank, paleontologists set out to investigate a mystery buried in time. Through ultra-realistic 3-D computer animation Sea Monsters takes audiences back to the Late Cretaceous, when the sea was dominated by giant marine reptiles, some as large as present-day whales. Get up close and personal with some of the dinosaur age's most fearsome marine reptiles.</p> <div><em>Sea Monsters: A Prehistoric Adventure</em> transports the audience back to the Late Cretaceous, when a great inland sea divided North America. The film connects paleontology digs from around the globe into a compelling story about scientists working as detectives to answer questions about this ancient and mysterious ocean world.</div> <p>Stunning photo-realistic computer-generated animation transports audiences back to the Late Cretaceous, when a great inland ocean divided North America in two. The film will follow a curious and adventurous dolichorynchops (familiarly known as a 'dolly') as she travels through life's stages, experiencing the world from her spot near the bottom of the food chain. Along the way, she'll encounter long-necked pleisosaurs, giant turtles, enormous fish, ferocious flippered crocs, fierce sharks, and the most dangerous sea monsters of all, the mosasaurs.</p> <p>THE DARK SIDE OF THE MOON (Starting June 22)</p> <p>Embark on a cosmic odyssey in celebration of Pink Floyd's 50th anniversary of <em>The Dark Side of the Moon</em> planetarium show in The Dome. Journey through a cosmic realm that pays tribute to Pink Floyd's enduring legacy. Vibrant colors and mesmerizing animations synchronize with the timeless tracks, immersive visuals and powerful emotions evoked by this legendary album. This is the <em>only</em> large-screen film endorsed by the band itself.</p> <p>Don't miss this special opportunity to celebrate Pink Floyd's musical masterpiece in an unforgettable setting.</p> <p> </p> 300 N McLean Blvd Wichita, KS America/Chicago
Back To Previous