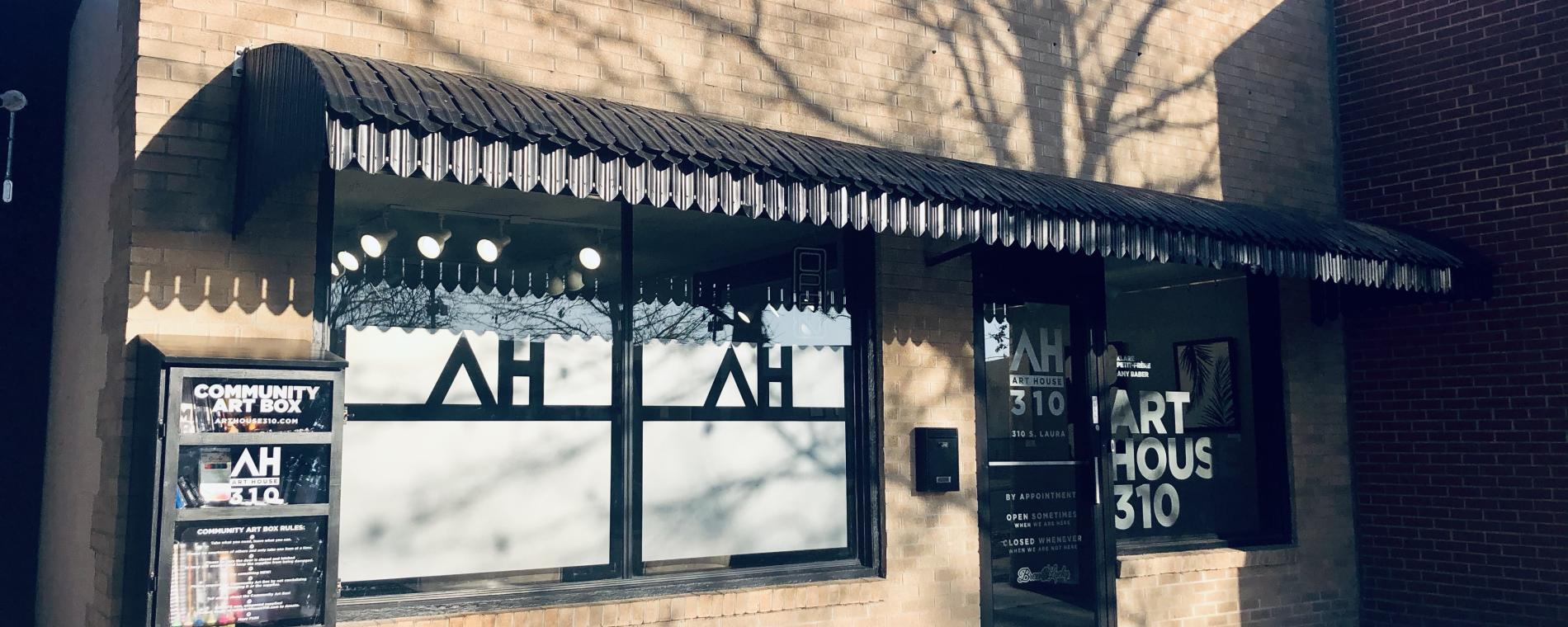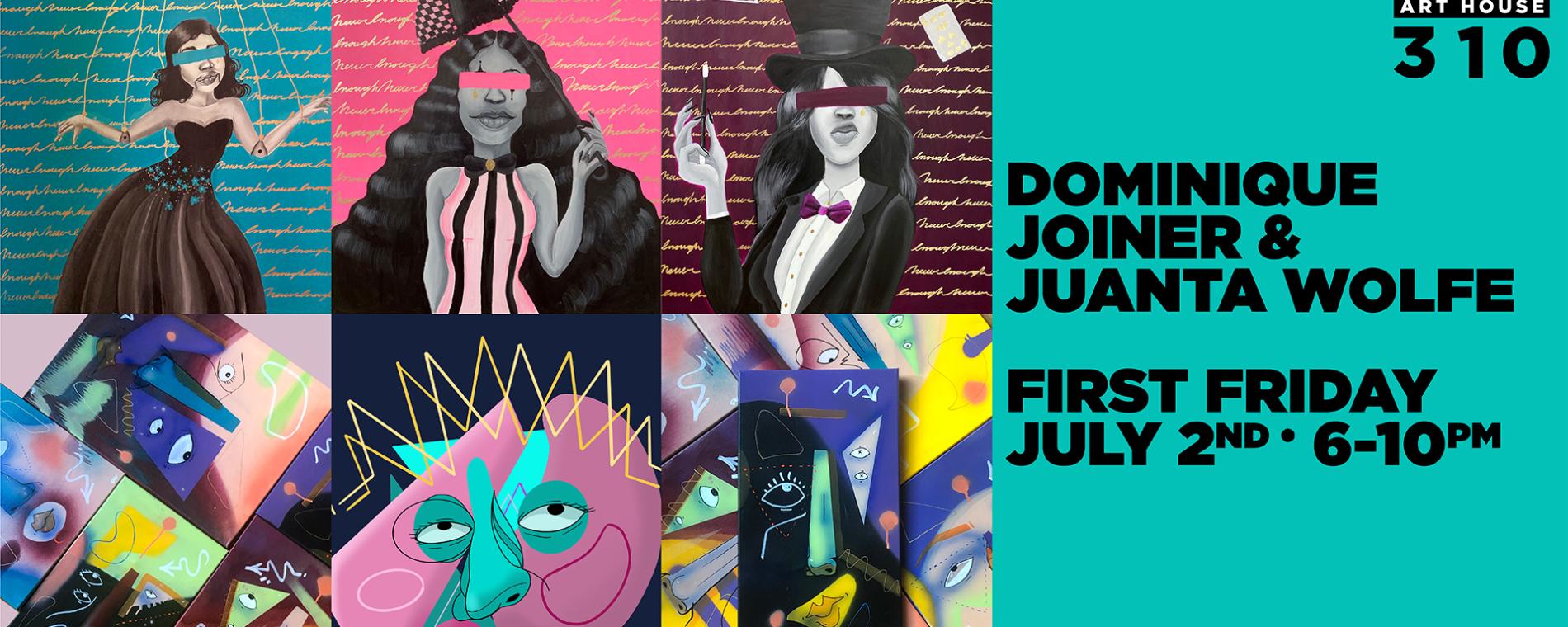 Back to Previous
Dominique Joiner and Juanta Wolfe Opening Reception - First Friday
6-10pm, July 2, 2021 | Art House 310
DONIMIQUE JOINER (b 1988 Wichita, Kansas) uses her chosen mediums of acrylic and oils to identify the experience of women in a male dominated society. Dominique has observed the lives of many women from several walks of life and uses the influence of these women to relay her narrative. She uses the ideals of sensuality and affection to draw the viewer in and coaxes them to become more aware with riveting details and underlying messages. Dominique has a goal of pressing women to gain more ipseity, regardless of the rhetoric they are taught to the contrary.
Ipseity starts with awareness, the doorway to change. Many of the artist's paintings directly depict the chosen problem, with no offer of a solution, forcing the viewer to digest and relate. The use of golden accents is meant to show a sense of majesty and divinity that women carry, regardless of the situation, be it vulnerable or powerful. As the gateway to life, women deserve to be viewed as such. Dominique's art will encourage individuals to search inwardly and come to peace with their feelings.
JUANTA WOLFE Artist Statement: I am a Wichita native, born and raised on the south side. My upbringing plays a large role in my style and perspective when it comes to my art. I am mixed with white and black, and never shied away from accepting either one of my races. Growing up I always loved hip-hop, and watching movies that fell into the same category. That all changed when my friend gave me a copy of Linkin Park's "The Hybrid Theory". I instantly fell in love with the screaming and heavy guitar, and almost immediately started skateboarding. This illustrates my experience of being mixed and often feeling like I had to choose when to be "black" or "white". As I got older I stopped caring, and decided to like and do whatever felt right. In my art I try to reflect the constant battle I have with what I identify as, which, in short, is nothing. My art reflects the confusion I have with the direction I want to go in my life, and the general idea that I don't worry too much about the end result. I focus on the journey that colors and lines take me on as I create and am not concerned about where it ends up. As far as my influences, I've always loved cartoons and the way an artist uses simple shapes to represent facial features and everyday objects. The influence of graffiti and street art has always been in my art as well. I remember seeing graffiti in Tony Hawk games, and in the music videos I would watch on BET. Most of the shapes and techniques I use on canvas came from my focus on being a graffiti artist. My recent works are a true combination of all my experiences creating and appreciating art. I've always enjoyed Picasso's works, but cubism has been done and I've wanted a style that is definitely mine. So combining graffiti with cartoon drawings, mixed with shading and multiple perspectives is what I try to achieve with my art. I want people to look at my pieces and think they are abrasive in design, but see that the execution of my line-work and shading are technical and skilled. Overall I just want my art to be what it is, and not something that others say it is.
Show hangs through July 25th, 2021.
COVID-19 PRECAUTIONS:
As the CDC relaxes the mask recommendations for fully vaccinated individuals, we ask that anyone entering Art House 310 use your best moral judgement on masks. We will continue to have masks on hand as well as hand sanitizer. We do ask that individuals who are not fully vaccinated continue to wear a mask when entering Art House 310.
All events at Art House 310 are subject to change. Hand sanitizer will be on site for use. Art House 310 will disinfect the public areas before and after any events. There is no public restroom at Art House 310. Properly worn masks are strongly recommended when entering Art House 310 and we strongly encourage you to practice safe social distancing. We ask that any purchases be done so with card payment in order to reduce the spread of germs. Anyone showing symptoms or feeling ill or have been exposed to Covid-19 should NOT enter Art House 310. We appreciate your understanding and efforts to keep everyone safe and healthy.
Admission:

Free and open to the public

Days:

July 2, 2021

2021-07-02 2021-07-02 22:00:00 Dominique Joiner and Juanta Wolfe Opening Reception - First Friday <p>DONIMIQUE JOINER (b 1988 Wichita, Kansas) uses her chosen mediums of acrylic and oils to identify the experience of women in a male dominated society. Dominique has observed the lives of many women from several walks of life and uses the influence of these women to relay her narrative. She uses the ideals of sensuality and affection to draw the viewer in and coaxes them to become more aware with riveting details and underlying messages. Dominique has a goal of pressing women to gain more ipseity, regardless of the rhetoric they are taught to the contrary.</p> <p>Ipseity starts with awareness, the doorway to change. Many of the artist's paintings directly depict the chosen problem, with no offer of a solution, forcing the viewer to digest and relate. The use of golden accents is meant to show a sense of majesty and divinity that women carry, regardless of the situation, be it vulnerable or powerful. As the gateway to life, women deserve to be viewed as such. Dominique's art will encourage individuals to search inwardly and come to peace with their feelings.</p> <p>JUANTA WOLFE Artist Statement: I am a Wichita native, born and raised on the south side. My upbringing plays a large role in my style and perspective when it comes to my art. I am mixed with white and black, and never shied away from accepting either one of my races. Growing up I always loved hip-hop, and watching movies that fell into the same category. That all changed when my friend gave me a copy of Linkin Park's "The Hybrid Theory". I instantly fell in love with the screaming and heavy guitar, and almost immediately started skateboarding. This illustrates my experience of being mixed and often feeling like I had to choose when to be "black" or "white". As I got older I stopped caring, and decided to like and do whatever felt right. In my art I try to reflect the constant battle I have with what I identify as, which, in short, is nothing. My art reflects the confusion I have with the direction I want to go in my life, and the general idea that I don't worry too much about the end result. I focus on the journey that colors and lines take me on as I create and am not concerned about where it ends up. As far as my influences, I've always loved cartoons and the way an artist uses simple shapes to represent facial features and everyday objects. The influence of graffiti and street art has always been in my art as well. I remember seeing graffiti in Tony Hawk games, and in the music videos I would watch on BET. Most of the shapes and techniques I use on canvas came from my focus on being a graffiti artist. My recent works are a true combination of all my experiences creating and appreciating art. I've always enjoyed Picasso's works, but cubism has been done and I've wanted a style that is definitely mine. So combining graffiti with cartoon drawings, mixed with shading and multiple perspectives is what I try to achieve with my art. I want people to look at my pieces and think they are abrasive in design, but see that the execution of my line-work and shading are technical and skilled. Overall I just want my art to be what it is, and not something that others say it is.</p> <p>Show hangs through July 25th, 2021.</p> <p>COVID-19 PRECAUTIONS:<br />As the CDC relaxes the mask recommendations for fully vaccinated individuals, we ask that anyone entering Art House 310 use your best moral judgement on masks. We will continue to have masks on hand as well as hand sanitizer. We do ask that individuals who are not fully vaccinated continue to wear a mask when entering Art House 310.</p> <p>All events at Art House 310 are subject to change. Hand sanitizer will be on site for use. Art House 310 will disinfect the public areas before and after any events. There is no public restroom at Art House 310. Properly worn masks are strongly recommended when entering Art House 310 and we strongly encourage you to practice safe social distancing. We ask that any purchases be done so with card payment in order to reduce the spread of germs. Anyone showing symptoms or feeling ill or have been exposed to Covid-19 should NOT enter Art House 310. We appreciate your understanding and efforts to keep everyone safe and healthy.</p> 310 S. Laura Wichita, KS America/Chicago
Back To Previous