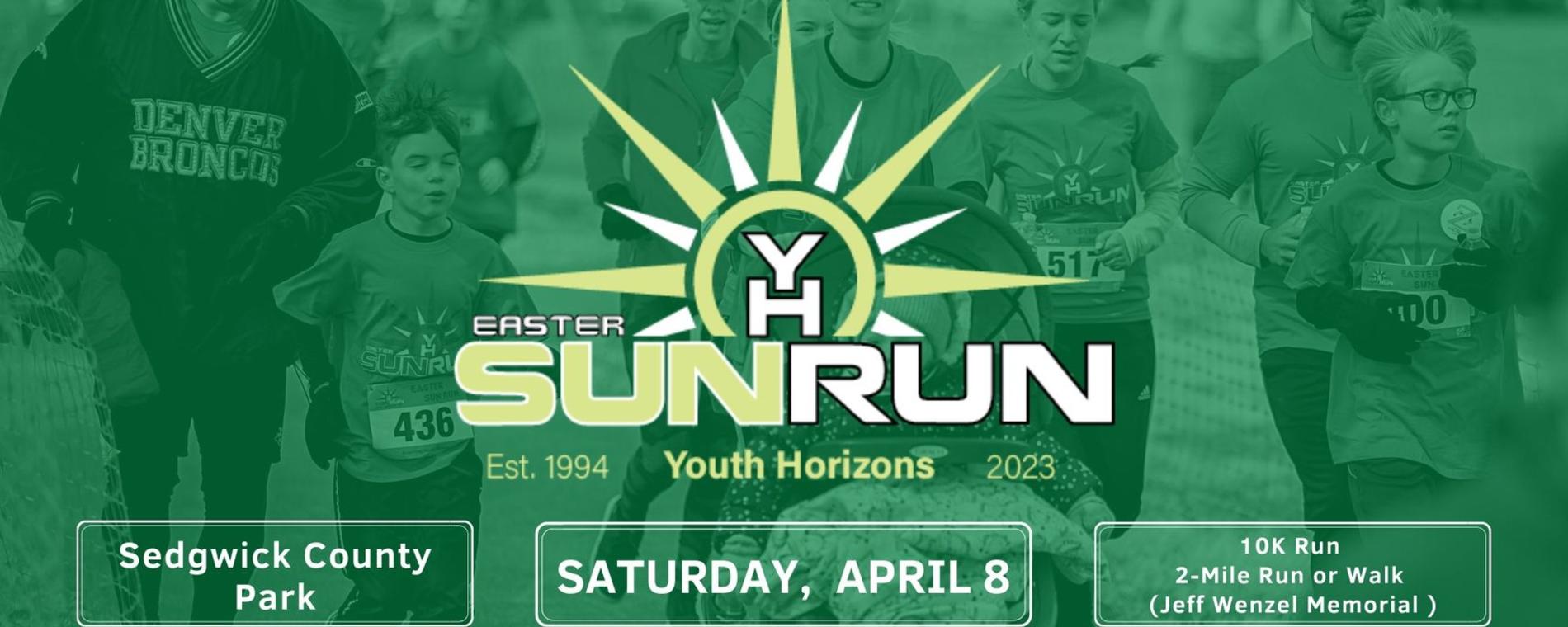 Back to Previous
Easter Sun Run 2023
From: 9:00 AM to 12:00 PM, April 8, 2023 | Sedgwick County Park
We are pleased to announce the 29th annual Easter Sun Run at Sedgwick County Park on Saturday, April 8, with a 10K event scheduled for 9 a.m. and a 2-mile run/walk scheduled for 11 a.m.
All registrants will receive a t-shirt and a finisher's medal. Cash prizes (TBA) for top male and female finishers in both races. Please encourage others to register.
Easter Sun Run is one of the premier 10K and 2-mile run/walk events in the Midwest. It's also a major fundraiser for Youth Horizons – a Christian faith-based nonprofit that supports local youth and their families through mentoring, residential and advocacy programs. The run/walk events will be followed by a family and community cookout including activities for youth, participants and supporters. More details to come.
If you are unable to participate, you can transfer your registration as a donation to Youth Horizons. Proceeds support youth and their families in our ministries. 
Admission:

$25-$50

Register Online
Days:

April 8, 2023

>

2023-04-08 2023-04-08 12:00:00 Easter Sun Run 2023 <div class="x11i5rnm xat24cr x1mh8g0r x1vvkbs xdj266r">We are pleased to announce the 29th annual Easter Sun Run at Sedgwick County Park on Saturday, April 8, with a 10K event scheduled for 9 a.m. and a 2-mile run/walk scheduled for 11 a.m.</div> <div class="x11i5rnm xat24cr x1mh8g0r x1vvkbs xdj266r"> </div> <div class="x11i5rnm xat24cr x1mh8g0r x1vvkbs xtlvy1s">All registrants will receive a t-shirt and a finisher's medal. Cash prizes (TBA) for top male and female finishers in both races. Please encourage others to register.</div> <div class="x11i5rnm xat24cr x1mh8g0r x1vvkbs xtlvy1s"> </div> <div class="x11i5rnm xat24cr x1mh8g0r x1vvkbs xtlvy1s">Easter Sun Run is one of the premier 10K and 2-mile run/walk events in the Midwest. It's also a major fundraiser for Youth Horizons &#8211; a Christian faith-based nonprofit that supports local youth and their families through mentoring, residential and advocacy programs. The run/walk events will be followed by a family and community cookout including activities for youth, participants and supporters. More details to come.</div> <div class="x11i5rnm xat24cr x1mh8g0r x1vvkbs xtlvy1s"> </div> <div class="x11i5rnm xat24cr x1mh8g0r x1vvkbs xtlvy1s">If you are unable to participate, you can transfer your registration as a donation to Youth Horizons. Proceeds support youth and their families in our ministries. </div> 6501 W. 21St St. N. Wichita, KS America/Chicago
Back To Previous