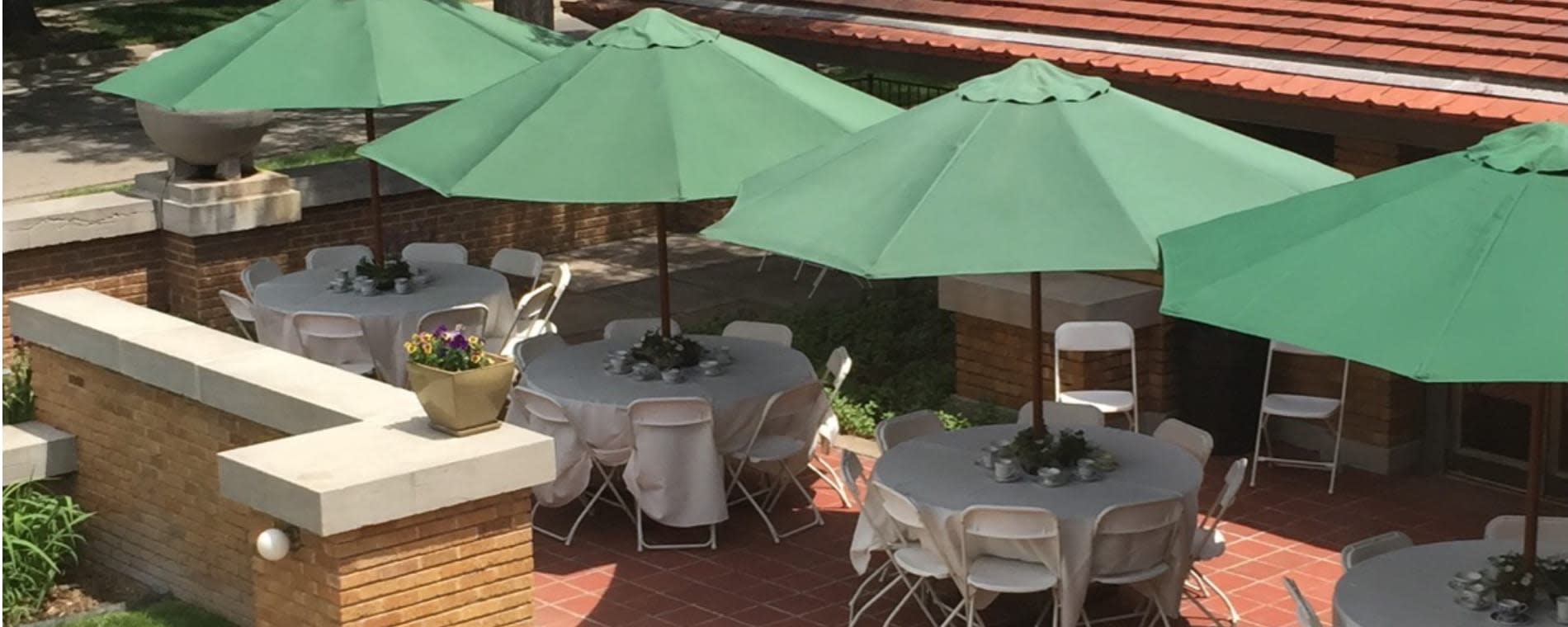 Back to Previous
Elsie Allen Tea on the Terrace
This event has been postponed and will be moved to its new date once rescheduled.
The dates for this event have already occurred, please check back again for new dates.
NOTE:
It is with heavy hearts that we must postpone our annual Tea on the Terrace due to COVID-19. We are working on a new date as we continue to monitor the health and well-being of our community. Please stay tuned for further details. - FLW Allen House on Facebook
Step back 100 years and join us for high tea on the terrace, live music and self-guided tours of the Allen House. Seatings at 1, 2 and 3pm. Minimum age 5 years. Seating is limited.
3 Seatings

| | |
| --- | --- |
| 1:00-1:45 Tea on the Terrace | 1:45-2:45 Self-guided tour |
| 2:00-2:45 Tea on the Terrace | 2:45-3:45 Self-guided tour |
| 3:00-3:45 Tea on the Terrace | 3:45-4:45 Self-guided tour |
Get Tickets
$30/person (+$5 includes Prosecco)
Admission:

$30-$35/person

Days:

May 9, 2020

Elsie Allen Tea on the Terrace <p><strong>NOTE:</strong><br /><em>It is with heavy hearts that we must postpone our annual Tea on the Terrace due to COVID-19. We are working on a new date as we continue to monitor the health and well-being of our community. Please stay tuned for further details.</em> - <a title="Notice" href="https://www.facebook.com/events/2497311553818663/" rel="nofollow" target="_blank"><strong>FLW Allen House on Facebook</strong></a></p> <p>Step back 100 years and join us for high tea on the terrace, live music and self-guided tours of the Allen House. Seatings at 1, 2 and 3pm. Minimum age 5 years. Seating is limited.</p> <table style="width: 325px;" border="0" align="center"><caption>3 Seatings</caption> <tbody> <tr> <td>1:00-1:45 Tea on the Terrace</td> <td>1:45-2:45 Self-guided tour</td> </tr> <tr> <td>2:00-2:45 Tea on the Terrace</td> <td>2:45-3:45 Self-guided tour</td> </tr> <tr> <td>3:00-3:45 Tea on the Terrace</td> <td>3:45-4:45 Self-guided tour</td> </tr> </tbody> </table> <p><a title="Get Tickets" href="https://flwrightwichita.org/event/elsie-allen-tea-on-the-terrace-2/" rel="nofollow" target="_blank"><strong>Get Tickets</strong></a><br />$30/person (+$5 includes Prosecco)</p> America/Chicago
Back To Previous