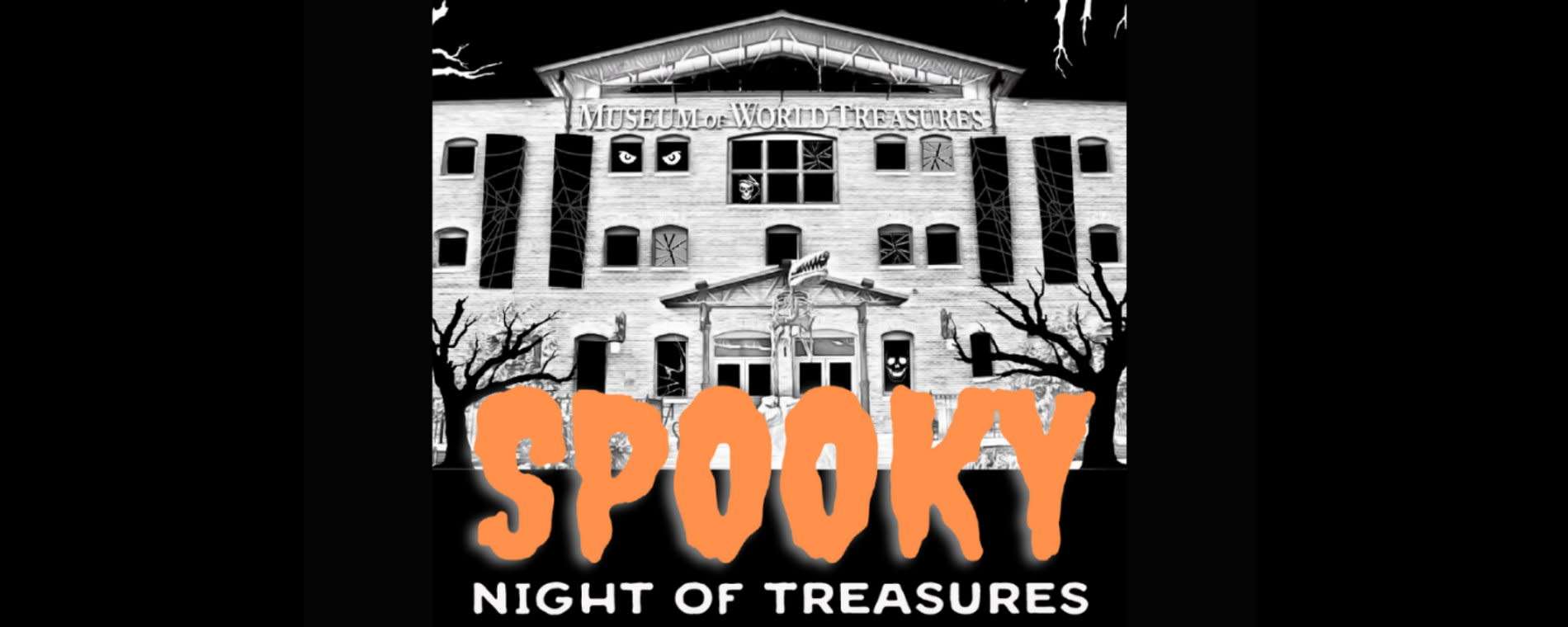 Back to Previous
Exclusive Spooky Night of Treasures
Starting at 6:30pm October 29, 2020 | Museum of World Treasures
Private, 90-minute spooky tours of the transformed, haunted Museum, including spooky storytelling performances. Costumes are encouraged, but not required. Due to the pandemic, we are unable to serve food, however light wine and beer stations will be available.
Each member of your group will also receive an exclusive Swag Bag - complete with takeaway freebies, discounts, and other tasty trick-or-treat items from local businesses in Old Town! Bring a little extra spending money! Your exclusive experience also includes a wine pull and special raffle opportunities.
Tickets
Tickets can be purchased for Covid-friendly groups (friends and family, or people you're most familiar with) of six for $150 by phone only (316-263-1311), and go on sale at 10am 10/22 (pre-sale available for museum members at 10am 10/21). Only 10 time slots are available in 15-minute intervals from 6:30-9:15pm. Due to limited space and the possibility of selling out, don't wait - become a Member today!
Face masks and social distancing by guests and event staff will be required throughout the evening.
Admission:

$150 per group of 6

Days:

October 29, 2020

2020-10-29 2020-10-29 18:30:00 Exclusive Spooky Night of Treasures <p>Private, 90-minute spooky tours of the transformed, haunted Museum, including spooky storytelling performances. Costumes are encouraged, but not required. Due to the pandemic, we are unable to serve food, however light wine and beer stations will be available.</p> <p>Each member of your group will also receive an exclusive Swag Bag - complete with takeaway freebies, discounts, and other tasty trick-or-treat items from local businesses in Old Town! Bring a little extra spending money! Your exclusive experience also includes a wine pull and special raffle opportunities.</p> <p><strong>Tickets<br /></strong>Tickets can be purchased for Covid-friendly groups (friends and family, or people you're most familiar with) of six for $150 by phone only (316-263-1311), and go on sale at 10am 10/22 (pre-sale available for museum members at 10am 10/21). <span style="text-decoration: underline;">Only 10 time slots are available</span> in 15-minute intervals from 6:30-9:15pm. Due to limited space and the possibility of selling out, don't wait - become a Member today!</p> <p>Face masks and social distancing by guests and event staff will be required throughout the evening.</p> 835 E. First St. Wichita, KS America/Chicago
Back To Previous