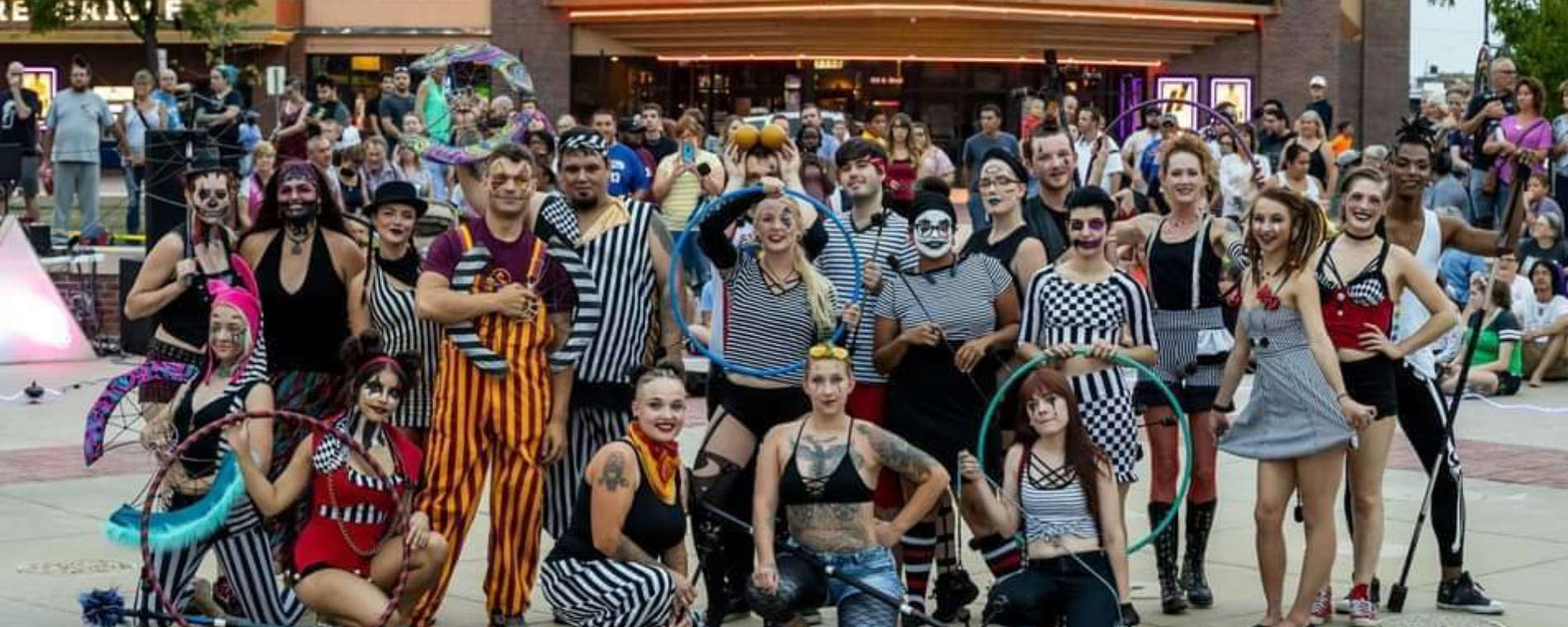 Back to Previous
Final Friday with Phlox - Halloween Edition
7-10pm October 30, 2020 | Old Town Square
Come join us in Old Town Square around dusk to watch a dazzling and possibly dizzying display of FIRE, LED, and DANCE! Our troupe specializes in all flow art including but not limited to: Poi, Hoops, Staves, Fans, and Fire Breathing. We have performers of all levels! Some new, some old. Note that it may be some of their first time performing in front of an audience - give cheers! Groovy tunes with our resident DJ Karetaker.
Music will start around 7 and fire will start around 8! The end time depends on a few factors, such as number of performers, crowd reactions, and weather!
This is a kid friendly event, but please keep an eye on the little ones. Just be cautious of them and keep them away from open flames and outside the LED perimeter.
Be ready to be amazed, and remember to cheer for your dancers!
MORE INFO TO COME ON COVID REGULATIONS AND MORE
THIS IS A WEATHER PERMITTING EVENT
Admission:

Free to Attend - Tips Appreciated

Days:

October 30, 2020

2020-10-30 2020-10-30 22:00:00 Final Friday with Phlox - Halloween Edition <p>Come join us in Old Town Square around dusk to watch a dazzling and possibly dizzying display of FIRE, LED, and DANCE! Our troupe specializes in all flow art including but not limited to: Poi, Hoops, Staves, Fans, and Fire Breathing. We have performers of all levels! Some new, some old. Note that it may be some of their first time performing in front of an audience - give cheers! Groovy tunes with our resident DJ Karetaker.</p> <p>Music will start around 7 and fire will start around 8! The end time depends on a few factors, such as number of performers, crowd reactions, and weather!</p> <p>This is a kid friendly event, but please keep an eye on the little ones. Just be cautious of them and keep them away from open flames and outside the LED perimeter.</p> <p>Be ready to be amazed, and remember to cheer for your dancers!</p> <p>MORE INFO TO COME ON COVID REGULATIONS AND MORE</p> <p>THIS IS A WEATHER PERMITTING EVENT</p> 2nd and Mead Wichita, KS America/Chicago
Back To Previous