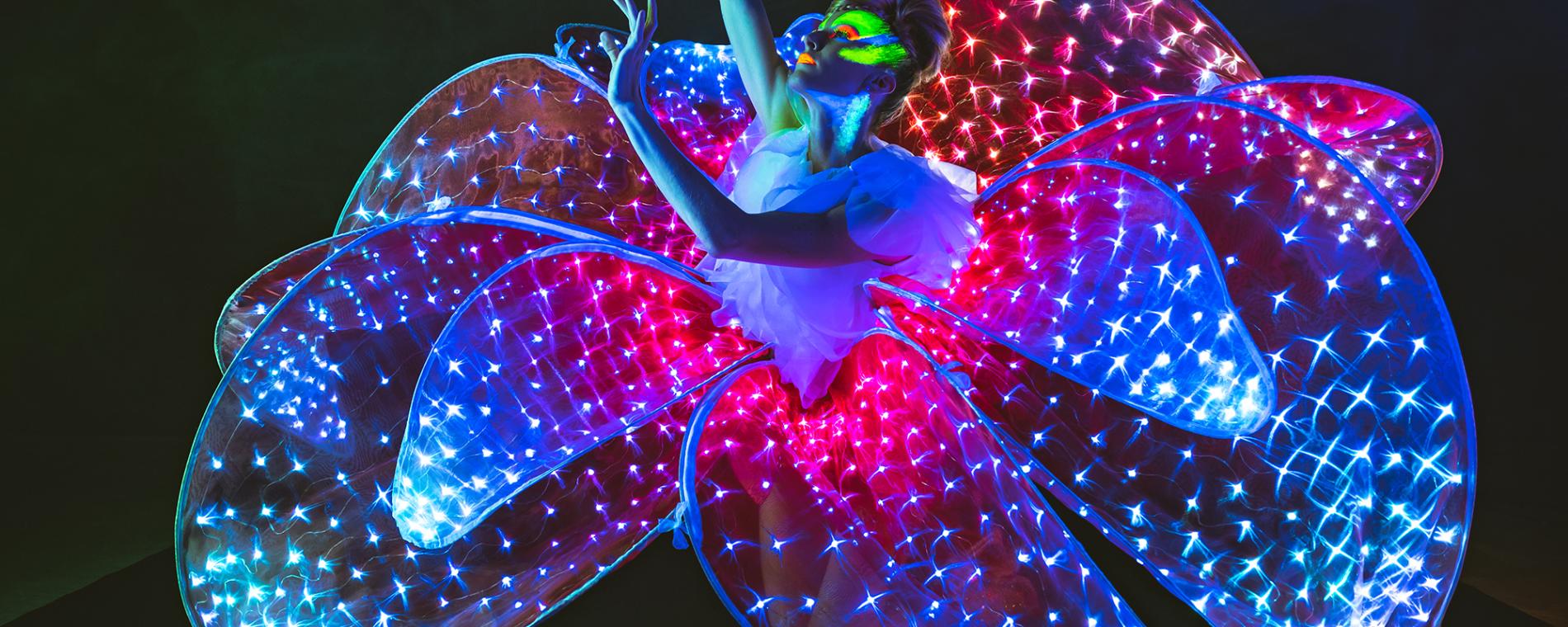 Back to Previous
Fleur by Quixotic
Starting: 08:30 PM, August 20, 2022 | Botanica Wichita
Botanica is excited to host this enthralling cirque nouveau performance, Fleur by Quixotic, on its new date,  August 19th - 20th . The doors and bars open at 7 p.m. at our South Gate entrance. Come and walk Botanica's beautiful 20 acres and start the pre-party from 7-8:20 p.m. The performance will start at 8:30 p.m. on the Grand Lawn. Please bring your own chair. Outside food is welcomed, but outside beverages are not allowed. 
Tickets are available online only. 
Based out of Kansas City, this cutting-edge group of acrobats provide a unique blend of performance art, technology, and emotion. Prepare for an immersive multimedia performance experience centered around the geometry found throughout nature and the divine mystery of creation.
Be advised that this production is intended for mature audiences.
Days:

August 20, 2022

2022-08-20 2022-08-20 20:30:00 Fleur by Quixotic <p>Botanica is excited to host this enthralling cirque nouveau performance, Fleur by Quixotic, on its new date,  August 19th - 20th . The doors and bars open at 7 p.m. at our South Gate entrance. Come and walk Botanica's beautiful 20 acres and start the pre-party from 7-8:20 p.m. The performance will start at 8:30 p.m. on the Grand Lawn. Please bring your own chair. Outside food is welcomed, but outside beverages are not allowed. </p> <p>Tickets are available <a href="https://botanica.org/fleur-quixotic/">online</a> only. </p> <p>Based out of Kansas City, this cutting-edge group of acrobats provide a unique blend of performance art, technology, and emotion. Prepare for an immersive multimedia performance experience centered around the geometry found throughout nature and the divine mystery of creation.</p> <p><strong><em><span style="text-decoration: underline;">Be advised that this production is intended for mature audiences.</span></em></strong></p> 701 N. Amidon Wichita, KS America/Chicago
Back To Previous