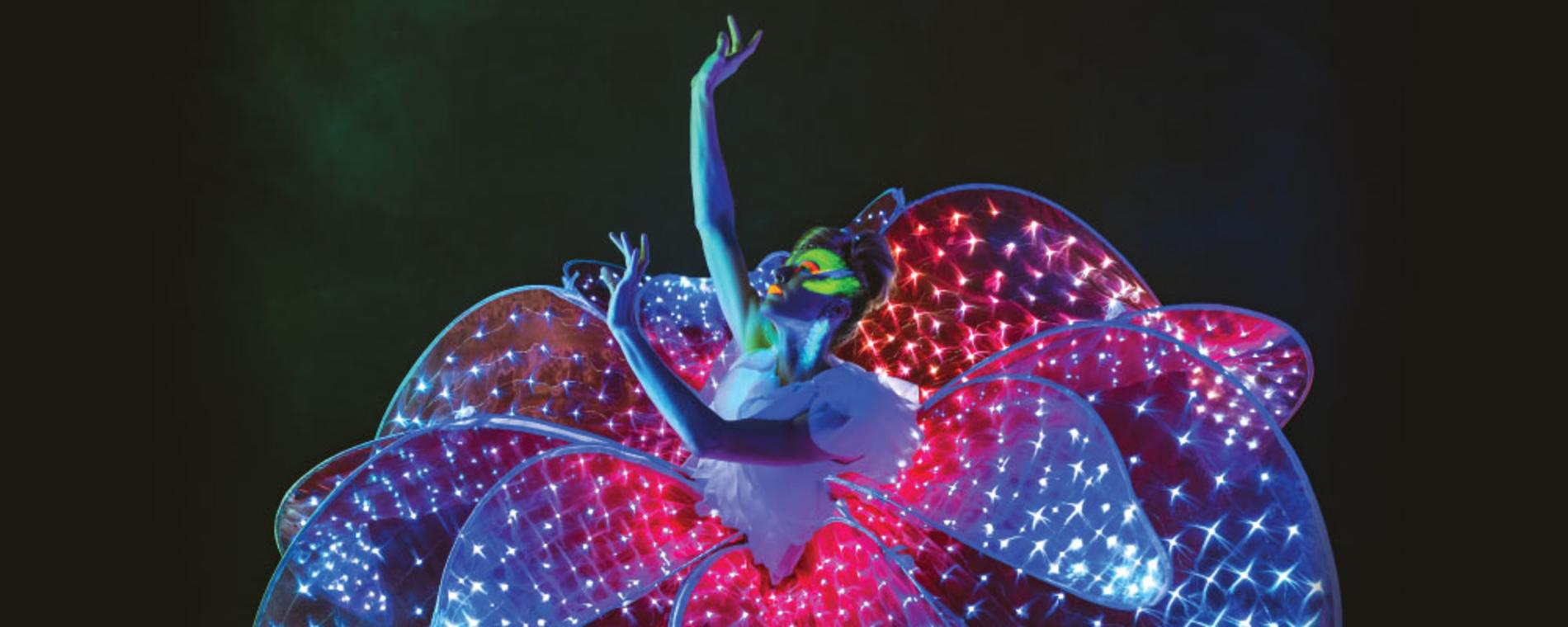 Back to Previous
Fleur
8:30pm, June 24, 2022 | Botanica Wichita
Botanica presents Kansas City's very own, Fleur by Quixotic, an immersive multimedia performance experience centered around the sacred codes of geometry found throughout all of nature and the divine mystery of creation. Visible and invisible symbols of consciousness exist all around us and are known to be the ways in which energy expands and organizes itself. From the petals of a flower to the structure of a crystal to the air we breathe, to the molecules of our DNA, everything stems from the same geometric blueprint and points to the link between ourselves and the infinite universe. Fleur is an extraordinary celebration of the divine essence of these architectural structures, through mesmerizing light, magnificent color, tranquilizing music, and exhilarating live performance.
Enter into an exquisite intersection of art and creative technology, as Quixotic's enthralling cirque nouveau performers present awe-inspiring performances weaving together themes of life, energy, transformation, and the universal elements. From blossoming displays of the metamorphosis of a butterfly to mesmerizing exchanges with the elements of fire, water, air, earth, and aether, performances reflect the shapes, patterns, and symbols found in nature and are designed as an observance of the microcosmic and the macrocosmic miracles subtly at play within creation all around us. Embrace these visual spectacles of beauty as live musicians weave soft ethereal melodies through the air, creating vibrational shapes of sound for your soul to harmonize in frequency with.
This production is for mature audiences. Must be 18+ to attend.
Doors open at 7 p.m. Performance starts at 8:30 on the Grand Lawn at Botanica.
Admission:

$30 (Member), $35 (Non-Member)

Days:

6/24/2022, 6/25/2022

2022-06-24 2022-06-25 22:00:00 Fleur <p>Botanica presents Kansas City's very own, <em>Fleur</em> by Quixotic, an immersive multimedia performance experience centered around the sacred codes of geometry found throughout all of nature and the divine mystery of creation. Visible and invisible symbols of consciousness exist all around us and are known to be the ways in which energy expands and organizes itself. From the petals of a flower to the structure of a crystal to the air we breathe, to the molecules of our DNA, everything stems from the same geometric blueprint and points to the link between ourselves and the infinite universe. <em>Fleur</em> is an extraordinary celebration of the divine essence of these architectural structures, through mesmerizing light, magnificent color, tranquilizing music, and exhilarating live performance.</p> <p>Enter into an exquisite intersection of art and creative technology, as Quixotic's enthralling cirque nouveau performers present awe-inspiring performances weaving together themes of life, energy, transformation, and the universal elements. From blossoming displays of the metamorphosis of a butterfly to mesmerizing exchanges with the elements of fire, water, air, earth, and aether, performances reflect the shapes, patterns, and symbols found in nature and are designed as an observance of the microcosmic and the macrocosmic miracles subtly at play within creation all around us. Embrace these visual spectacles of beauty as live musicians weave soft ethereal melodies through the air, creating vibrational shapes of sound for your soul to harmonize in frequency with.</p> <p><em><strong>This production is for mature audiences. Must be 18+ to attend.</strong></em></p> <p>Doors open at 7 p.m. Performance starts at 8:30 on the Grand Lawn at Botanica.</p> 701 N. Amidon Wichita, KS America/Chicago
Back To Previous