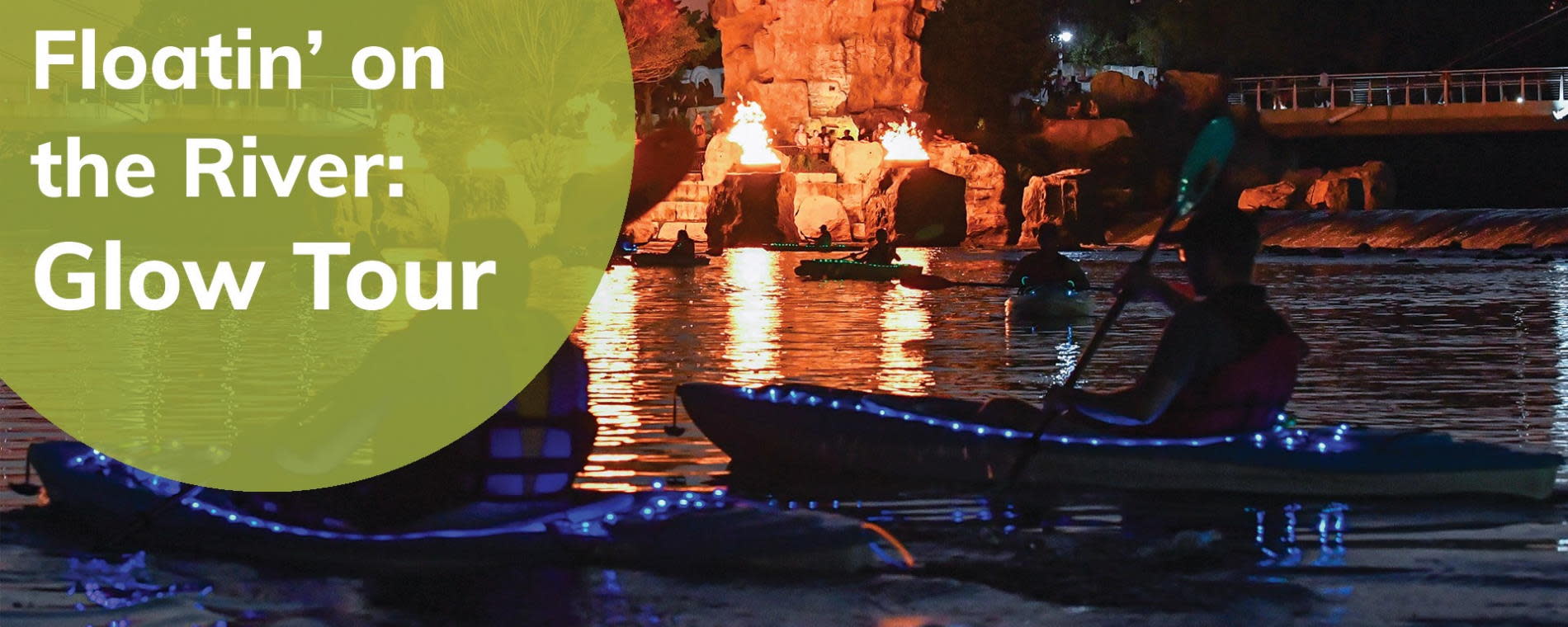 Back to Previous
Floatin on the River - Glow Tour
8:15pm, July 9, 2021 | Arkansas River
Enjoy a moonlight trip along the river with the stars shining overhead! After setting off from the boat ramps just south of the Wichita Boathouse, you and the kayaks will be flowing with lights and glow sticks as you make your way to the Keeper of the Plains. (Departure times may be adjusted if the lighting of the Ring of Fire resumes). Enjoy desserts and light snacks afterwards.
This event is for ages 16+. No prior experience is necessary, however this is a strenuous activity, which lasts approximately 1-1.25 hours. Parking can be found in the lot underneath Kellogg (101-199 W Kellogg St Parking, Wichita, KS 67213) just south of the Wichita Boathouse.
If you enjoy floatin', don't miss the Sunrise, Sunset, and Senior tours!
Admission:

$35

Register Now
Days:

7/9/2021, 8/14/2021, 8/27/2021

2021-07-09 2021-08-27 22:15:00 Floatin on the River - Glow Tour <p>Enjoy a moonlight trip along the river with the stars shining overhead! After setting off from the boat ramps just south of the Wichita Boathouse, you and the kayaks will be flowing with lights and glow sticks as you make your way to the Keeper of the Plains. (Departure times may be adjusted if the lighting of the Ring of Fire resumes). Enjoy desserts and light snacks afterwards.</p> <p>This event is for ages 16+. No prior experience is necessary, however this is a strenuous activity, which lasts approximately 1-1.25 hours. Parking can be found in the lot underneath Kellogg (101-199 W Kellogg St Parking, Wichita, KS 67213) just south of the Wichita Boathouse.</p> <p>If you enjoy floatin', don't miss the <a title="Sunrise Tour" href="https://www.visitwichita.com/event/floatin-on-the-river-sunrise-tour/33430/"><strong>Sunrise</strong></a>, <a title="Sunset Tour" href="https://www.visitwichita.com/event/floatin-on-the-river-sunset-tour/33413/"><strong>Sunset</strong></a>, and <a title="Senior Tour" href="https://www.visitwichita.com/event/floatin-on-the-river-senior-tour/33429/"><strong>Senior</strong></a> tours!</p> 199 W Kellogg St Wichita, KS America/Chicago
Back To Previous