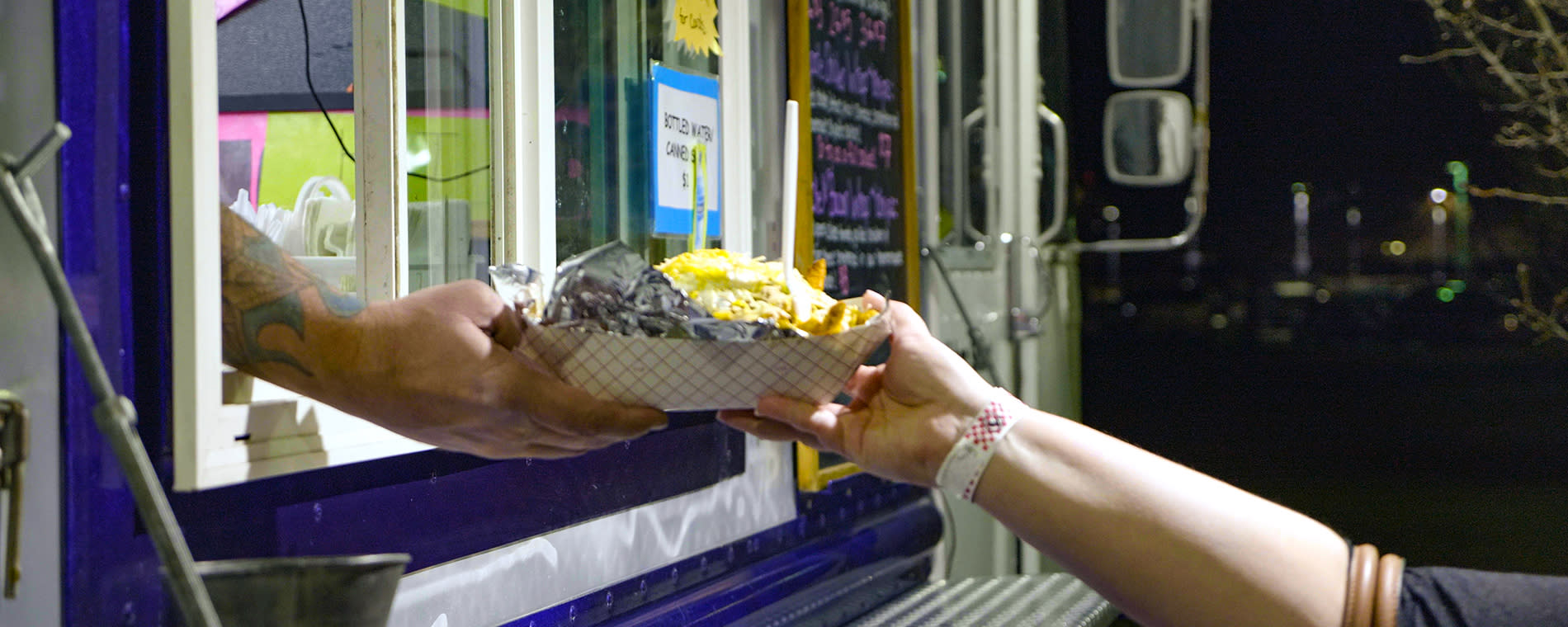 Back to Previous
Food Truck Thursdays
5:30-9pm, July 29, 2021 | Exploration Place
Thursdays at Exploration Place just got more awesome! Mark your calendars for weekly Food Truck Thursday events this summer. Chow down with Wichita's finest food trucks, grab a drink from the bar, jam out to live music, play games, and more all while you enjoy the scenic view of the Keeper of the Plains. Plus, bring the whole family to check out our exhibits and catch a movie in the Digital Dome Theater.
Admission includes access to live music, and food trucks. Event ends with the Ring of Fire lighting at the Keeper of the Plains. Food and drinks sold separately. Some seating will be provided, but lawn chairs and blankets are encouraged.
Exhibit admission: $5 for adults, $3 for children, free for Exploration Place members. Includes all exhibits. Dome Theater tickets sold separately.
July 22
Food Trucks: Noble House / Marineros Tacos y Mas / Mrs. Cole's Tropical Sno Dealership
Music: Grant and Pauly / Vinyl Ritchie
July 29
Food Trucks: U-Hungry / Mrs. Cole's Tropical Sno Dealership
Music: Groove 42
Aug. 5
Food Trucks: The Bomb BBQ / Hot-2-Trot Hotdogs / Noble House / Mrs. Cole's Tropical Sno Dealership
Music: Llew and Val / Llew Brown Band
Aug. 12
Food Trucks: Primos Food Truck / Big Granny's / Mrs. Cole's Tropical Sno Dealership
Music: Annie Up
Admission:

Free access to food trucks and live music (food/drinks sold separately). Exhibit admission: $5 for adults, $3 for children, free for EP members.

Get Tickets
Recurrence:

Recurring weekly on Thursday

Days:

June 3, 2021 - August 12, 2021

2021-07-29 2021-08-12 21:00:00 Food Truck Thursdays <p>Thursdays at Exploration Place just got more awesome! Mark your calendars for weekly Food Truck Thursday events this summer. Chow down with Wichita's finest food trucks, grab a drink from the bar, jam out to live music, play games, and more all while you enjoy the scenic view of the Keeper of the Plains. Plus, bring the whole family to check out our exhibits and catch a movie in the <a title="Dome Theater Shows at Exploration Place" href="https://www.visitwichita.com/event/dome-theater-shows-at-exploration-place/33017/"><strong>Digital Dome Theater</strong></a>.</p> <p>Admission includes access to live music, and food trucks. Event ends with the Ring of Fire lighting at the Keeper of the Plains. Food and drinks sold separately. Some seating will be provided, but lawn chairs and blankets are encouraged.</p> <p>Exhibit admission: $5 for adults, $3 for children, free for Exploration Place members. Includes all exhibits. Dome Theater tickets sold separately.</p> <p><span style="text-decoration: underline;"><strong>July 22</strong></span><br />Food Trucks: Noble House / Marineros Tacos y Mas / Mrs. Cole's Tropical Sno Dealership<br />Music: Grant and Pauly / Vinyl Ritchie</p> <p><span style="text-decoration: underline;"><strong>July 29</strong></span><br />Food Trucks: U-Hungry / Mrs. Cole's Tropical Sno Dealership<br />Music: Groove 42</p> <p><span style="text-decoration: underline;"><strong>Aug. 5</strong></span><br />Food Trucks: The Bomb BBQ / Hot-2-Trot Hotdogs / Noble House / Mrs. Cole's Tropical Sno Dealership<br />Music: Llew and Val / Llew Brown Band</p> <p><span style="text-decoration: underline;"><strong>Aug. 12</strong></span><br />Food Trucks: Primos Food Truck / Big Granny's / Mrs. Cole's Tropical Sno Dealership<br />Music: Annie Up</p> 300 N. McLean Bvld. Wichita, KS America/Chicago
Back To Previous