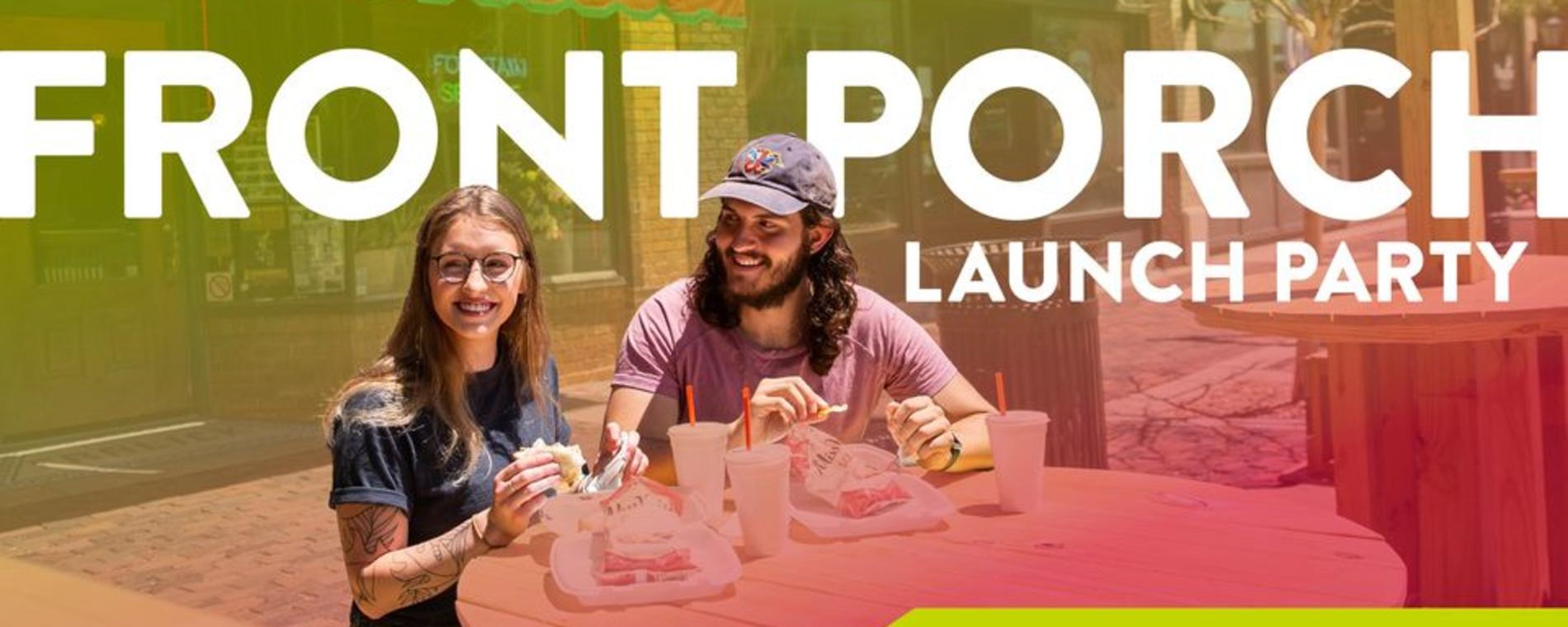 Back to Previous
Front Porch Launch Party
06:00 PM, July 1, 2022 | Downtown Wichita
Join us for the official launch of the Front Porch project on Friday, July 1 from 6-9 p.m.! The project paired local creatives and local business owners together to create outdoor extensions of their businesses. All six locations are making their debut during the First Friday ICT art crawl. Get ready for giveaways, activities, live music and more! View project details at downtownwichita.org/frontporch and stay tuned for more details!

FRONT PORCH LOCATIONS
Wichita Cheesecake Company
Public at the Brickyard
Old Mill Tasty Shop
Lucinda's
Standard Issue Company
Jenny Dawn Cellars

CREATIVES
Engy AlGarf
Kevin Harrison
Chiyoko and Sarah Myose
Elisabeth Owens
Drew Phillips
Belinda Smith
View an interactive map of all locations online. 
Admission:

free

Days:

July 1, 2022

2022-07-01 2022-07-01 21:00:00 Front Porch Launch Party <p>Join us for the official launch of the Front Porch project on Friday, July 1 from 6-9 p.m.! The project paired local creatives and local business owners together to create outdoor extensions of their businesses. All six locations are making their debut during the First Friday ICT art crawl. Get ready for giveaways, activities, live music and more! View project details at downtownwichita.org/frontporch and stay tuned for more details!</p> <p><br /><strong>FRONT PORCH LOCATIONS</strong></p> <p>Wichita Cheesecake Company<br />Public at the Brickyard<br />Old Mill Tasty Shop<br />Lucinda's<br />Standard Issue Company<br />Jenny Dawn Cellars</p> <p><br /><strong>CREATIVES</strong></p> <p>Engy AlGarf<br />Kevin Harrison<br />Chiyoko and Sarah Myose<br />Elisabeth Owens<br />Drew Phillips<br />Belinda Smith</p> <p>View an interactive map of all locations <a href="https://wichita.simpleviewcrm.com/bit.ly/FrontPorchMap">online</a>. </p> 505 E. Douglas Avenue Wichita, KS America/Chicago
Back To Previous