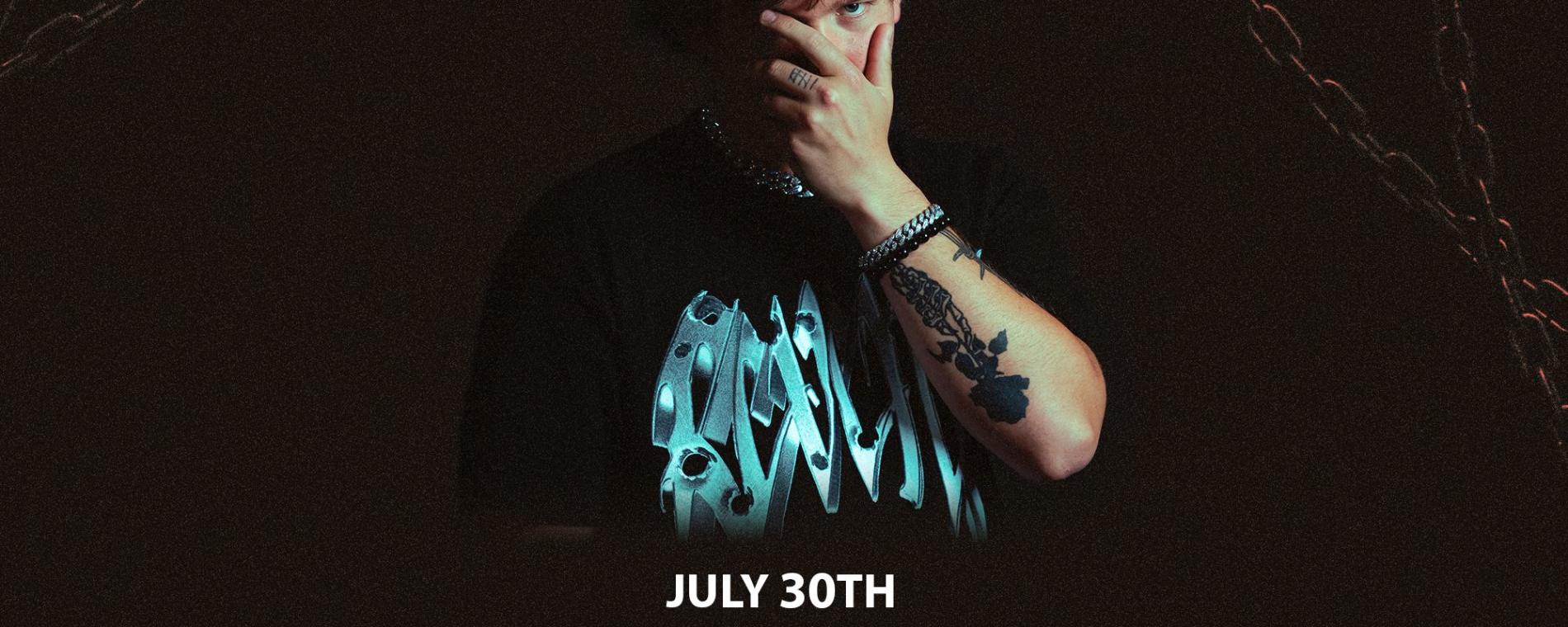 Back to Previous
G-REX
Doors: 6PM Show: 7PM, July 30, 2022 | WAVE
Although the origins of G-Rex can be dated back to 2015, the last few years have taken Detroit native producer, Jake Sweeney, out of his bedroom and across the globe to play some of the biggest stages in electronic music. As he worked to perfect his brand of high energy trap and bass fused with sinister dubstep sound design, he honed in on a deep dark sound that has become a recognizable signature in his music and earned him the respect and support of leaders in the scene.
In 2020 G-REX hit the ground running again as support for Excision on most stops of his mind-blowing new tour 'The Evolution.' Unfortunately, the tour was cut short but this extra time was well-spent in the studio where he finished up a quirky collaboration with TVBOO called "Dweller" and an amazing remix of "Stars Tonight" by Zeds Dead & DROELOE. October, his favorite month of the year, brought the release of his third EP on WAKAAN. HALLOWS EP, showcased an impressive lineup of collaborators including Hydraulix, DJ Afterthought, and Project Pat from Three 6 Mafia and also included one of his most anticipated unreleased tracks, "HITTA."
While many continue to regurgitate the same stale sounds, G-Rex is here to usher in a new era of cold-blooded bass.
Admission:

$15

Days:

July 30, 2022

2022-07-30 2022-07-30 23:45:00 G-REX <p>Although the origins of <a href="https://open.spotify.com/artist/0ZpPLGn0OkRMl2Y9Twn16K">G-Rex</a> can be dated back to 2015, the last few years have taken Detroit native producer, Jake Sweeney, out of his bedroom and across the globe to play some of the biggest stages in electronic music. As he worked to perfect his brand of high energy trap and bass fused with sinister dubstep sound design, he honed in on a deep dark sound that has become a recognizable signature in his music and earned him the respect and support of leaders in the scene.</p> <p>In 2020 G-REX hit the ground running again as support for <a href="https://open.spotify.com/artist/5FKchcZpQOkqFvXBj1aCvb">Excision</a> on most stops of his mind-blowing new tour 'The Evolution.' Unfortunately, the tour was cut short but this extra time was well-spent in the studio where he finished up a quirky collaboration with <a href="https://open.spotify.com/artist/3T0BepBNnd3kw2m10rh8yW">TVBOO</a> called "Dweller" and an amazing remix of "Stars Tonight" by <a href="https://open.spotify.com/artist/67qogtRNI0GjUr8PlaG6Zh">Zeds Dead</a> &amp; <a href="https://open.spotify.com/artist/0u18Cq5stIQLUoIaULzDmA">DROELOE</a>. October, his favorite month of the year, brought the release of his third EP on WAKAAN. HALLOWS EP, showcased an impressive lineup of collaborators including <a href="https://open.spotify.com/artist/0v6pkn5nWfqK3vgeg0gl0W">Hydraulix</a>, <a href="https://open.spotify.com/artist/46yoMIbiLf1tIH3CRZiSGX">DJ Afterthought</a>, and <a href="https://open.spotify.com/artist/08Ld63UgKrJ0nZnCkzHtzc">Project Pat</a> from <a href="https://open.spotify.com/artist/26s8LSolLfCIY88ysQbIuT">Three 6 Mafia</a> and also included one of his most anticipated unreleased tracks, "HITTA."</p> <p>While many continue to regurgitate the same stale sounds, G-Rex is here to usher in a new era of cold-blooded bass.</p> 650 E. 2nd St. N. Wichita, KS America/Chicago
Back To Previous