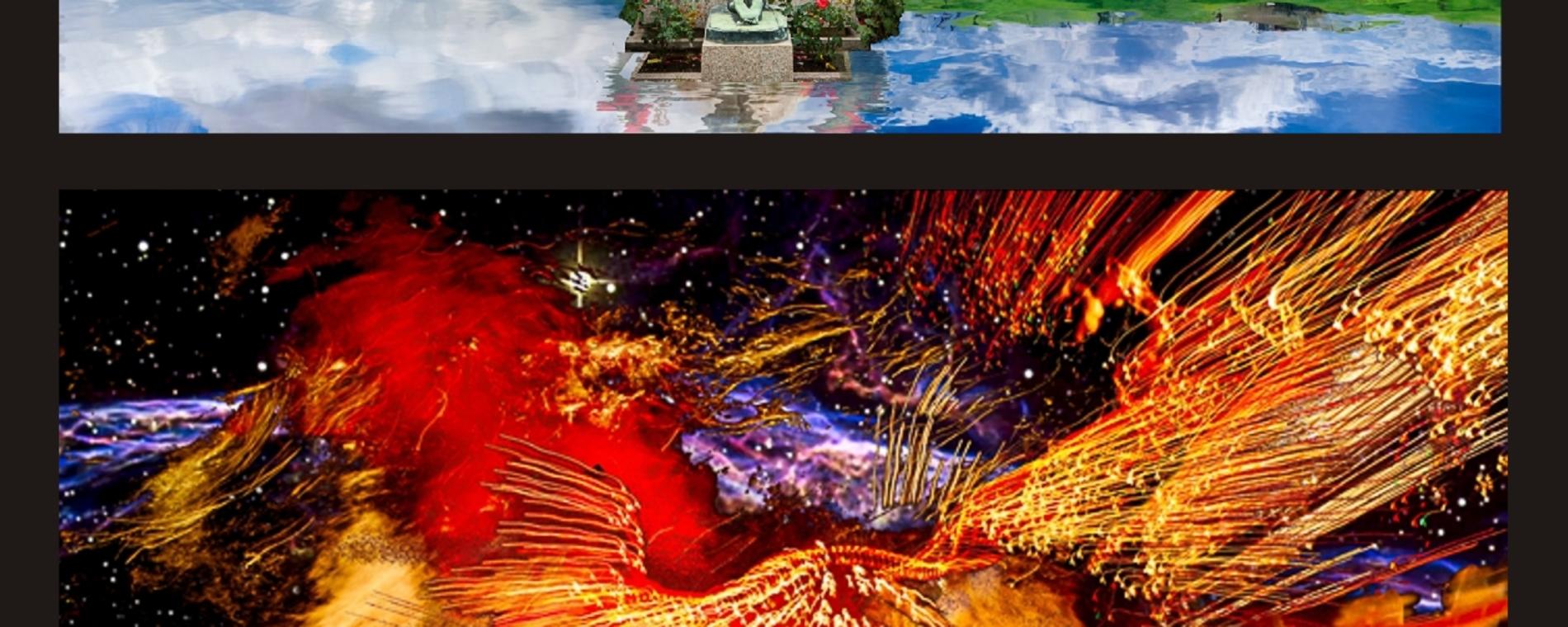 Gallery 12 Opening Reception for Photographer John Ellert
05:00 PM, October 6, 2023 | Gallery XII
Gallery 12's Featured Artist for October is photographer John Ellert. The title of his exhibition is: :Journey of the Mind." The opening reception will be on First Friday October 6th from 5 - 9 p.m. His exciting and thought provoking images will be on view till October 28th. John will present an Artist Talk at the Opening reception at 6:30 p.m.

Artist Statement:
Traditionally, photography is thought of as a means of capturing a scene exactly as it appears, and the camera becomes a mediator between a scene and the viewer. Going into the creation of this collection, I asked if I could use the camera as a paintbrush, or rather its output as a collection of motifs. While this virtual camera cannot pull images directly out of my imagination, I can, in my mind's eye (and photo catalog), look through the hundreds of thousands of photographs I've made across a lifetime and merge selections onto digital canvases to tell a story of my choosing. A good portion of my work over the years has involved image making that starts with an abstract thought and expands out into visual representation. For years part of my art has revolved around capturing the surreal, the impressionist, the expressionist, and other abstract expression through the medium of photography. The core images comprise new work created within the last year while others are older expressions of similar inspiration. These photographic tableaux invoke some sense of travel, displacement, motion, passage of time: physical trips that became metaphysical journeys. Woven into many of the images are oblique references to places, events, and people; some are to a great degree autobiographical. Musical references permeate these works, reflecting the profound influence of my other muse, music. Many include the influences of dreams as I've kept a child-like open mind to how things might be if I were to follow Alice down the rabbit hole.

I have been a member of Gallery 12 since 2006 and am grateful for the opportunity to rub shoulders with other artists providing the opportunity to apprehend how they work and think about their work.

Showing with John will be well known Enamel Artist & Instructor Jennifer Walterscheid.

Normal Gallery hours are Noon to 6 p.m. Tuesday to Saturday.

Gallery 12 is an Artist Cooperative Gallery which first opened in 1977. The Gallery has 20 Member/Partners and over 20 consignment artists exhibiting in the gallery. Art works range from 2-D: Paintings, Prints, Photographs, Mixed Media and 3-D: Ceramics, Pottery, Sculpture, Enamel Works and Jewelry. We have a wide range of price points and we offer a free lay-a-way program for our customers & clients.
Admission:

Free

Days:

October 6, 2023

>

2023-10-06 2023-10-06 21:00:00 Gallery 12 Opening Reception for Photographer John Ellert <p>Gallery 12's Featured Artist for October is photographer John Ellert. The title of his exhibition is: :Journey of the Mind." The opening reception will be on First Friday October 6th from 5 - 9 p.m. His exciting and thought provoking images will be on view till October 28th. John will present an Artist Talk at the Opening reception at 6:30 p.m.<br><br><strong>Artist Statement:</strong><br>Traditionally, photography is thought of as a means of capturing a scene exactly as it appears, and the camera becomes a mediator between a scene and the viewer. Going into the creation of this collection, I asked if I could use the camera as a paintbrush, or rather its output as a collection of motifs. While this virtual camera cannot pull images directly out of my imagination, I can, in my mind's eye (and photo catalog), look through the hundreds of thousands of photographs I've made across a lifetime and merge selections onto digital canvases to tell a story of my choosing. A good portion of my work over the years has involved image making that starts with an abstract thought and expands out into visual representation. For years part of my art has revolved around capturing the surreal, the impressionist, the expressionist, and other abstract expression through the medium of photography. The core images comprise new work created within the last year while others are older expressions of similar inspiration. These photographic tableaux invoke some sense of travel, displacement, motion, passage of time: physical trips that became metaphysical journeys. Woven into many of the images are oblique references to places, events, and people; some are to a great degree autobiographical. Musical references permeate these works, reflecting the profound influence of my other muse, music. Many include the influences of dreams as I've kept a child-like open mind to how things might be if I were to follow Alice down the rabbit hole.<br><br>I have been a member of Gallery 12 since 2006 and am grateful for the opportunity to rub shoulders with other artists providing the opportunity to apprehend how they work and think about their work. <br><br>Showing with John will be well known Enamel Artist &amp; Instructor Jennifer Walterscheid.<br><br>Normal Gallery hours are Noon to 6 p.m. Tuesday to Saturday. <br><br>Gallery 12 is an Artist Cooperative Gallery which first opened in 1977. The Gallery has 20 Member/Partners and over 20 consignment artists exhibiting in the gallery. Art works range from 2-D: Paintings, Prints, Photographs, Mixed Media and 3-D: Ceramics, Pottery, Sculpture, Enamel Works and Jewelry. We have a wide range of price points and we offer a free lay-a-way program for our customers &amp; clients.</p> 412 E. Douglas Ave. Wichita, KS America/Chicago
Back To Previous