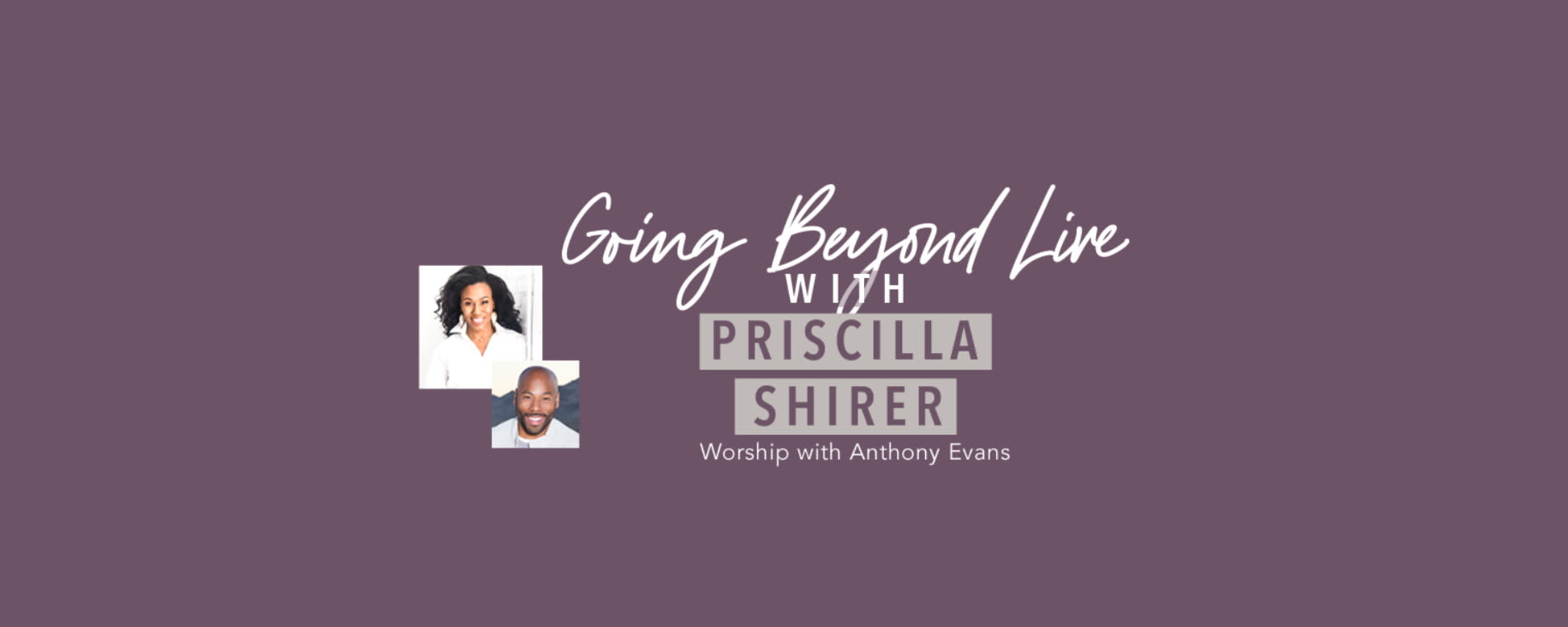 Back to Previous
Going Beyond Live with Priscilla Shirer
8am-4pm, August 21, 2021 | Central Community Church
Join a one-day event with Bible teaching from best-selling author, Priscilla Shirer and worship with Anthony Evans. There's a reason why thousands of women across the nation turn to Priscilla Shirer's Bible studies when they're searching for powerful biblical truth to shake them out of routine faith once and for all. The event is from 9am-4pm (doors at 8am) and includes a lunch break.
No refunds or transfers to other events. In a season of uncertainty, if Lifeway cancels this event, you will receive a full refund. We are committed to the safety of our guests.
COVID-19 Statement - Lifeway is committed to following all recommended health and safety guidelines for each event. This will include wearing face coverings (if required locally at the time of the event), offering hand sanitizer, additional cleaning measures, and social distancing in seating, ingress and egress, and queuing lines. Attendees will be notified of specific measures closer to the event. Those who are experiencing COVID-19 symptoms should not attend the event. If your event is canceled by the venue or Lifeway, a full refund will be issued.
Admission:

$85

Days:

August 21, 2021

2021-08-21 2021-08-21 16:00:00 Going Beyond Live with Priscilla Shirer <p>Join a one-day event with Bible teaching from best-selling author, Priscilla Shirer and worship with Anthony Evans. There's a reason why thousands of women across the nation turn to Priscilla Shirer's Bible studies when they're searching for powerful biblical truth to shake them out of routine faith once and for all. The event is from 9am-4pm (doors at 8am) and includes a lunch break.</p> <p>No refunds or transfers to other events. In a season of uncertainty, if Lifeway cancels this event, you will receive a full refund. We are committed to the safety of our guests.</p> <p>COVID-19 Statement - Lifeway is committed to following all recommended health and safety guidelines for each event. This will include wearing face coverings (if required locally at the time of the event), offering hand sanitizer, additional cleaning measures, and social distancing in seating, ingress and egress, and queuing lines. Attendees will be notified of specific measures closer to the event. Those who are experiencing COVID-19 symptoms should not attend the event. If your event is canceled by the venue or Lifeway, a full refund will be issued.</p> <p> </p> 6100 W Maple St Wichita, KS America/Chicago
Back To Previous