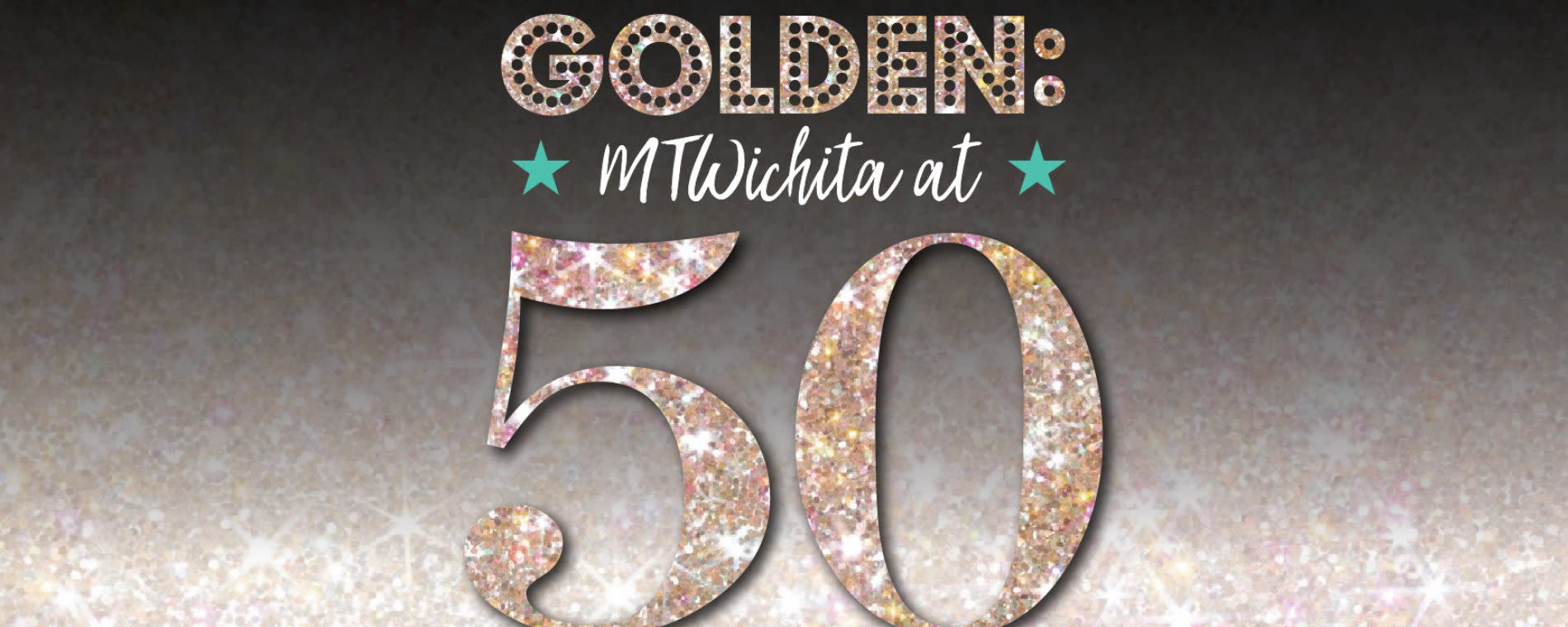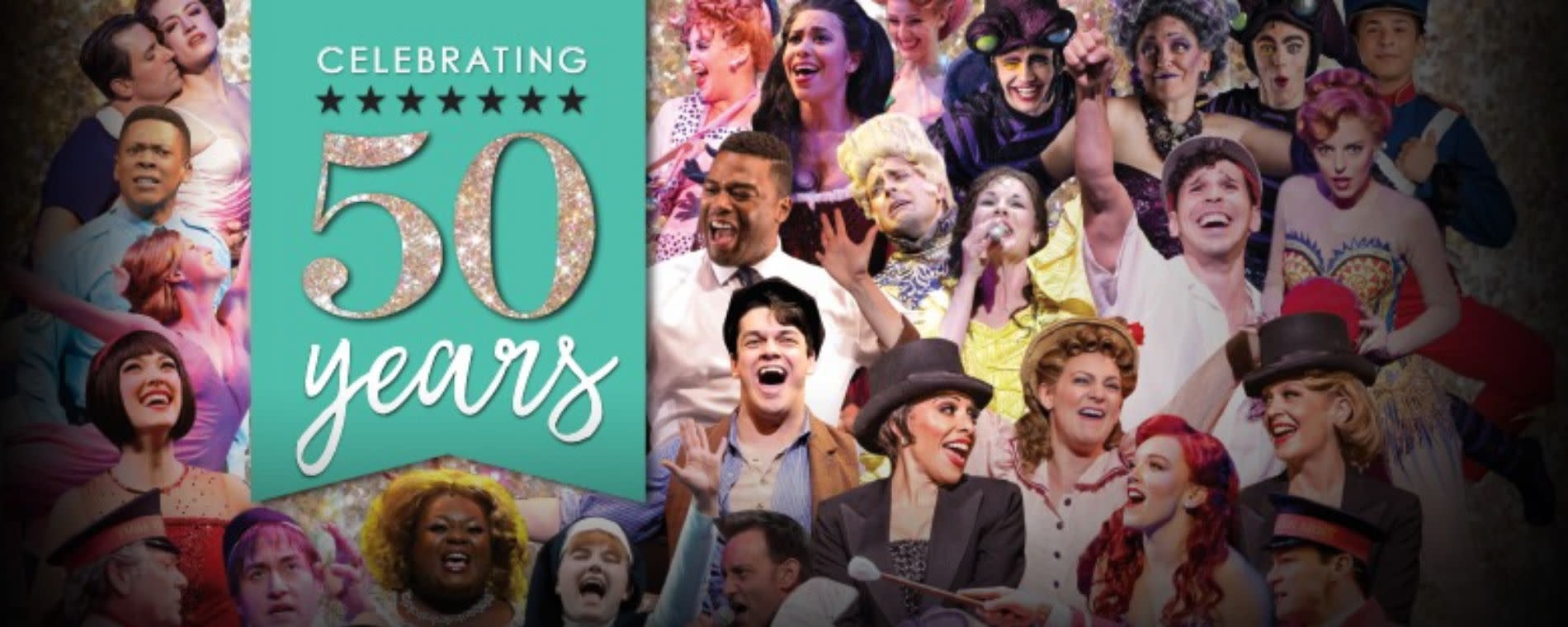 Back to Previous
Golden - MTWichita at 50
8:00pm, August 25, 2021 | Century II Performing Arts & Convention Center
Broadway stars Matt Bogart (Jersey Boys, Miss Saigon) and Desi Oakley (Wicked, Waitress) return to lead a rousing evening of high-energy entertainment, celebrating 50 years of MTWichita's success in paving the road to Broadway for talented young artists.
90 min | Children must be at least 5 years old to attend any MTWichita production | All Sales Final | No Refunds
Single tickets are for Section 3 and are general admission. Box office will be open on-location two hours before curtain.
Full Music Theatre Wichita 2021 Schedule
Masks Inside
Masks will be worn by all patrons, employees, and vendors while indoors at Century II. Masks must be worn over the nose and mouth by all parties regardless of age or vaccine status.
Should these policies change, MTWichita will inform patrons in advance of affected performances. As part of MTWichita's efforts to keep patrons, staff, and performers safe, mask-wearing will be enforced. Anyone refusing to wear a mask, or wearing one improperly, will be asked to leave; refunds will not be given based on patron unwillingness to wear a mask.
Distanced Seating
Patrons will be seated in socially distanced pods, by price level. For example, section 1 will be closest to the stage. Patrons with section 1 seating can choose their own seats within that section. Ushers will assist with seating to ensure that party size and pod size match when possible.
Food & Beverage
As of mid-March, Century II does not plan to have concessions available for summer 2021 events. City staff are working alongside the Sedgwick County Health Department to determine safe practices, but as of now MTWichita advises patrons to plan for no concessions.
Admission:

$45 Single Ticket

Get Tickets
Recurrence:

Recurring daily

Days:

August 25, 2021 - August 29, 2021

2021-08-25 2021-08-29 20:00:00 Golden - MTWichita at 50 <div class="show_summary_summary"> <p>Broadway stars Matt Bogart (<em>Jersey Boys</em>, <em>Miss Saigon</em>) and Desi Oakley (<em>Wicked</em>, <em>Waitress</em>) return to lead a rousing evening of high-energy entertainment, celebrating 50 years of MTWichita's success in paving the road to Broadway for talented young artists.</p> <table style="width: 250px;" border="0" align="center"><caption><strong>Showtimes</strong></caption> <tbody> <tr> <td>Wed-Sun</td> <td>8:00pm</td> </tr> </tbody> </table> <p>90 min | Children must be at least 5 years old to attend any MTWichita production | All Sales Final | No Refunds</p> <p>Single tickets are for Section 3 and are general admission. Box office will be open on-location two hours before curtain.</p> <p><a title="Music Theatre Wichita 2021 Schedule" href="https://www.visitwichita.com/blog/post/music-theatre-wichita-season/"><strong>Full Music Theatre Wichita 2021 Schedule</strong></a></p> <p><span style="text-decoration: underline;"><strong>Masks Inside</strong></span><br />Masks will be worn by all patrons, employees, and vendors while indoors at Century II. Masks must be worn over the nose and mouth by all parties regardless of age or vaccine status.</p> <p><em>Should these policies change, MTWichita will inform patrons in advance of affected performances. As part of MTWichita's </em><em>efforts to keep patrons, staff, and performers safe, mask-wearing will be enforced. Anyone refusing to wear a mask, or wearing one improperly, will be asked to leave; refunds will not be given based on patron unwillingness to wear a mask.</em></p> <p><strong><span style="text-decoration: underline;">Distanced Seating</span><br /></strong>Patrons will be seated in socially distanced pods, by price level. For example, section 1 will be closest to the stage. Patrons with section 1 seating can choose their own seats within that section. Ushers will assist with seating to ensure that party size and pod size match when possible.</p> <p><strong><span style="text-decoration: underline;">Food &amp; Beverage</span><br /></strong>As of mid-March, Century II does not plan to have concessions available for summer 2021 events. City staff are working alongside the Sedgwick County Health Department to determine safe practices, but as of now MTWichita advises patrons to plan for no concessions.</p> <p><a title="Music Theatre Wichita 2021 Show Info" href="https://mtwichita.org/user/file/2021_SeasonPolicies_digital.pdf" rel="nofollow" target="_blank"><strong>Parking and more info (pdf)</strong></a>.</p> </div> 225 W Douglas Ave Wichita, KS America/Chicago
Back To Previous