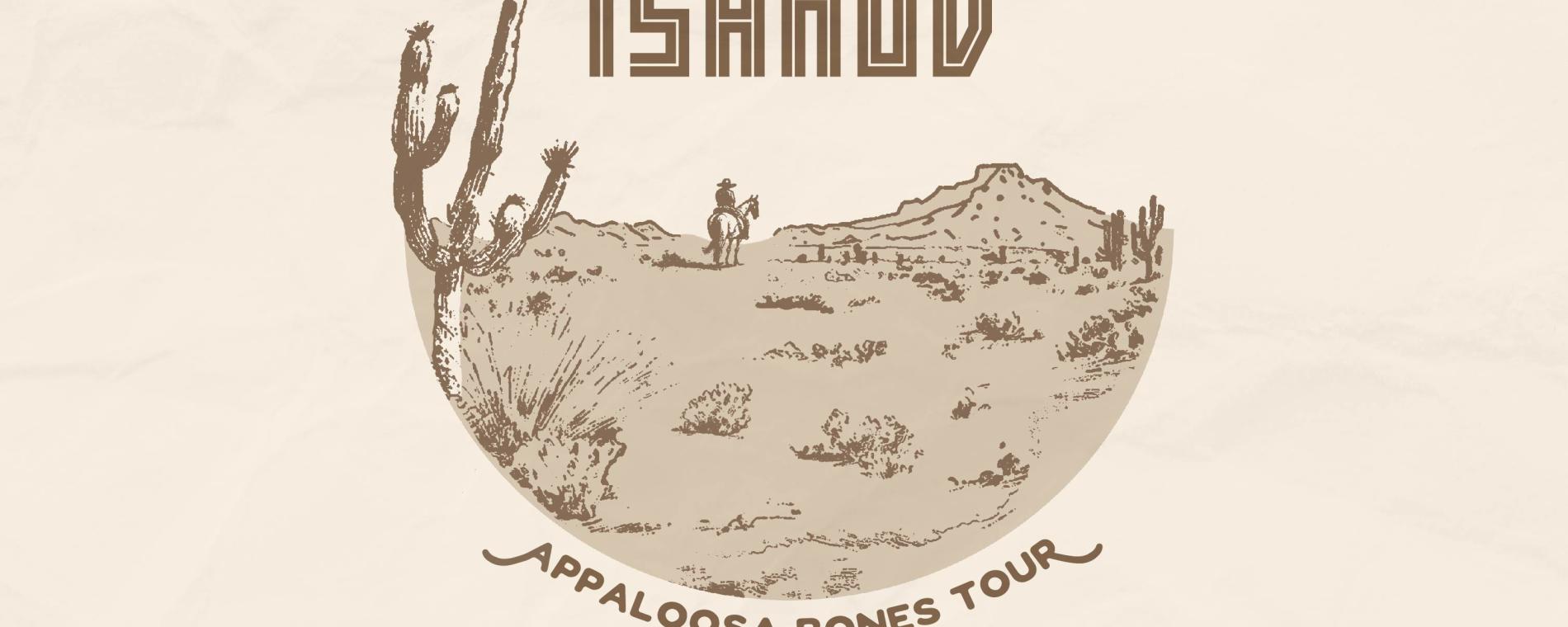 Gregory Alan Isakov at The Cotillion
From: 08:00 PM to 11:00 PM, February 28, 2024 | The Cotillion
Born in Johannesburg, South Africa, and now calling Colorado home, horticulturist/musician Gregory Alan Isakov has cast an impressive presence on the indie-rock and folk worlds with his six full-length studio albums: That Sea, The Gambler; This Empty Northern Hemisphere; The Weatherman; Gregory Alan Isakov with the Colorado Symphony; Evening Machines (nominated for a Grammy award for Best Folk Album), and his newest album, Appaloosa Bones. Isakov tours internationally with his band, and has performed with several national symphony orchestras across the United States.
Isakov's new record, Appaloosa Bones, was released on August 18, 2023 (via Dualtone/Suitcase Town Music). Of the album, MOJO states, ""Prime Isakov: his velvet baritone glides over elegant and shimmering Wild West mirages." The Associated Press proclaims, "He has that magical ability to convey both urgency and grandeur at the same time…Simple. Straightforward. Utterly evocative." And No Depression declares, "this is Isakov's genius. He turns a short poem into a magnificent piece of music that can captivate for hours." 
In support of the new record, Isakov has confirmed an extensive international tour through 2024, including the US, Canada, Europe, United Kingdom, New Zealand, and Australia. When he is not on the road, he runs Starling Farm (a small farm in Boulder County), which provides produce to CSA members, restaurants, and Community Food Share (a local food bank).
Concessions and full bars will be open! Also featuring local favorites Nancy's A-Maize-N Sandwich Booth.
All Ages are welcome and support acts are subject to change.
All sales are final. No exchanges or refunds unless a show is cancelled or postponed.
Text ISAKOV to 49798 for Venue Pre-Sale info on 11/7/23
TEXT FOLK to 49798 for concert updates.


$1 per ticket will benefit NAMI, the National Alliance on Mental Illness, the nation's largest grassroots mental health organization dedicated to improving the lives of individuals and families affected by mental illness. https://www.nami.org
Admission:

GA $41 Advance, $46 Day of Show

Days:

February 28, 2024

>

2024-02-28 2024-02-28 23:00:00 Gregory Alan Isakov at The Cotillion <p><span style="font-size: 12pt;">Born in Johannesburg, South Africa, and now calling Colorado home, horticulturist/musician Gregory Alan Isakov has cast an impressive presence on the indie-rock and folk worlds with his six full-length studio albums: </span><em style="font-size: 12pt;">That Sea, The Gambler; This Empty Northern Hemisphere; The Weatherman; Gregory Alan Isakov with the Colorado Symphony; Evening Machines </em><span style="font-size: 12pt;">(nominated for a Grammy award for Best Folk Album), and his newest album, </span><em style="font-size: 12pt;">Appaloosa Bones</em><span style="font-size: 12pt;">. Isakov tours internationally with his band, and has performed with several national symphony orchestras across the United States.</span></p> <p>Isakov's new record, <em>Appaloosa Bones</em>, was released on August 18, 2023 (via Dualtone/Suitcase Town Music). Of the album, <em>MOJO</em> states, ""Prime Isakov: his velvet baritone glides over elegant and shimmering Wild West mirages." The <em>Associated Press</em> proclaims, "He has that magical ability to convey both urgency and grandeur at the same time…Simple. Straightforward. Utterly evocative." And <em>No Depression</em> declares, "this is Isakov's genius. He turns a short poem into a magnificent piece of music that can captivate for hours." </p> <p>In support of the new record, Isakov has confirmed an extensive international tour through 2024, including the US, Canada, Europe, United Kingdom, New Zealand, and Australia. When he is not on the road, he runs Starling Farm (a small farm in Boulder County), which provides produce to CSA members, restaurants, and Community Food Share (a local food bank).</p> <p>Concessions and full bars will be open! Also featuring local favorites Nancy's A-Maize-N Sandwich Booth.</p> <p>All Ages are welcome and support acts are subject to change.</p> <p><em>All sales are final. No exchanges or refunds unless a show is cancelled or postponed.</em></p> <p>Text ISAKOV to 49798 for Venue Pre-Sale info on 11/7/23<br>TEXT FOLK to 49798 for concert updates.</p> <p><br><br><em>$1 per ticket will benefit NAMI, the National Alliance on Mental Illness, the nation's largest grassroots mental health organization dedicated to improving the lives of individuals and families affected by mental illness. <a href="https://www.nami.org/" target="_blank" rel="noopener">https://www.nami.org</a></em></p> 11120 W. Kellogg Dr. Wichita, KS America/Chicago
Back To Previous