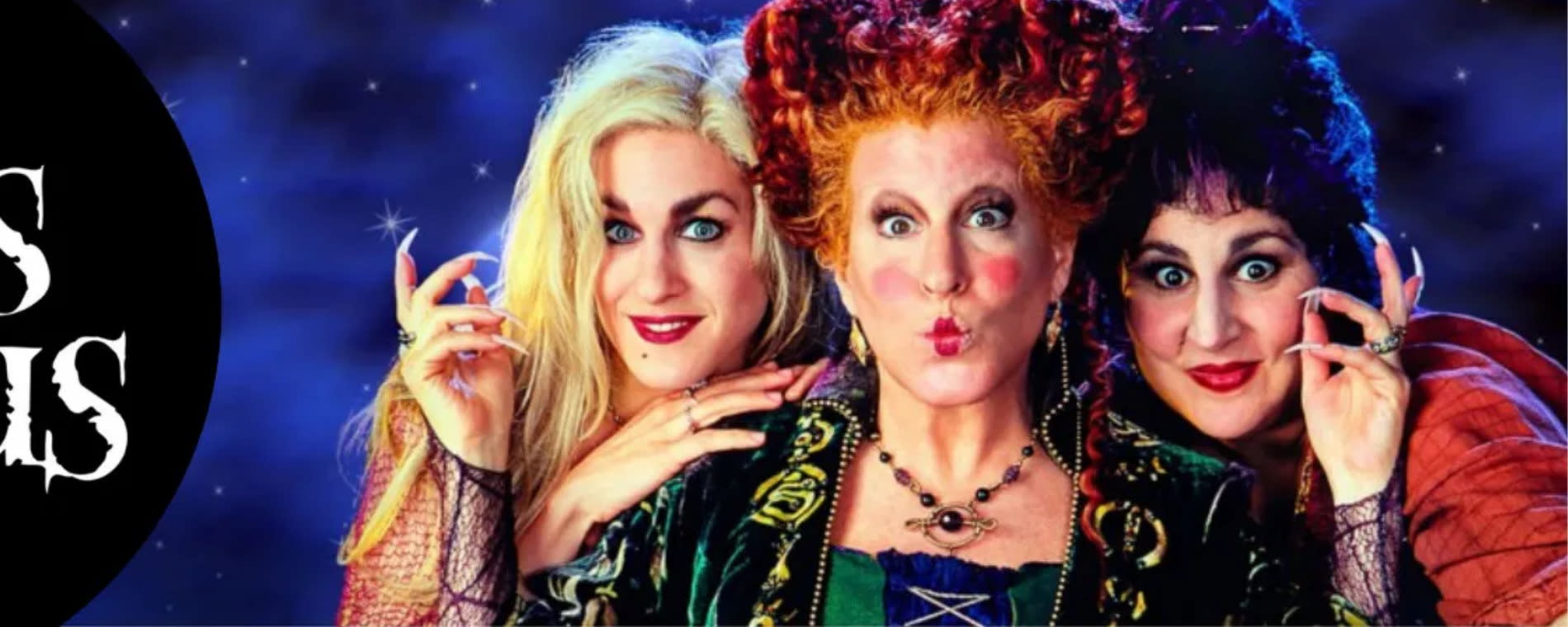 Back to Previous
Hocus Pocus - Dome Experience
6-9pm, October 28, 2021 | Exploration Place
Sistaaaahs! It's been 300 years and you've been waiting patiently. The black flame candle has been lit and your favorite witches are back!
Join Winifred, Sarah, and Mary at Exploration Place for an exclusive viewing and party celebrating all things Hocus Pocus! Experience this iconic Halloween classic like you've never seen it before – centered on the soaring dome screen with booming surround sound. Enjoy a cash bar with themed cocktails for those over 21, a fully stocked snack bar, costume contest, prizes and more.
Are you a Hocus Pocus super-fan? Sign up for the VIP Experience and receive priority seating in the dome theater, popcorn, a complimentary cocktail (or a "mocktail" if under 21), and surprise goodies to take home. There will only be 75 VIP tickets sold per showing so don't wait!
This would be a wonderful night to hand down the Hocus Pocus tradition to your daughter/son or special young lady/gentleman in your life. Prefer keeping it a "girls' night out"? Gather up your friends and make it a night to remember!
Are you ready to run amok, amok, amok?
Admission:

$15; VIP $25; 15% off for EP members

Get Tickets
Recurrence:

Recurring daily

Days:

October 28, 2021 - October 30, 2021

2021-10-28 2021-10-30 21:00:00 Hocus Pocus - Dome Experience <p>Sistaaaahs! It's been 300 years and you've been waiting patiently. The black flame candle has been lit and your favorite witches are back!</p> <p>Join Winifred, Sarah, and Mary at Exploration Place for an exclusive viewing and party celebrating all things Hocus Pocus! Experience this iconic Halloween classic like you've never seen it before &#8211; centered on the soaring dome screen with booming surround sound. Enjoy a cash bar with themed cocktails for those over 21, a fully stocked snack bar, costume contest, prizes and more.</p> <p>Are you a Hocus Pocus super-fan? Sign up for the VIP Experience and receive priority seating in the dome theater, popcorn, a complimentary cocktail (or a "mocktail" if under 21), and surprise goodies to take home. There will only be 75 VIP tickets sold per showing so don't wait!</p> <p>This would be a wonderful night to hand down the Hocus Pocus tradition to your daughter/son or special young lady/gentleman in your life. Prefer keeping it a "girls' night out"? Gather up your friends and make it a night to remember!</p> <p>Are you ready to run amok, amok, amok?</p> 300 N McLean Blvd. Wichita, KS America/Chicago
Back To Previous