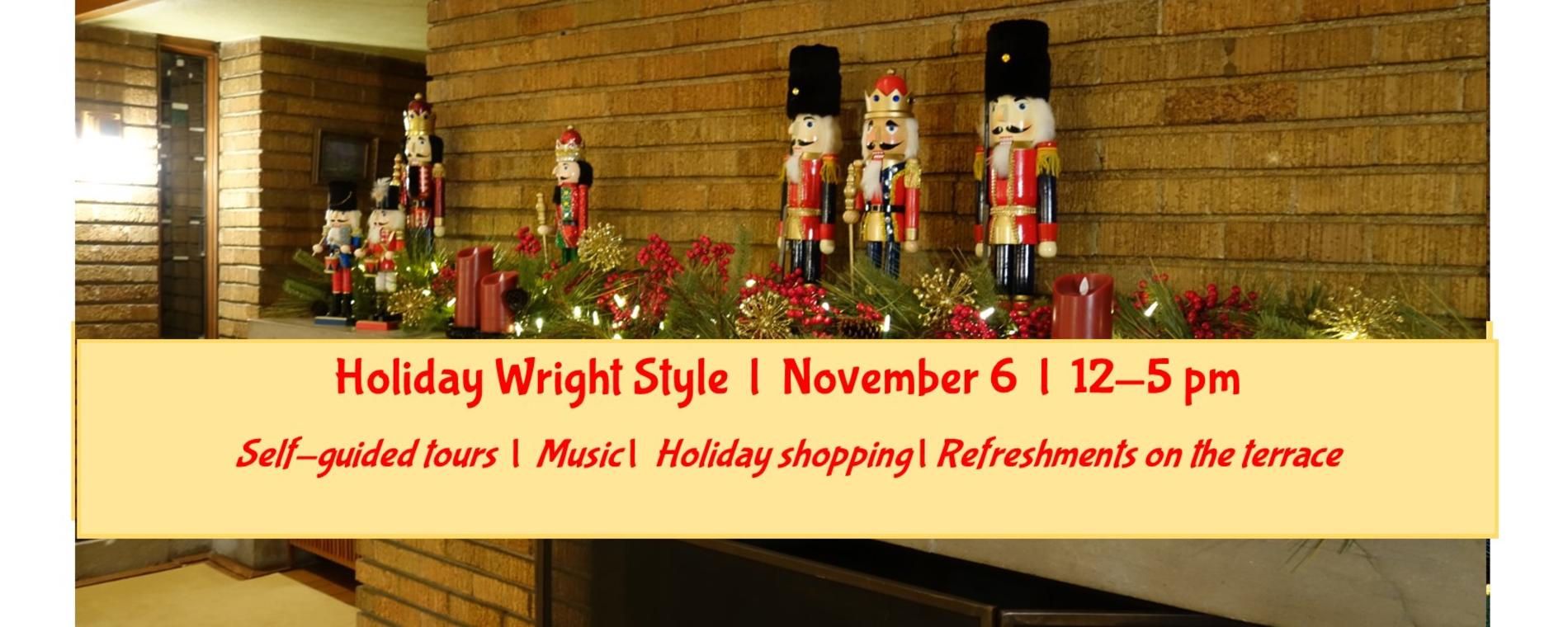 Back to Previous
Holiday Wright Style at the Allen House
12:00 PM, November 6, 2021 | Frank Lloyd Wright's Allen House Museum and Study Center
Our annual Holiday Wright Style event is back! Step back to 1918 and celebrate the holidays as a guest of Henry and Elsie Allen at the annual Frank Lloyd Wright Allen House holiday event. Self-guided tours of the home, garden house, and gardens are decked with seasonal trimmings of the era. Enjoy music and refreshments on the terrace. Holiday shopping and hot chocolate in the Gilded Garage Gift Shop are available. Also there will be newly released items inspired by Frank Lloyd Wright.  The cost is $25 per person.

****Holiday Wright Style – Safety Guidelines****

Tickets are encouraged to be purchased online.  Walk-in tickets cannot be guaranteed.

In order to keep our guests, staff and volunteers healthy:


All guests will enter at the front door and exit through the terrace.
Masks are required for unvaccinated guests and encouraged for everyone.
We will have a strict schedule for surface cleaning throughout the open house.
If you are feeling sick, please stay home.
Please practice social distancing of standing 6 feet apart, hand washing and mask wearing if appropriate. 
Hand sanitizer will be available at the front door and in the gift shop.  
The Allen House will follow all state, city and CDC guidelines to ensure the safety of our guests.  Stay updated on any changes through our website and social media.  

 Holiday Wright Style the largest fundraiser for the Allen House, and this year more than ever we appreciate your support!
Admission:

$25

Buy Tickets
Days:

November 6, 2021

2021-11-06 2021-11-06 17:00:00 Holiday Wright Style at the Allen House <p>Our annual Holiday Wright Style event is back! Step back to 1918 and celebrate the holidays as a guest of Henry and Elsie Allen at the annual Frank Lloyd Wright Allen House holiday event. Self-guided tours of the home, garden house, and gardens are decked with seasonal trimmings of the era. Enjoy music and refreshments on the terrace. Holiday shopping and hot chocolate in the Gilded Garage Gift Shop are available. Also there will be newly released items inspired by Frank Lloyd Wright.  The cost is $25 per person.<br /><br />****Holiday Wright Style &#8211; Safety Guidelines****<br /><br />Tickets are encouraged to be purchased online.  Walk-in tickets cannot be guaranteed.<br /><br />In order to keep our guests, staff and volunteers healthy:<br /><br /></p> <ul> <li>All guests will enter at the front door and exit through the terrace.</li> <li>Masks are required for unvaccinated guests and encouraged for everyone.</li> <li>We will have a strict schedule for surface cleaning throughout the open house.</li> <li>If you are feeling sick, please stay home.</li> <li>Please practice social distancing of standing 6 feet apart, hand washing and mask wearing if appropriate. </li> <li>Hand sanitizer will be available at the front door and in the gift shop.  </li> <li>The Allen House will follow all state, city and CDC guidelines to ensure the safety of our guests.  Stay updated on any changes through our website and social media.  </li> </ul> <p><br /> Holiday Wright Style the largest fundraiser for the Allen House, and this year more than ever we appreciate your support!</p> 255 N. Roosevelt Wichita, KS America/Chicago
Back To Previous