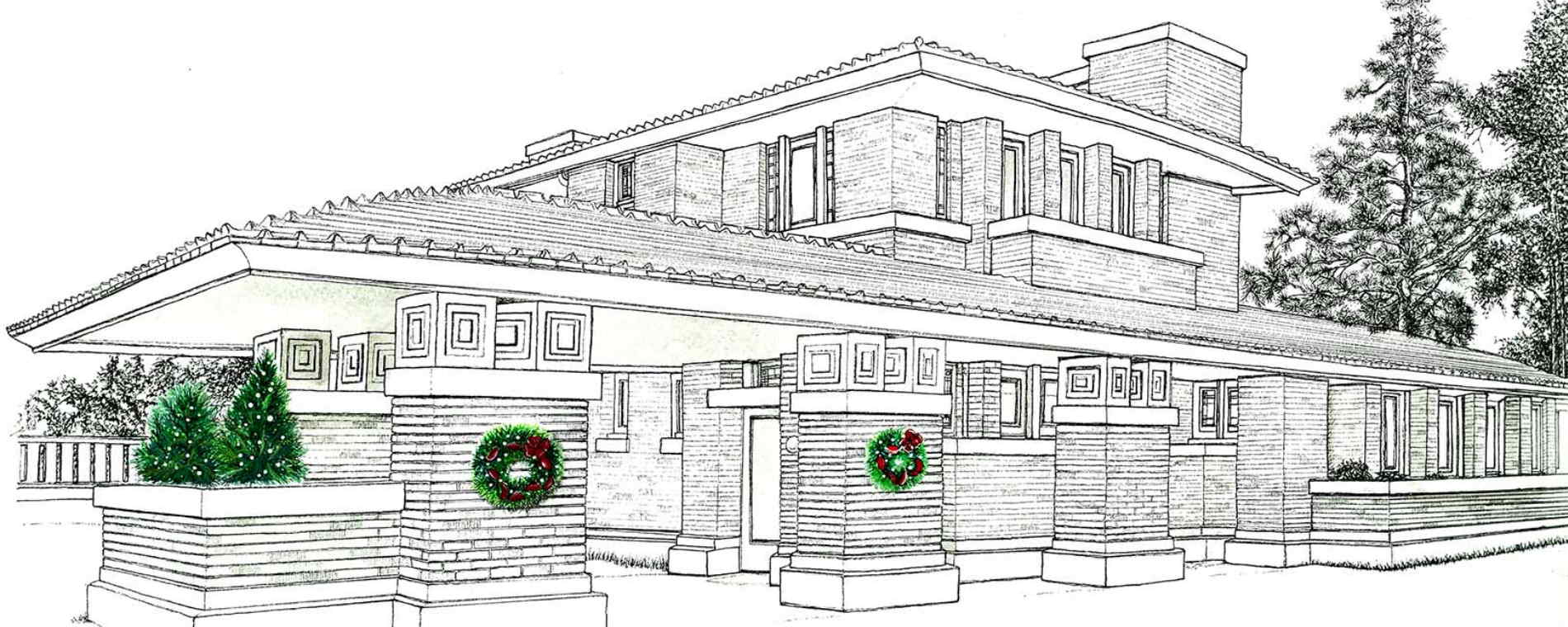 Back to Previous
Holiday Wright Style
Various Times November 13, 2020 | Frank Lloyd Wright's Allen House Museum and Study Center
Step back to 1918 and celebrate the holidays as a guest of Henry and Elsie Allen at the annual Frank Lloyd Wright Allen House holiday event. Self-guided tours of the MAIN FLOOR, garden house and gardens, decked with seasonal trimmings of the era, music, and then enjoy a signature drink on the terrace. Holiday shopping and hot chocolate in the Gilded Garage Gift Shop includes newly released items inspired by Frank Lloyd Wright. Be sure to check out the one-of-a-kind silent auction items available in the garden house (auction ends Saturday, Nov. 14 at 5pm).
Fri. (11/13) 4-9pm - Get Tickets
Sat. (11/14) 10am-5pm - Get Tickets
Tickets will ONLY be sold online for Holiday Wright Style.
Holiday Wright Style the largest fundraiser for the Allen House and this year more than ever we appreciate your support!
Holiday Wright Style – Safety Guidelines
We will not allow any walk-ins in order to control attendance. You must purchase your tickets online and choose an entrance time slot for the safety of our guests. No tickets sold at the door. All tickets are pre-purchase only on our website. Guests must bring either their print tickets or show their ticket barcode on their phone for admission.
All guests will enter at the front door and exit through the terrace. The tour includes the first floor, garden house, terrace and gift shop. The second floor is closed to eliminate cross traffic and to adhere to social distancing guidelines. Masks are required. Social distancing is required. We will have a strict schedule for surface cleaning throughout the open house. If you are feeling sick, please stay home. Please practice social distancing of standing 6 feet apart, hand washing and mask wearing. Hand sanitizer will be available at the front door and in the gift shop. Let's have a have a safe and healthy holiday season! The Allen House will follow all state, city and CDC guidelines to ensure the safety of our guests.
Admission:

$20/person

Days:

November 13, 2020 - November 14, 2020

2020-11-13 2020-11-14 Holiday Wright Style <p>Step back to 1918 and celebrate the holidays as a guest of Henry and Elsie Allen at the annual Frank Lloyd Wright Allen House holiday event. Self-guided tours of the MAIN FLOOR, garden house and gardens, decked with seasonal trimmings of the era, music, and then enjoy a signature drink on the terrace. Holiday shopping and hot chocolate in the Gilded Garage Gift Shop includes newly released items inspired by Frank Lloyd Wright. Be sure to check out the one-of-a-kind silent auction items available in the garden house (auction ends Saturday, Nov. 14 at 5pm).</p> <p>Fri. (11/13) 4-9pm - <a title="Get Tickets" href="https://flwrightwichita.org/event/4-9-pm-annual-holiday-wright-style/" rel="nofollow" target="_blank"><strong>Get Tickets</strong></a><br />Sat. (11/14) 10am-5pm - <a title="Get Tickets" href="https://flwrightwichita.org/event/1000-500-annual-holiday-wright-style/" rel="nofollow" target="_blank"><strong>Get Tickets</strong></a></p> <p>Tickets will ONLY be sold online for Holiday Wright Style.</p> <p><em>Holiday Wright Style the largest fundraiser for the Allen House and this year more than ever we appreciate your support!</em></p> <p><span style="text-decoration: underline;">Holiday Wright Style &#8211; Safety Guidelines<br /></span>We will not allow any walk-ins in order to control attendance. You must purchase your tickets online and choose an entrance time slot for the safety of our guests. No tickets sold at the door. All tickets are pre-purchase only on our website. Guests must bring either their print tickets or show their ticket barcode on their phone for admission.</p> <p>All guests will enter at the front door and exit through the terrace. The tour includes the first floor, garden house, terrace and gift shop. The second floor is closed to eliminate cross traffic and to adhere to social distancing guidelines. Masks are required. Social distancing is required. We will have a strict schedule for surface cleaning throughout the open house. If you are feeling sick, please stay home. Please practice social distancing of standing 6 feet apart, hand washing and mask wearing. Hand sanitizer will be available at the front door and in the gift shop. Let's have a have a safe and healthy holiday season! The Allen House will follow all state, city and CDC guidelines to ensure the safety of our guests.</p> 255 N. Roosevelt Wichita, KS America/Chicago
Back To Previous