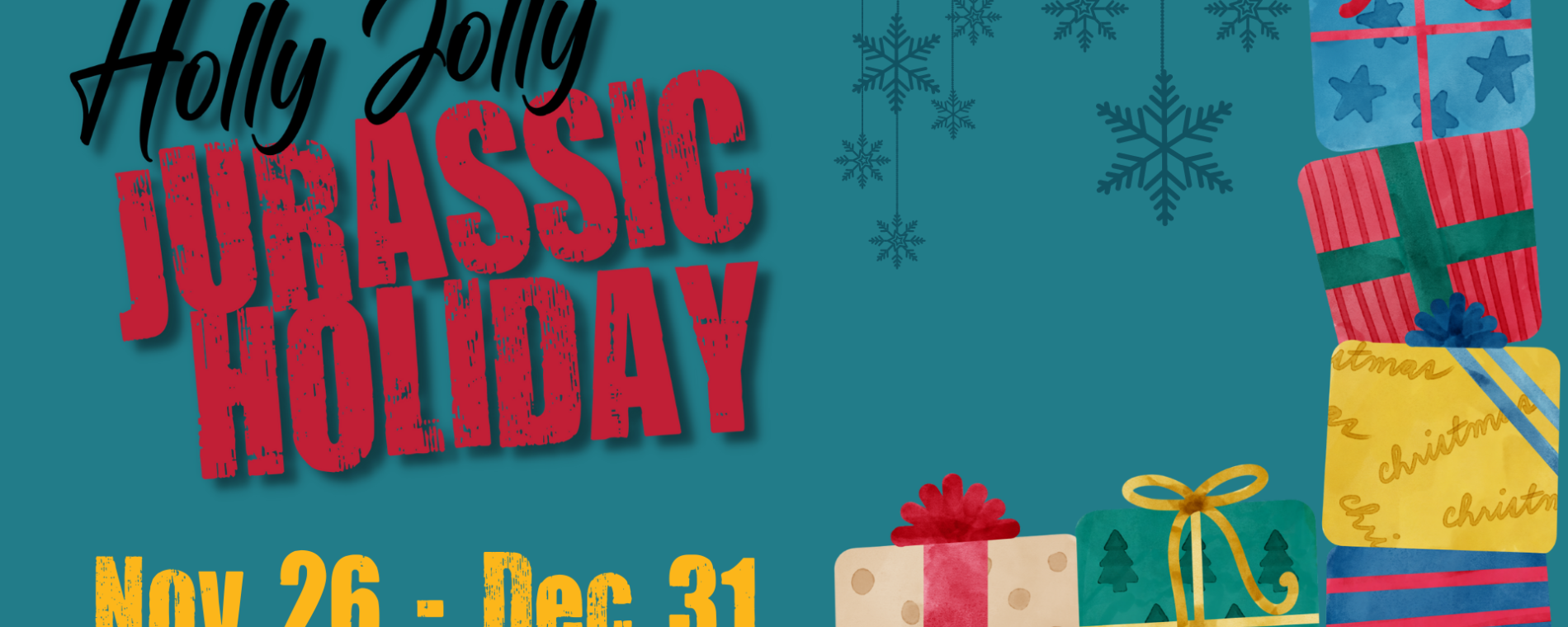 Back to Previous
Holly Jolly Jurassic Holiday
04:00 PM, December 2, 2021 | Field Station: Dinosaurs
Holly Jolly Jurassic Holiday will be held from November 26 to December 23 from 4 p.m. – 9 p.m.; December 26-31 from 1 p.m. – 9 p.m. There will be a Family New Year's Eve event from 1 p.m. – 9 p.m.
Experience the Field Station's scenic trails in a whole new way – with thousands of Christmas lights, festive & funny decorations, and the world's must unexpected holiday guests – the dinosaurs! Laugh and join in the spirit of the season with T-Rex, Spinosaurus and all your prehistoric favorites as they haul out the ivy, hang up their stockings and jingle all the way in preparation for the holliest, jolliest Jurassic holiday ever!
Featuring 10 acres of Christmas lights and holiday themed activities, this one-of-a-kind event is perfect for the entire family.
Admission:

$10

Recurrence:

Recurring weekly on Sunday, Wednesday, Thursday, Friday, Saturday

Days:

November 26, 2021 - December 31, 2021

2021-12-02 2021-12-31 21:00:00 Holly Jolly Jurassic Holiday <p>Holly Jolly Jurassic Holiday will be held from November 26 to December 23 from 4 p.m. &#8211; 9 p.m.; December 26-31 from 1 p.m. &#8211; 9 p.m. There will be a Family New Year's Eve event from 1 p.m. &#8211; 9 p.m.</p> <p>Experience the Field Station's scenic trails in a whole new way &#8211; with thousands of Christmas lights, festive &amp; funny decorations, and the world's must unexpected holiday guests &#8211; the dinosaurs! Laugh and join in the spirit of the season with T-Rex, Spinosaurus and all your prehistoric favorites as they haul out the ivy, hang up their stockings and jingle all the way in preparation for the holliest, jolliest Jurassic holiday ever!</p> <p>Featuring 10 acres of Christmas lights and holiday themed activities, this one-of-a-kind event is perfect for the entire family.</p> 2999 N. Rock Road Derby, KS America/Chicago
Back To Previous