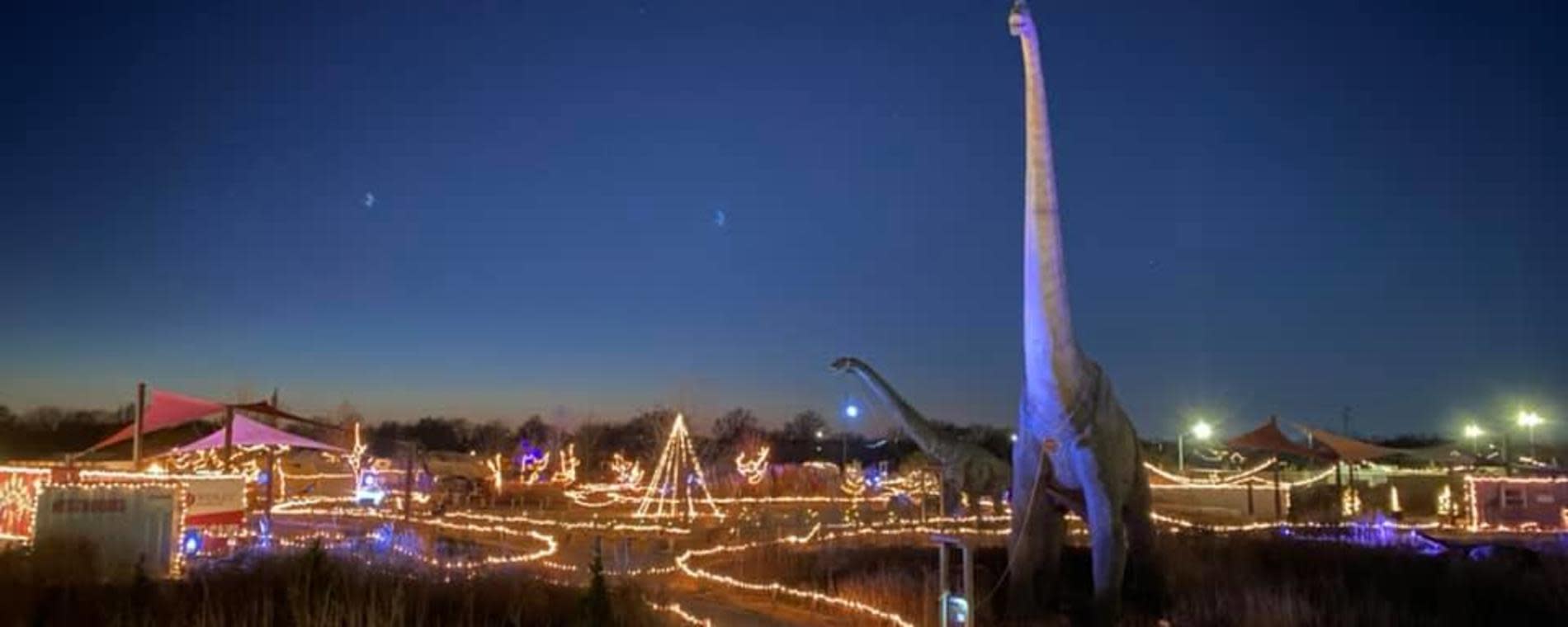 Holly Jolly Jurassic Holiday
Nov. 24-Dec. 17: 4-9 PM | Dec. 20-23: 4-9 PM | Dec. 26-31: 1-9 PM , December 8, 2023 | Field Station: Dinosaurs
The Dinosaur Revels! Kansas's Most Unique Holiday Light Display!
After 65 million years without a Christmas, the dinosaurs are ready to celebrate!
Experience the Field Station's scenic trails in a whole new way – with thousands of Christmas lights, festive and funny decorations, and the world's most unexpected holiday guests – the dinosaurs! Laugh and join in the spirit of the season with T-Rex, Spinosaurus and all your prehistoric favorites as they haul out the ivy, hang up their stockings and jingle all the way in preparation for the holliest, jolliest Jurassic holiday ever!
Times for this event vary.
Nov 24 - Dec 17: Friday, Saturday, and Sunday 4:00 - 9:00 pm
Dec 20 - 23: 4:00 - 9:00 pm
Dec 26 - Dec 31: 1:00 - 9:00 pm (A Family New Year's Eve on December 31)
Admission:

$10

Buy Tickets

Days:

12/8/2023, 12/9/2023, 12/10/2023, 12/15/2023, 12/16/2023, 12/17/2023, 12/20/2023, 12/21/2023, 12/22/2023, 12/23/2023, 12/26/2023, 12/27/2023, 12/28/2023, 12/29/2023, 12/30/2023, 12/31/2023

>

2023-12-08 2023-12-31 Holly Jolly Jurassic Holiday <p>The Dinosaur Revels! Kansas's Most Unique Holiday Light Display!</p> <p>After 65 million years without a Christmas, the dinosaurs are ready to celebrate!</p> <p>Experience the Field Station's scenic trails in a whole new way &#8211; with thousands of Christmas lights, festive and funny decorations, and the world's most unexpected holiday guests &#8211; the dinosaurs! Laugh and join in the spirit of the season with T-Rex, Spinosaurus and all your prehistoric favorites as they haul out the ivy, hang up their stockings and jingle all the way in preparation for the holliest, jolliest Jurassic holiday ever!</p> <p>Times for this event vary.</p> <p class="MsoNormal"><strong>Nov 24 - Dec 17</strong>: Friday, Saturday, and Sunday 4:00 - 9:00 pm</p> <p class="MsoNormal"><strong>Dec 20 - 23</strong>: 4:00 - 9:00 pm</p> <p class="MsoNormal"><strong>Dec 26 - Dec 31</strong>: 1:00 - 9:00 pm (<em><u>A Family New Year's Eve</u></em> on December 31)</p> 2999 N. Rock Road Derby, KS America/Chicago
Back To Previous