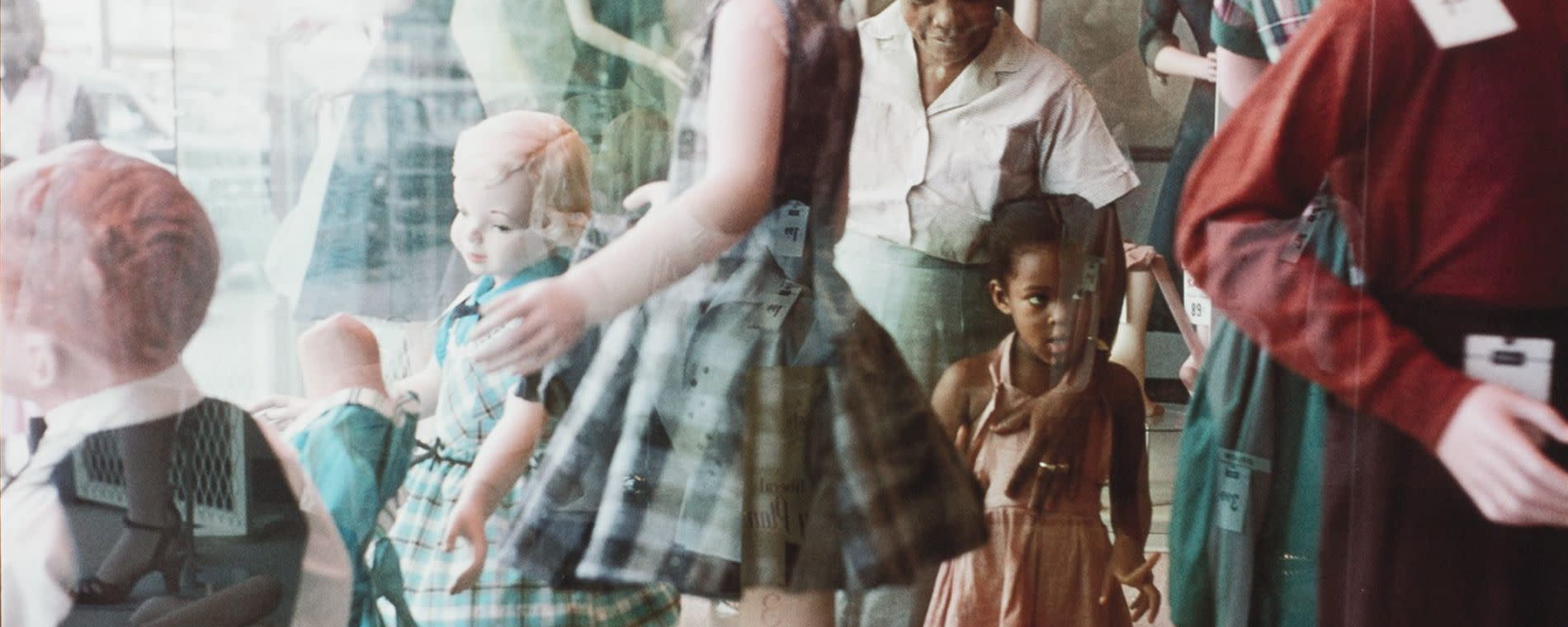 Back to Previous
I, too, am America - Gordon Parks
Regular Museum Hours, March 8, 2021 | Ulrich Museum of Art-Wichita State University
The Ulrich Museum's holdings of over 170 photographs by Gordon Parks (1912-2006), one of the most preeminent photographers of the 20thcentury, are a rich resource that lends itself to repeated viewings through new perspectives. The current selection of 40 photographs from the Ulrich collection focuses on the powerful images of children and families that Parks created throughout his career and particularly during his time at LIFE magazine, where he crafted some of the most impactful journalistic coverage of issues and personalities connected to the Civil Rights movement. LIFE hired Parks in 1949 as its first African American staff photographer and writer, and he stayed there until 1972. This exhibition highlights pieces from seven of the stories Parks produced at LIFE, as well as two portfolios created before and after his time at the magazine.
Throughout his career, Parks used his camera as a weapon in the struggle for social justice as he sought to expose the impact that the interconnected social evils of racism and poverty had on the most disenfranchised and vulnerable people both in the United States and abroad. As the works shown here demonstrate, Parks' capacity for unflinching yet deeply empathetic engagement with his subjects and his desire to improve their lives reached its greatest heights in his images of children, whose experiences Parks grasped intuitively based on his memories of growing up amid poverty and violence in segregated Fort Scott, Kansas.
Museum Hours
Mondays-Saturdays: 11am-5pm
Sundays, University & Major Holidays: Closed
Photo: Gordon Parks, Ondria Tanner and her Grandmother Window-shopping, Mobile, Alabama, 1956. Photograph. Museum Purchase © and courtesy of The Gordon Parks Foundation, Collection of the Ulrich Museum of Art.
Admission:

Free

Recurrence:

Recurring weekly on Monday, Tuesday, Wednesday, Thursday, Friday, Saturday

Days:

January 21, 2021 - May 8, 2021

2021-03-08 2021-05-08 17:00:00 I, too, am America - Gordon Parks <p>The Ulrich Museum's holdings of over 170 photographs by Gordon Parks (1912-2006), one of the most preeminent photographers of the 20thcentury, are a rich resource that lends itself to repeated viewings through new perspectives. The current selection of 40 photographs from the Ulrich collection focuses on the powerful images of children and families that Parks created throughout his career and particularly during his time at LIFE magazine, where he crafted some of the most impactful journalistic coverage of issues and personalities connected to the Civil Rights movement. LIFE hired Parks in 1949 as its first African American staff photographer and writer, and he stayed there until 1972. This exhibition highlights pieces from seven of the stories Parks produced at LIFE, as well as two portfolios created before and after his time at the magazine.</p> <p>Throughout his career, Parks used his camera as a weapon in the struggle for social justice as he sought to expose the impact that the interconnected social evils of racism and poverty had on the most disenfranchised and vulnerable people both in the United States and abroad. As the works shown here demonstrate, Parks' capacity for unflinching yet deeply empathetic engagement with his subjects and his desire to improve their lives reached its greatest heights in his images of children, whose experiences Parks grasped intuitively based on his memories of growing up amid poverty and violence in segregated Fort Scott, Kansas.</p> <p><span style="text-decoration: underline;">Museum Hours</span><br />Mondays-Saturdays: 11am-5pm<br />Sundays, University &amp; Major Holidays: Closed</p> <p><em>Photo: Gordon Parks, Ondria Tanner and her Grandmother Window-shopping, Mobile, Alabama, 1956. Photograph. Museum Purchase © and courtesy of The Gordon Parks Foundation, Collection of the Ulrich Museum of Art.</em></p> 1845 N. Fairmount Wichita, KS America/Chicago
Back To Previous